Silver Doubles Gold Price Gain After Comex Speculators Turn 'Net Bearish', Bond Yields Retreat Before ECB, BoJ Decisions
Monday, 7/17/2017 15:06
GOLD PRICE gains of 0.5% were doubled by silver bullion in London trade Monday as world stock markets stalled at new all-time highs and major government bond prices rose, pushing longer-term interest rates down.
This week brings key policy decisions from the Bank of Japan and European Central Bank – both due Thursday and both currently holding deposit rates below zero with record-high quantities of new QE bond-buying each month.
Gold price gains were muted in non-Dollar terms as the US currency extended its recent drop, while silver recovered the lows of its 3 July slump at $16.19 per ounce.
Platinum outperformed, reaching its highest level in a month against the falling Dollar at $934 per ounce.
Gold at $1230 "puts [it] directly on the technically important 200-day moving average," says a trading note from German financial services group Commerzbank's commodities team.
"If it were to rise above this level in any lasting fashion, we could see technical follow-up buying...[but] that said, [Friday's] rise in the gold price was not accompanied by ETF inflows.
"On the contrary, the gold ETFs tracked by Bloomberg actually saw outflows on Friday," led by European trust funds as the giant New York-listed GLD held unchanged at its smallest size since mid-March.
Latest data from the leveraged derivatives market meantime show hedge funds and other 'Managed Money' participants
held the fewest bullish Comex bets
last week – net of bearish bets – since January 2016, immediately as the gold price began to recover from 6-year lows.
Speculators in Comex silver contracts were meantime net bearish overall for the first time since August 2015, with the count of bearish 'Managed Money' traders outnumbering bullish members of that group for the first time since December that year.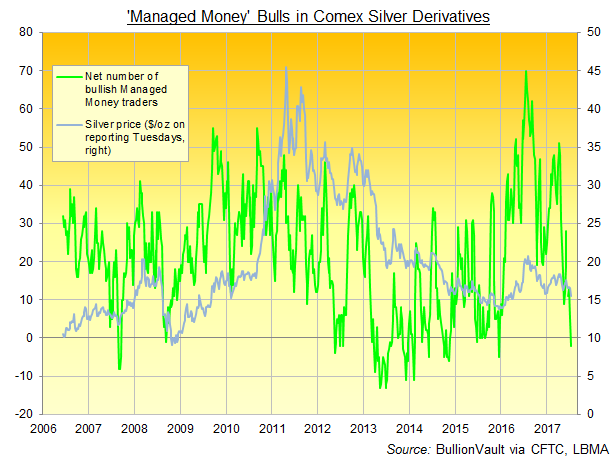 Chinese gold prices rose overnight, holding Shanghai premiums above London quotes at $9.60 per ounce, in line with the city's usual rate.
Gold prices in India – now the world's No.2 consumer nation, overtaken by China – ended last week at
a discount for the first time in a month
, losing the slight premium paid by consumers just before the government introduced its new 3% GST sales tax on bullion, with a further 5% on fabrication charges on jewelry.
"Domestic factors in the US, and especially weak inflation data, suggest that yields will edge back down," says currency strategist Steven Barrow at Chinese-owned investment and bullion bank ICBC Standard, pointing to Treasury bonds.
"The ECB has a chance to inch its more hawkish monetary policy agenda forward this week" at Thursday's policy meeting, Barrow adds, "but it is a chance that we do not expect the bank to take.
"Rate hike speculation [meantime] continues to swirl in the UK...but, in our view, the huge uncertainty surrounding Brexit makes investment in UK assets extremely risky."
With the S&P500 index of US shares setting a new record-high weekly close on Friday
above 2,400 points
, analysis from Prudential Portfolio Management Group quoted in the Wall Street Journal shows US high-yield bonds
now offering zero risk premium
to investors over 'risk-free' government bonds when adjusted for default rates – the second such time in the last decade.
Eurozone high-yield corporates are again paying less than sovereign bonds,
says the analysis
– the fourth such time since the global financial crisis blew up in 2007.
With the ECB targeting a ceiling of 2.0% annual growth in the cost of living, headline inflation across the 19-nation currency union
ticked lower in June
, new data said Monday, but the so-called 'core' index accelerated to rise 1.2% per year, just ahead of analyst forecasts.