How to buy gold bullion online - it's also the cheapest way
Before you buy gold coins or gold bars, read this.
There are many reasons to want to buy gold, but how you do it is critical to the total costs of owning physical bullion.
To determine the total costs of ownership you must consider not only what it costs to buy the small bar or coin, but also what you will receive for it when you come to sell. You should also include in your calculation the shipping cost and the cost of insuring it at home.
Many coin and small bar dealers offer 'free' shipping. When something is 'free' the cost has usually been shifted elsewhere. With gold it is often hidden in the price you pay for the coin or bar, along with the costs of the bar's manufacture and the dealer's mark-up over the wholesale gold spot price.
That wholesale price – also known as the spot gold price – is the price for buying or selling gold in the form of large, wholesale bars. Any small bar or coin will have started as part of one of these large 400oz (12.5kg) bars – the size and format that the professional market deals in.
You can buy gold directly in this large-bar format using BullionVault. To see the cost savings, compare the price of any gold coin you're thinking about buying elsewhere with this table.
Small bars and coins are made by melting down these large bars and casting smaller units. The cost of this manufacturing process is effectively loaded into the final price the consumer pays for the "retail" unit. So over and above the spot price, when you buy gold this way you must also pay for the costs to manufacture the small bar or coin, plus the dealer's overheads and some amount the dealer wants to make as a profit. In total, it is not unusual for all of these costs to result in you paying 5-8% over the actual wholesale cost of the gold.
As with most things, the most efficient way to buy gold is to buy from the wholesale market. Gold market wholesalers such as refiners and bullion banks won't sell directly to consumers because they can't typically buy gold in large enough quantity to make it worthwhile. This is why they sell to distributors who have access to the retail market place. They like this arrangement as it keeps everyone's margin – the profit they make – intact. That profit is paid by you, as a retail client.
Professional vaulted gold held in a vault of your choice.

Buy allocated gold in the form of large Good Delivery bars for the lowest possible price.

BullionVault.com is the only place where you can buy or sell gold 24/7.
But it gets worse. When you come to sell a small gold bar or coin, you are very unlikely to realise full value for it. A dealer will not buy gold from you at the spot price, as they have to factor in their overheads, and they also have to consider the chance that the bar or coin is not what they think it is. Some rarer coins might be quoted at prices above spot, but in gold bullion products like small bars, Sovereigns and Krugerrands this usually results in you receiving 5-8% less than the spot price when you come to sell.
All told, the typical roundtrip cost of buying and selling a small gold bar or coin can cost you at least 10% of the value of the gold. This seems like a poor way of going about buying something that has the primary purpose as a store of value.
There is a better way to buy gold. Using BullionVault you can buy gold AND sell it at wholesale prices. Our low commissions start at 0.5% and fall quickly on larger quantities, meaning you'll pay a maximum of 1% roundtrip compared to about 10% if you bought and then sold a small bar or coin from a retail dealer. The table below shows the roundtrip costs - the spread - you would pay to buy popular small bars and coins compared to using BullionVault. The table assumes a flat spot price of £854 per troy ounce.
Spot at £854 per TrOz
Best price
Per ounce*
Best buy back**
Cost of spread
Sovereign coin
£219
£930
£833
10.5%
Krugerrand coin
£886
£896
£836
6.7%
100g gold bar
£2,884
£897
£837
6.7%
BullionVault (1 gram)
£27.50
£860
£850
1.2%

* including dealing commission or postage fees

**no postal charge accounted for
To see the effect such a spread has in a real world example, you can see in the table below how your profit would have been impacted if you had bought gold on 15 Feb 2016 and sold it again on 24 Feb 2016 – during which time the spot price of gold rose £49 per troy ounce (5.9%).
Compare gold coin and bar prices versus BullionVault
15 Feb 2016
24 Feb 2016
profit/loss
% profit/loss
London 'spot' market
£834
£883
£49
5.9
2016 Sovereign
£940
£862
-£78
-8.3
25 x Sovereigns
£898
£865
-£33
-3.6
George V Sovereign
£942
£862
-£80
-8.5
Krugerrand
£877
£864
-£13
-1.5
Cheapest 100g bar
£877
£865
-£12
-1.4
BullionVault (Zurich)
£840
£876
£37
4.3

Source: BullionVault via UK competitors

Spot price = mid-point of bullion banks' average buy/sell quotes

All others show best available offer at 09:00 15 February 2016 versus best available buy-back price at 09:30 24 February 2016, including dealing costs
Before you buy gold using BullionVault, you can try us out for free. Each person that opens a BullionVault account receives four grams of silver plus a small amount of US Dollars, Pound Sterling and Euros free. This enables new users to try buying and selling bullion completely risk free.
Commission & storage fees
Standard commission rates on gold or silver
| Transactions | Sum of all purchases (or sum of all sales) in the year so far | Commission rates |
| --- | --- | --- |
| On the first | $75,000 or equivalent | 0.50% |
| On the next | $750,000 or equivalent | 0.10% |
| Then | | 0.05% |
We aggregate your prior deals within the year, so you pay lower commissions as the year progresses. Commission discounts for both purchases and sales run independently on gold and silver.
Gold and silver storage rates
Metal
Fees (including insurance)
ETF fee for comparison
per month
minimum
per month
Gold
0.01%
$4
0.033%
Silver
0.04%
$8
0.042%
Unlike Bank Deposit Protection your BullionVault insurance (included) protects you to the full value of your bullion, with no cap.
Commission and storage fee examples when you buy gold
Estimate your commission and storage fees using our cost calculator.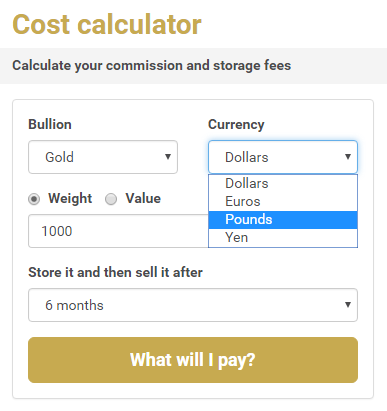 Using live prices, this calculator lets you see how much gold or silver you can buy on BullionVault for the sum of money you want to invest, plus how much you will pay in fees to buy, store and then sell your metal.
Fund with a debit card and buy gold
UK users can now make their first deposit (max. £5,000; min £100) using Visa, Mastercard or Maestro debit cards. Or they can make a bank transfer, if they prefer. (We don't accept credit cards or pre-paid cards.)

Your British Pounds will appear instantly in your BullionVault account, ready to make your first purchase of gold or silver.
100g gold bars now available using BullionVault
This page explains why the smart way to own gold is by avoiding the inefficiencies of the small bar and coin market. And yes, we think your gold is better kept fully insured within in a professional vault.
But if you really want gold in your hand, we now offer 100g bars for delivery. We've solved many of the complexities that lead to the high costs associated with gold bar and coin retailers and we can now make these 100g bars available to you at very low prices. Find out how we do it.
You can withdraw gold from BullionVault in the form of a Pamp Fortuna 100g bar.
Why BullionVault?
BullionVault is the world's largest online investment gold and silver service, allowing private investors access to the professional bullion markets. BullionVault manages $2 billion in client property for over 65,000 active users.
BullionVault gold and silver is securely stored in professional vaults. Because of this the custody fee, which covers storage and insurance, is much lower than anything comparable.
Only BullionVault gives you the opportunity to buy gold and silver at the benchmark London Prices published on the London Bullion Market Association website.
It's free to open a BullionVault account and typically takes under a minute.