Gold bars come in many different shapes and sizes, and buying in bulk saves you money.
You can now invest any amount in gold, from 1 gram to 10 large gold bars, at professional bullion market prices. Click here for a detailed explanation of the cheapest, safest, and easiest way to buy gold.
At the most expensive end of the gold bar price scale, one-gram "novelty" gold bars are minted for the gift market. Often coated in plastic, these tiny gold bars cost at least twice the value of their gold bullion content.
Cheapest of all, in contrast, are the 400-ounce (12.4kg) "Good Delivery" gold bars held by central banks, and traded by professional bullion dealers in London, center of the world's 24-hour gold market.
It's the live dealing in these 400-oz gold bars, along with the trade in Comex gold market-approved bars in New York (100 oz), that creates the spot gold price you see quoted on the internet and in your newspaper.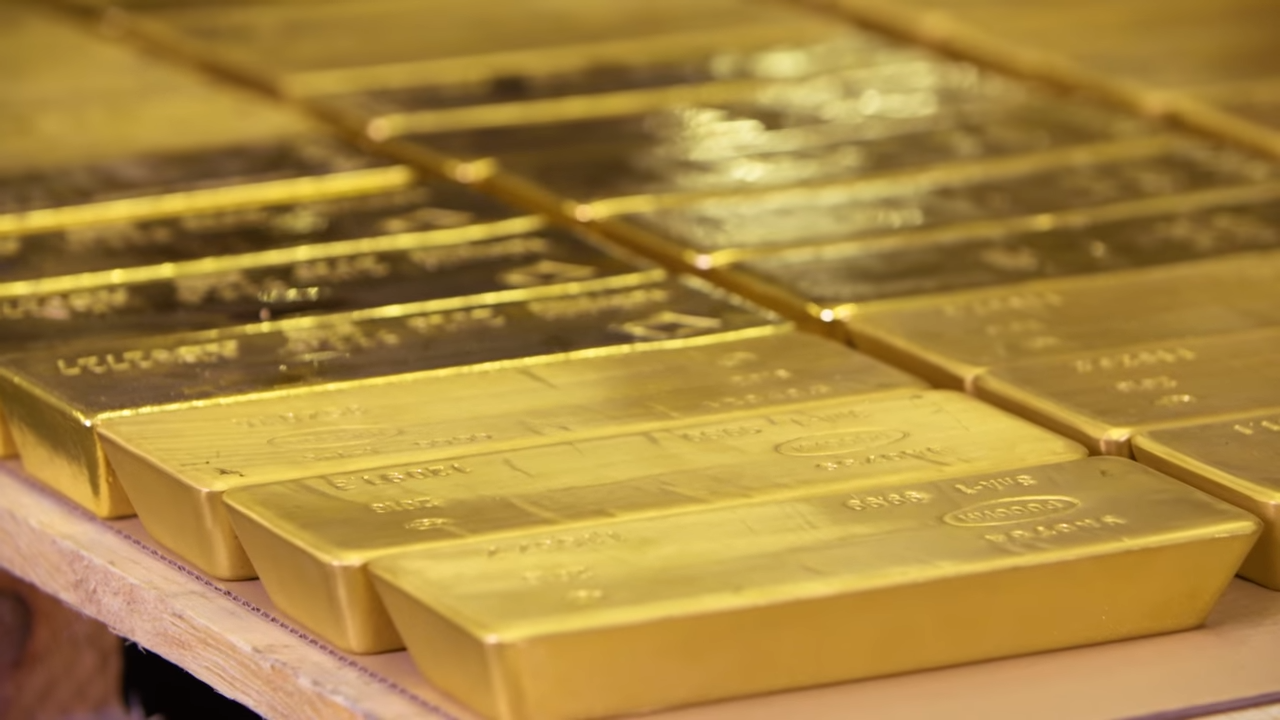 Types of gold bar
There are more than 30 types of gold bar circulating in the world's regional gold markets today. In value terms, the most heavily traded gold bars - with the largest ready market, open 24 hours a day, five days a week - are the Good Delivery gold bars bought and sold through dealers working in London.
Sixty-three active gold refineries, all closely monitored and approved by the London Bullion Market Association, make around 150,000 of these 400-ounce gold bars each year. That's worth some $102 billion at current prices (Jan. '13).
In the smaller, local gold markets of India, Singapore and the Middle East, the most widely traded gold bar is the "ten tola" bar. Rarely stamped with a serial number and weighing 3.75 oz (117g) each, two million of these "TT" gold bars are cast or minted each year.
The most popular gold bar in China is the "five tael biscuit" bar (6 oz; 187g). Manufactured in Hong Kong, five-tael gold bars are approved and recognized by the Chinese Gold & Silver Exchange, now in operation for almost a century.
Outside Asia, the most popular gold bar sold to private investors for personal storage is the kilobar (1000g; 32.15 ounces). More than a million of these gold bars are manufactured each year, most often in Switzerland.
The leading gold-bar refineries also make vast quantities of one-ounce gold bars every year - and just like the kilobar, these gold bars are widely promoted as a cost-effective route to gold investment.
But these smaller gold bars, although they're cheaper than gold coins, don't come without significant drawbacks.
Why buy gold bars?
Buying gold bars is almost always cheaper than buying the same weight in gold coins - and the bigger each bar, the lower the cost by weight.
Depending on your local tax regime, you can reduce or completely avoid paying sales tax (VAT) by buying gold bars instead of coins, too. Your savings will also depend on the quality (or "fineness") of the gold bars you buy.
Trading Good Delivery gold bars - guaranteed to be of 99.5% fine or above - can then cut your tax bill again in many countries, because these 100- and 400-ounce gold bars are defined as investment gold and eligible for personal retirement plans. Good Delivery gold bars reduce your costs further still by retaining main market deliverable status. Depending on your point of view the elimination of private possession and insurance arrangements is also a plus.
Smaller gold bars such as 100g gold bars bought and stored at home, on the other hand - or even kept in a bank safety deposit box - present three big drawbacks.
Price: If you're buying small gold bars, your purchase price will be 2% or even 4% above the value of the gold content you get. Expect to lose nearly as much again when you sell small gold bars back to your dealer, too.
Delivery: Most gold bar retailers will cover the cost of insurance when sending gold out to new buyers, but they'll expect you to cover this cost when you send back your gold bars to sell them.
Security: Insuring gold bars kept at your home will push your premiums sharply higher, even if you invest in a good safe. Using your bank's vault won't be cheap, either - and keeping gold in your possession without insurance is not a serious option.
Specialist gold-bar storage programs - such as gold pool accounts and certificate schemes - offer to help cut out the hassle of taking physical possession. This can certainly help reduce the premiums you pay to buy gold and sell. But their storage fees still run up to 1.5% per year.
That's a significant charge for owning gold bars - a passive investment that pays you no interest. There is a much cheaper route, however, into buying gold and owning it outright.
Direct Access to the Biggest Gold Bars
To retain Good Delivery status, the big 400-ounce bars of gold traded by refineries, central banks, wholesalers, bullion banks and professional dealers must remain inside secure, recognized gold bullion vaults.
Take these gold bars out of market-approved storage - even to store at your bank - and they break the chain of integrity that guarantees each bar's gold to the next buyer.
It's the integrity of Good Delivery gold bars that ensures maximum resale when you come to sell. But until recently, private investors couldn't easily access this market unless they were able to buy a whole 400-oz bar. Nor could they arrange market-approved storage unless they owned five big bars or more.
At BullionVault, however, you can now buy gold in amounts as little as one gram at a time. Stored in market-approved gold bar facilities, your gold will retain its maximum resale value. Storage fees for owning a portion of these big gold bars run as low as 0.12% per year, with insurance included. Estimate your commission and storage fees using our cost calculator.
Gold bars FAQs
How much a gold bar is worth depends on its weight, fineness and brand, as well as the current gold price. Some types of bar, like the 3.75oz 'ten tola' popular in south-east Asia, can be worth much less per gram of fine gold than others, such as gold kilobars cast by big-name Swiss refineries.
How much this gap matters between what different gold bars are worth depends on whether you are investing or collecting. Over 30 types of gold bar are in circulation around the world, and the most cost-effective by far is the 400oz (12.4kg) 'Good Delivery' bar, cast by LBMA-approved refiners, and stored inside specialist vaults. These gold bars are worth much more than any other type per gram of fine gold.
For help calculating the price of gold bars, view BullionVault's live gold price chart, which tracks the changing price of gold up to the second, as well as providing historic data.
Yes, anyone can legally own gold bars in almost any country in the world today. The US ban on lawful gold bullion ownership ended in 1975, and legal limits on the amount of gold a UK resident could own ended in 1979 when these laws were abolished along with other exchange controls.
While investors around the world are now able to own gold bars legally without restrictions, reporting or penalties, buyers keeping gold bars at home – as opposed to using safe storage such as LBMA-member vaults – should declare these bars to their home insurance provider or risk invalidating their contents policy.
For information on how to access and store gold bars, read our dedicated guide above.
Yes, gold bars are made using real gold. Investment-quality gold bars should be 99.5% pure gold. There are more than 30 types of gold bars in circulation around the world, including the real bullion market's most common form, the 400oz (12.4kg) 'Good Delivery' bar.
Investors looking for smaller gold bars should seek products from LBMA approved refineries that produce cast and minted gold bars to the required standards.
Most banks do not accept gold bars from private sellers, with rare exceptions in some private banks. This is a result of the rise in counterfeit gold products in recent years, plus banks not being able to evaluate gold bars efficiently to minimise risk.
Instead, gold bars are bought and sold on the commodities market. The most efficient and secure way for private investors to buy and sell gold is through specialist bullion platforms that hold gold in LBMA-member vaults, where price spreads (the difference between buying and selling prices) are the tightest and commission fees are lowest.
Gold bars are often also referred to as gold bullion or gold ingot. There are more than 30 types of gold bars in circulation around the world. They differ in their size and weight and have unique product names.
Some of the most common gold bars around the world include:
400oz (12.4kg) 'Good Delivery' bars
3.75oz 'ten tola' bars
6oz 'five tael biscuit' bars
1kg kilobars
Buying gold bars can be a smart way of hedging risk in a wider portfolio of investment assets. The value of gold has tended to increase when domestic currencies, stocks and bonds lost value, helping smart investors reduce their overall losses if not reverse them.
Professional and other smart investors typically trade Good Delivery gold bars, because they mark the most cost-effective method of buying and owning gold. With these gold bars, the price spreads (the difference between buying and selling prices) are the tightest and commission fees are lowest.
For information on how to access the wholesale bullion market and own gold within a 400 troy ounce Good Delivery gold bars, read our dedicated guide above.
Learn more about the cheapest, safest and easiest gold now or to register for 4 grams of free Good Delivery silver, click through to BullionVault.com.