Save your cookie preferences
We use cookies to remember your site preferences, record your referrer and improve the performance of our site. For more information, see our cookie policy.
Please select an option below and 'Save' your preferences.
You can update your cookie preferences at any time from the 'Cookies' link in the footer.
Withdraw bullion
Three ways to withdraw bullion
Whole bars
Larger holders may withdraw whole Good Delivery bars of gold (400 troy oz, about 12 kg), whole Good Delivery bars of silver (1000 troy oz, about 31.1 kg) or whole kilogram amounts of Good Delivery platinum. Please contact us to find out more.
See Tariff for pricing.
Standard 100g gold bars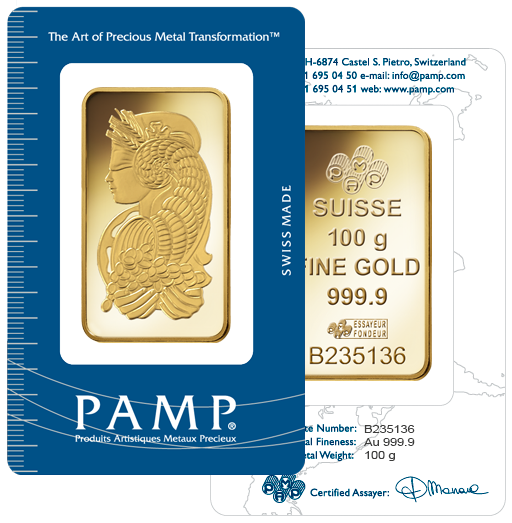 You can withdraw gold from BullionVault in the form of a Pamp Fortuna 100g bar. This standard format with regular dispatch dates is efficient and simple, allowing us to keep costs low. The gold will be shipped to your registered address and must be signed for.
BullionVault will charge a small fee to cover production and insured shipping of your 100g gold bars. Place withdrawal requests under ACCOUNT > WITHDRAW 100g GOLD BARS where the current fee is clearly presented.
You may withdraw 100g gold bars to these countries.
Bespoke amounts of gold
We can arrange for delivery of other quantities of gold bullion as small bars. The minimum withdrawal is 50g. To arrange a bespoke order requires a significant amount of management and this is reflected in a higher fee. You may prefer to sell your vaulted bullion, withdraw funds and use them to buy metal from a coin and bar retailer.
See Tariff for pricing.
How does the standard 100g gold bar withdrawal work?
Your 100g gold must be in a single vault.
You need a cash balance sufficient to pay our fees.
Your account must be validated as a personal account, not a business, trust or pension/retirement account.
Bars will be delivered to your registered address, which you will be asked to verify if you haven't already.
All deliveries are made by specialist courier and must be signed for.
Once you request a withdrawal, 100g of gold will be reserved in your account for each bar until the bars are dispatched. Funds will also be reserved to cover the charges until your withdrawal request is processed. You can cancel your withdrawal request online in HISTORY >

100g GOLD BAR WITHDRAWALS

. The deadline up until which the request can be cancelled is shown there and also on the confirmation page immediately after placing a withdrawal request.
Please verify your address before placing a withdrawal request, or as soon as you can after. We may also ask you to upload further proof of identity. If your address is not verified in time, we'll cancel your withdrawal request and your gold will remain in safe keeping in the vault.
To limit risk we restrict the number of bars that may be withdrawn in a single dispatch.
To withdraw more than 4 bars within a calendar year you will need to complete an enhanced due diligence check (and will incur associated costs).
Where we estimate dates for dispatch and delivery of your gold, these are given as a guide only. International deliveries may be subject to delays, for example, at customs.
While delivery is underway and we are able to supply tracking details, these can be accessed through your BullionVault account online.
Where delivery fails after reasonable effort by the courier and the bar is returned to BullionVault's care, each 100g of gold will be returned to your holding inside the vault. Fees will not be refunded and you will be charged for return delivery.
You may withdraw 100g gold bars to these countries.
Conditions for 100g gold bar withdrawal
BullionVault's standard terms and conditions apply. On requesting delivery of a 100g gold bar you will confirm that:
Delivery is to your permanent residential address. You must not share this address with another residence. We will not deliver to a commercial address.
No-one resident at the account address has been convicted of a crime within the last 5 years or has a pending prosecution.
Within the last 5 years you have not had insurance refused, nor made more than 1 theft related insurance claim.
Within the last 5 years you have not been involved in any disputed non-receipt of goods claimed delivered by a signed-for delivery service.
You will only request withdrawal of gold bars from one BullionVault account and not from any other BullionVault account that you hold or that is held on your behalf.
BullionVault and its agents may report your bullion transactions as obliged by law. BullionVault may submit your personal details to third-party identity-checking services, and to the packing company and the delivery service tasked with shipping your bullion.
© BullionVault Ltd .