Platinum Peaks Above $1300 1st Time in 6 Years, 'Go Big Now' Urges Yellen as S&P, Commodities Soar
Monday, 2/15/2021 14:43
PLATINUM PRICES soared to new 6-year highs Monday as industrial commodities rose and global shares hit new peaks on optimism about the rollout of Covid-19 vaccines, plus new fiscal aid from Washington, writes Atsuko Whitehouse at BullionVault.
Oil prices soared to 13-month highs above $60 per barrel after the Saudi-led coalition fighting in Yemen said it destroyed a military drone fired by the Iranian-backed Houthi rebels.
Prices for silver
– which finds nearly 60% of its annual demand from industrial uses – rose 1.1% to $27.65 per ounce after gaining 1.5% last week.
Gold prices in contrast edged lower by 0.2% to $1821 per ounce.
Finding two-thirds of its annual demand from
industrial uses led by auto-catalysts
, platinum climbed 4.1% by Monday lunchtime, breaching $1300 per ounce for the first time since October 2014.
The metal already jumped 11% last week and has now risen 22% so far since the beginning of 2021.
"Platinum prices have started the year on a strong note amid supply-chain fears as the Covid-19 variant rekindled concerns over mine closures in South Africa," says Suki Cooper, director of precious metals research at Asian bank and London bullion market maker Standard Chartered.
"Platinum may see a third consecutive annual deficit in 2021," said Rupen Raithatha, research manager at specialist materials firm Johnson Matthey in its new supply and demand estimates last week.
The global market was undersupplied by 4.7% and then 7.4% of net demand in 2019 and 2020 on JM's analysis.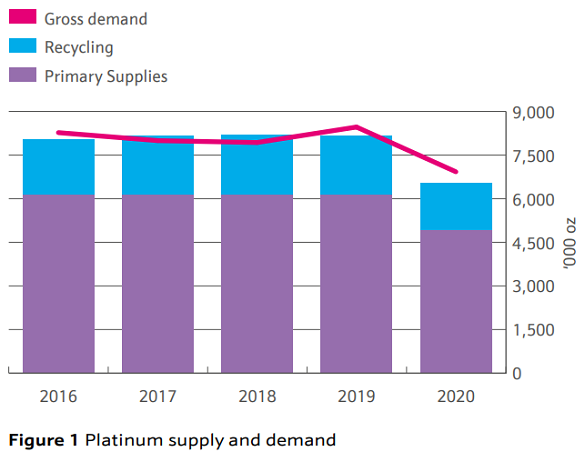 Now forecasting a "V-shaped" recovery in both supply and demand for 2021, last year's lockdowns triggered temporary closures of mines and automotive plants, disrupted the collection of PGM-containing scrap, and hit consumer purchasing of new cars and jewellery.
Today the world's No.1 platinum miner, Sibanye Stillwater Ltd., was reported to be looking at boosting its output by extending the life of the Marikana operations in South Africa it acquired when it bought Lonmin Plc 2 years ago, possibly spending a fresh 3.9 billion Rand ($270 million) on the project.
"The metal could climb by more than 80% during the next four to five years as the global economy recovers and supply dwindles," reckons Neal Froneman, CEO of Sibanye (JSE: SSW), whose shares rose almost 7% on Monday.
Europe's bourses also gained, following the surge in Asian trading which saw Japan's Nikkei 225 gain 1.9% to reclaim the 30,000 mark for the first time since 1990.
Despite the UK shrinking twice as fast last year, London's FTSE100 index jumped 1.5% even as the Pound strengthened on the FX market today after the UK recorded 15 million vaccinations against coronavirus – hailed as a "significant milestone" by Prime Minister Boris Johnson.
On the other side of the pond, the new administration of Joe Biden last week finalised a deal for 200 million vaccine doses – enough to vaccinate nearly every American adult – from Pfizer and Moderna last week.
With China and some other Asian markets remaining closed for Lunar New Year, Wall Street is also closed to mark Presidents' Day after the S&P500 index recorded its 10th all-time closing high for the year to date on Friday.
"The time to go big is now," said Biden's new Treasury Secretary Janet Yellen on Friday at the former Fed chief's
first meeting of G7
finance ministers.
President Biden has meantime continued to seek bipartisan support for his $1.9 trillion Covid recovery stimulus package even amid his predecessor Donald Trump's Senate impeachment trial and now acquittal.