Gold Prices Slip, India Silver Back in Discount as Imports Sink 80%, Western Gold ETFs Shrink
Wednesday, 12/09/2020 13:51
GOLD PRICES retreated on Wednesday, dipping $20 from yesterday's 2-week highs as global stock markets rose together with industrial commodities and longer-term interest rates despite a new record in US Covid cases and ahead of tomorrow's key December policy announcement from the 19-nation European Central Bank.
Slipping to 2-day lows at $1855 per ounce by lunchtime in London, gold prices in the world's central bullion storage and trading hub continued to show a premium to the typically more expensive consumer markets of China and India, showing weak demand among Asia's key jewelry buyers.
Gold-backed trust funds traded on the stock market saw their first net outflows in a year last month, the mining-industry's World Gold Council said today, with gold ETFs as a group shrinking 2.7% by size and 8.9% by value as gold prices sank at their
fastest pace on Joe Biden's win
since Donald Trump won the 2016 US election.
Over 95% of
gold ETF investment
is made through products listed on North American or Western European exchanges.
The price gap between London and Shanghai gold quotes meantime widened Wednesday to $27.45 per ounce, over $1 deeper than yesterday's discount for bullion landed in China even as the Yuan strengthened on the currency market to its highest US Dollar value since June 2018.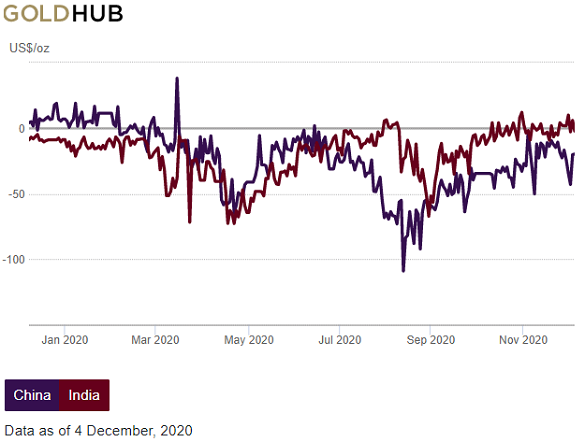 Indian gold prices fell back to a discount last week according to
data compiled by the World Gold Council
, showing weak demand versus supply in the metal's No.2 consumer market after briefly rising to show a small premium to London quotes as last month's key Hindu and Sikh festival of Diwali approached.
India's silver demand has also sunk in 2020, reports CNBC TV-18, with imports of the more industrial precious metal sinking over 80% so far this year from 2019.
"We did see some demand pick up for Dhanteras and Diwali," says
CNBC TV-18's Manisha Gupta
, but while that reduced the $2 discounts to global silver prices seen in the 2 months leading up to India's big festive season, domestic prices are now back at 50 cent discounts, thanks to weak demand, record high Rupee prices, and rising scrap flows from existing owners selling to take profit.
India last year imported 5,556 tonnes of silver bullion. So far in 2020 that has fallen to just 728 tonnes.
Silver prices
in London's wholesale bullion market today fell to $24 per ounce before bouncing 40 cents higher to what was a near-3 week high when reached on Monday.
In contrast to the big GLD and IAU gold ETFs, the iShares Silver Trust (NYSEArca: SLV) expanded on Tuesday, swelling by 0.6% for its 3rd daily growth so far this month.
Gold priced in the Euro also edged back Wednesday after regaining one-third of November's 9% plunge, trading at €1536 per ounce even as the single currency slipped again from last week's 32-month highs against the Dollar on the FX market.
Falling to 8-month lows last Monday, the Euro gold price has now risen 13.5% so far in 2020, versus 22.6% gains for gold in US Dollar terms.
The UK gold price in British Pounds per ounce has meantime gained 20.7%, slipping Wednesday to what was a new record high in April at £1381 ahead of
Prime Minister Boris Johnson heading to Brussels for what the media are billing as "last ditch" trade talks with EU President Ursula von der Leyen.
Widely expected to extend the ECB's monetary stimulus by over one-third to €1.85 trillion on Thursday, Eurozone central-bank chief Christine Lagarde will repeat that "financing conditions will remain exceptionally favourable for as long as needed" reckons the
Financial Times
, thereby
urging Eurozone governments "do not worry
about rising debt levels."
Boosted by zero rates and central-bank QE, UK equity funds saw their
2nd heaviest inflows on record
in November, reports settlement service Calastone, "spurred [by] the announcement of three safe, effective vaccines against Covid-19" and behind only April's Covid-Crash recovery at £2.3 billion ($3.1bn).
Exports from Germany, which accounts for more than a quarter of the 19-nation Eurozone's economic output, today came in lower than analysts expected in October, but imports rose less still, helping keep its national
trade surplus near September's 11-month high
.
"Euro area investor confidence for December was also better than expected," says one gold trading desk in a note, pointing to yesterday's Sentix survey.