Gold Prices Stuck at $1900 as Comex Traders 'Sit on Their Hands' Ahead of Election 2020
Monday, 10/26/2020 15:00
GOLD PRICES steadied at the key psychological level of $1900 per ounce Monday as the Dollar advanced and European stocks weakened amid surging cases of Covid-19 worldwide and fresh uncertainty over a US stimulus deal ahead of next week's Presidential election, writes Atsuko Whitehouse at BullionVault.
Spot gold prices traded sideways at $1900 after slipping to $1891 per ounce, the lowest in 7 trading days, at the start of Asian business.
"The metal remains range-bound with a lack of catalysts to make a meaningful break either-side," says a trading note from Swiss refining and finance group MKS Pamp.
"We believe that the election result will be bullish for gold, regardless of the outcome," says the latest 2020 outlook for October to December from Rhona O'Connell at brokerage Stone X Group Inc.
But "Gold's recent agnosticism about the President's Covid diagnosis and indifference over his suspending [stimulus deal] talks has raised questions as to
whether gold is now fully valued
, endorsing market participants' inclination to sit on their hands until the election."
Latest data show that hedge funds and other leveraged speculators in
Comex gold futures and options
raised their bullish bets as a group 7.2% last week from the fewest since June this year, and cut their bearish betting 5.7% from the heaviest since June 2019.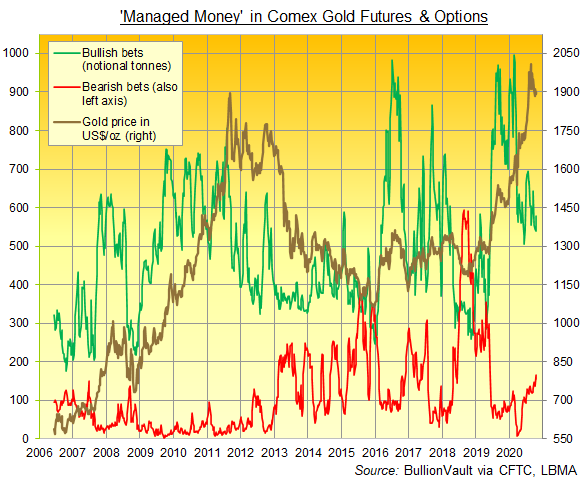 Overall, that pushed the net long position of Managed Money traders to the highest in 5 weeks, but it was less than 15% above the 10-year average.
Speculators also raised their bullish betting on silver, taking the net speculative position to the biggest in 3 months according to the
data published by US regulator
the Commodities Futures Trading Commission (CFTC).
In contrast, bearish betting against platinum, which is highly dependent on the state of the automotive sector worldwide, grew further last week among hedge funds and other leveraged speculators in Nymex futures and options, taking the overall positions of managed money traders to net short for the fourth week.
Platinum prices declined 2.4% to $886 per ounce Monday lunch time in London after dropping 5.1% last week, while silver, also primarily an industrial metal, fell 1.6% to $24.20 per ounce following 1.7% decline last week.
The Dollar Index – a measure of the US currency's value versus its major peers – strengthened 0.3% after slipping as gold prices rallied last week, while Treasury bond prices rose, sending yields on the 10-year lower to 0.80%.
The pan-European Stoxx 600 index declined 1.0% as European countries tightened anti-Covid restrictions on business.
Gold prices for UK investors also held flat at £1457 per ounce, while Euro gold prices edged higher by 0.4% to €1609 per ounce as the single currency weakened ahead of the European Central Bank's policy meeting on Thursday.