Gold Price Flat After US Jobs Shock, 'Risk Aversion Missing' as N.Korea Condemns UN Nuclear Sanctions
Monday, 8/07/2017 14:14
GOLD PRICES held flat Monday morning against the Dollar as the US currency reversed some of last week's bounce amid fresh threats of nuclear conflict from North Korean's government, writes Steffen Grosshauser at BullionVault.
After falling to a 10-day low of $1254 late Friday – and seeing its first weekly decline in four on stronger-than-expected US job data – gold today traded in a narrow $3 range around last week's close of $1258.
The US Dollar meantime cut into Friday's bounce from 15-month lows of 0.8% – the greenback's biggest 1-day rise so far this year – after July's official estimate of non-farm payrolls came in much stronger than analysts forecast.
"The jobs data was very good,
gold is pressured
," said Richard Xu, fund manager at China's biggest securitized gold investment vehicle, HuaAn Gold.
Ahead of last week's US jobs data, hedge funds and other 'Managed Money' traders in Comex gold futures and options grew their bullish betting by 63% net of the same group's bearish bets, taking it back up to the level of mid-June, according to the latest data from US regulator the Commodities Futures Trading Commission (CFTC).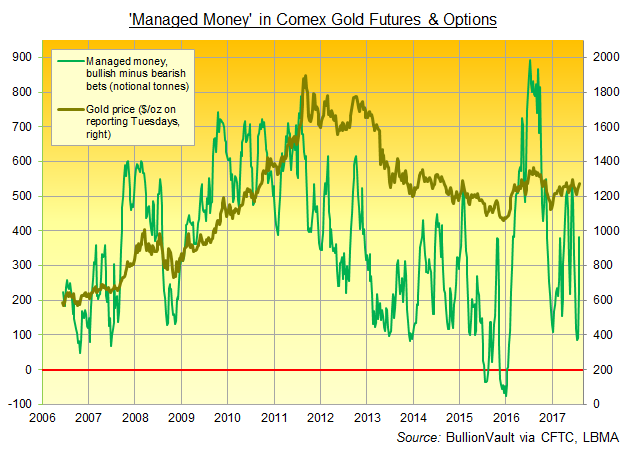 Speculative betting on higher silver prices also increased, reaching the highest since mid-June after turning net bearish overall for the first time since August 2015.
The world's largest gold-backed exchange-traded fund, the SPDR Gold Trust (NYSEArca:GLD), ended the week at its smallest size in 17 months.
Another drop below the current support level at $1255 could see gold prices decline further to the next support at $1247, reckons Reuters technical analyst Wang Tao.
Resistance remains unchanged at $1274, according to Friday's Marketwatch note from at bullion market-maker Scotiabank.
Major government bond yields meantime held flat overall on Monday, with 10-year US Treasurys offering 2.27%, a little below that long-term interest rate's level of a week ago.
Eurozone equities slipped as the single currency rose back towards 31-month highs versus the Dollar despite German industrial production showing its first fall this year on June's data.
Monday ended higher however for Asian stock markets including South Korea's Kospi and Japan's Nikkei indices despite increasing tensions over neighboring North Korea's nuclear ambitions.
Dictator Kim Jong-un vowed at the weekend to retaliate and
make "the US pay a price"
for new sanctions unanimously imposed on Pyongyang by the UN Security Council on Saturday.
Aimed at deterring the isolated country's nuclear weapons research, the sanctions could cut North Korea's annual export revenues by a third.
"There is not much other geopolitical uncertainty in the world, no extreme events," reckons Xu at HuaAn Gold.
"That's why risk-aversion is subsiding and gold prices aren't doing well."
In other precious metals on Monday, silver edged lower and touched $16.14 per ounce – the lowest point since 20 July – while platinum held steady after rallying more than 3% to the highest level since 24 April last Friday.
Crypto-currency Bitcoin climbed to an unprecedented high of more than $3200 on the CoinDesk Bitcoin Price Index (BPI).