Near-Record Gold Prices 'Supported by FOMO' as Equity Rout Worsens with Covid-19 Headlines
Thursday, 2/27/2020 15:12
GOLD PRICES pushed higher as world stock markets sank yet again on Thursday, edging up to show a $10 gain for the week so far in Dollar terms as money managers ran further into the 'safety' of government debt amid the worsening spread of novel-coronavirus worldwide.
With the MSCI World Index already down 7.1% from its new record peak of just early last week, gold bullion traded at $1653 per ounce as New York's Dow Jones opened the day 500 points lower.
Ten-year US Treasury yields meantime fell to new all-time lows, offering just 1.26% per annum, as investor demand drove bond prices higher.
Mid-January, just before China's coronavirus outbreak began making global headlines, saw the odds of a US rate cut at next month's meeting of the Federal Reserve priced at 0% by the interest-rate futures market in mid-January.
That's now jumped to a 50-50 shot
according to the CME derivatives exchange
, with betting that the Fed will cut US borrowing rates 3 times this year leaping almost 5-fold to 65.0% of the Dec' 2020 market today.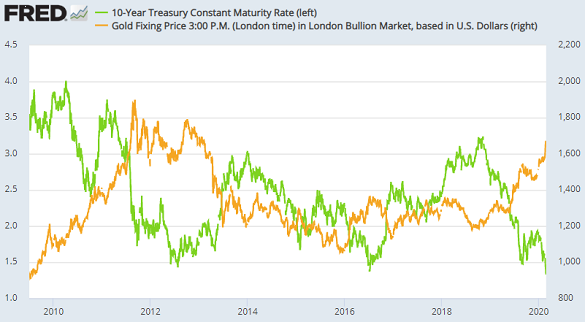 "As we saw yesterday there is buying interest at these levels," says a note from Swiss refiners MKS Pamp.
"[But] a pull-back allows late-comers to take advantage of price correction," counters one London bullion desk, "[and] the Fear Of Missing Out is real...[if] not necessarily enough to beat the take-profit sentiment coupled with marginal [hedging] activity restarted on the [mining] producer side."
In contrast to gold, industrial precious-metals silver and platinum continued to struggle on Thursday, with silver stuck at $18.00 – down over 5.0% from Monday's 4-month high – and platinum hitting 10-week lows at $910 per ounce.
Having plunged 11.2% in the first fortnight, China's own CSI300 index has now rallied to show just a 1.3% loss from 17 January.
Gold priced in the Yuan has meantime gained 7.9%, touching ¥377 per gram on Monday – barely 3.0% below its all-time high of 6 September 2011.
Compared to gold quotes in global trading center London, Shanghai gold prices today showed a discount equivalent to $3.95 per ounce.
That pulled this week's average incentive so far for shipping bullion to China down to minus 45 cents, the first such negative weekly 'premium' since July 2018 and only the 5th negative week of the last 5 years.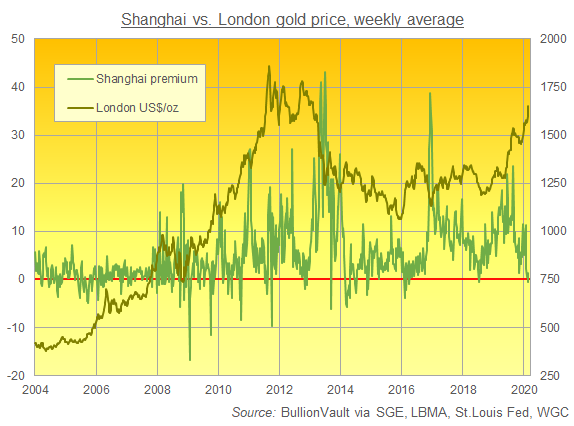 China's special administrative region of Hong Kong is facing a record budget deficit in 2020, the
South China Morning Post
reports, with
emergency measures to boost the economy
– hit first by anti-government protests and now the coronavirus shutdown – set to include a gift of $10,000 Hong Kong Dollars per person (some US$1280).
"While bond deals elsewhere have shown signs of freezing up," says Bloomberg, "Chinese borrowers have raised $22 billion via new issuance this month alone, marking the strongest February to date" and setting a record $51bn for 2020 to date.
New York banks, in contrast, have gone a very rare 3 days without launching any investment-grade debt, although that follows
record issuance of 'junk' bonds worldwide
in January, with borrowers failing to get 'investment-grade' status raising more than $74bn.
Here in London, and with the Government of Boris Johnson today saying it will
"walk away" from post-Brexit trade talks
scheduled for June if the European Union doesn't change its key demands on regulatory alignment, the FTSE All-Share of UK-listed equities has now sunk 10.0% since China's coronavirus outbreak first hit the headlines on 17 January.
The
EuroStoxx 600 index
, in contrast to wider world equities, continued rising for another month longer as the single Euro currency fell, reaching a new all-time high on 19 February before slumping 9.7% to a 5-month low today.
Gold priced in the Euro has meantime risen 1.3% since Wednesday last week, trading today some €55 per ounce below Monday's new all-time high of €1560.