Gold Prices 'Set to Rise 9%' in 2020 on Weak US Fed Policy
Wednesday, 1/29/2020 11:17
GOLD PRICES rose from 3-session lows against most major currencies in London trade Wednesday morning, recovering last week's finish at $1571 per ounce as bond yields fell further ahead of today's US interest-rate decision from the Federal Reserve.
European stock markets extended their rally, and commodities led by copper and crude oil also rose again after plunging on news of the coronavirus outbreak in No.1 natural-resources importer, China.
Over the last month, betting on where Fed interest rates will stand at the end of 2020 has seen a strong rise in rate-cut expectations as betting on the Fed making no change has halved, according to data from the CME derivatives exchange.
Ten-year US Treasury yields on Wednesday tested last week's 3-month lows at 1.62% per annum, holding below both the current US Fed overnight rate of 1.75% and also the latest reading of US consumer-price inflation at 2.3%.
Adjusted for inflation expectations, the path of 10-year T-bond yields typically shows a strong negative correlation with Dollar gold prices.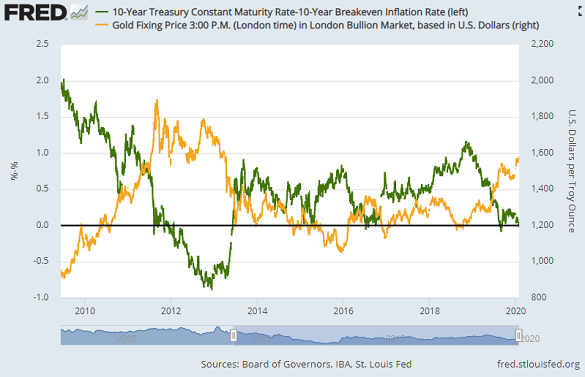 "After posting its best annual performance since 2010 last year," says a note from independent consultancy Metals Focus, "gold started 2020 on a strong note as well" thanks to the US-Iran conflict and then China's coronavirus outbreak.
Both events threaten to "negatively impact global growth," Metals Focus says, and "against this backdrop, risk assets have suffered and defensive instruments, such as gold and US Treasuries, have benefitted.
"Going forward, even if prevailing concerns fade, from a wider macroeconomic perspective, gold is likely to continue benefitting from supportive central bank policies," the consultancy concludes, forecasting an annual average gold price of $1515 per ounce – a rise of 9% from last year's daily average – with a peak of $1650 hit late in 2020.