Gold Prices Rise with Inflation Outlook as US Dollar Falls on 'Spirit of Compromise' Covid Deficit Deal
Thursday, 12/03/2020 14:26
GOLD PRICES rose to 8-session highs against a falling Dollar on Thursday, peaking above $1840 per ounce as the US currency hit new 2.5-year lows amid continued wrangling over a Covid stimulus package of spending in Washington.
Silver prices meantime broke above but again failed to hold the $24.00 level, up 9.6% from Monday's 9-week low, as European stock markets struggled to follow New York and Asian equities up to new highs and Russia and the UK rushed to begin mass vaccinations against the novel coronavirus.
Economic activity across the 19-nation Eurozone and also the UK shrank less quickly than analysts expected for November on today's Markit PMI survey reports, while Australia and China extended their service-sector booms.
US jobless benefit claims were also less gloomy than expected on today's figures, but total payrolls across the world's largest economy grew less than forecast according to yesterday's private-sector ADP report.
Acting
"in the spirit of compromise"
last night, US Democrat politicians Nancy Pelosi and Chuck Schumer backed off demanding that the $2.2 trillion Covid stimulus passed by Congress in October should be approved by the Senate as Republican leader Mitch McConnell continued to oppose it.
But looking for bigger stimulus after Joe Biden becomes President in January 2021, they joined bipartisan calls for an immediate $908bn in relief spending, setting that level as their base-line for the current negotiations.
"[That has] offered support for those of us saying the Covid crisis is
more likely to lead to inflation
than deflation," reckons research strategist Jim Reid at Deutsche Bank.
"Renewed optimism about US stimulus talks pushed the benchmark 10-year yield to a high of 0.96% on Wednesday," says Bloomberg of the US Treasury bond market, already seeing more than twice the previous record net issuance of 2010 so far this calendar-year at $3.9 trillion.
But while bond prices have fallen, pushing yields higher in the face of yet more debt issuance by the US government,
implied inflation rates have risen faster
to set another 18-month high at 1.87% on 10-year TIPS on Thursday morning.
Last time the bond market's inflation outlook was this high, back in mid-May 2019, the 10-year US Treasury bond offered a yield of 2.47% and gold prices stood at $1287 per ounce.
With 10-year yields trading today at 0.93%, that put real 10-year rates – adjusted for inflation – down at the lowest in 7 weeks at minus 0.94% per annum, a multi-decade low when first reached in summer 2020 but still 14 basis points higher than when gold prices peaked above $2000 in early August.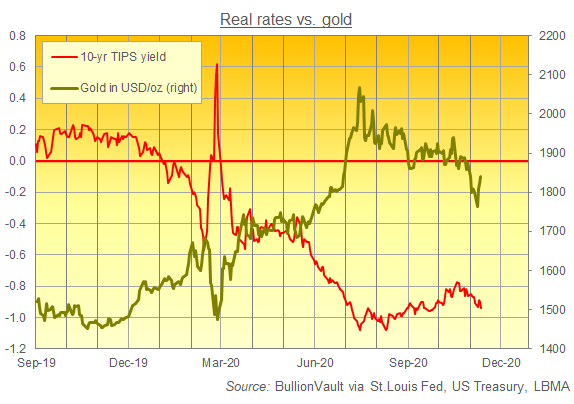 "Stimulus talks and further Dollar weakening are lending more support to gold," says the latest client note from brokerage StoneX's head of market analysis Rhona O'Connell.
In contrast, "The LME suite [of base metals] is taking time out from its rampant bull run, watching the Sino-US relationship, which is becoming edgier."
The London Metal Exchange's index of six base metals has now risen by one-fifth in 2020, reversing spring's Covid Crash and led by a surge in copper prices to 8-year highs, driven by heavy demand and stockpiling in China.
"China must
stop 'wishful thinking'
that rivalry with US will end with Biden," says the South China Morning Post, quoting foreign relations expert Yan Xuetong, who says "unpredictability, uncertainty will still be the basic characteristic of the coming years."
The
gap between London and Shanghai gold prices
widened this morning, reaching a Chinese discount of more than $23 per ounce – and continuing to signal weak demand in the precious metal's No.1 consumer nation – as global bullion quotes rose and the Yuan edged back on the FX market.
Official data from China says that the world's most populous nation – source of the SARS-CoV-2 outbreak starting 12 months ago – recorded only 16 new cases of Covid-19 on Wednesday.
Iran has now seen over 1 million cases in total – some 1.2% of the population – while deaths from Covid have this week
set a new record in Germany
.
Doctors, teachers, and social workers in Russia will
be first to get inoculated
with the Sputnik V vaccine, starting tomorrow, but Western European regulators called the UK's swift approval of the Pfizer/Biontech jabs –
falsely claimed
as a result of leaving the EU by the Government of Brexiteer Boris Johnson – "problematic" while continuing "
a few weeks of thorough examination
."
Euro gold prices also stalled their recovery from Monday's 8-month low at 2.7%, trading at €1513.