Gold Prices Spike as Dollar Surges, Stocks Sink on UK Covid Crisis and US Stimulus Deal
Monday, 12/21/2020 14:39
GOLD PRICES spiked above $1900 per ounce in Asian trade Monday, jumping to 6-week highs after lawmakers in Washington agreed to $900 billion package of pandemic aid, including money for businesses and unemployment programmes after months of wrangling, writes Atsuko Whitehouse at BullionVault.
Gold priced in non-Dollar currencies then held onto sharp gains but the US price sank over $50 per ounce and global stock markets fell as the Covid Crisis saw European nations shut all travel and traffic with the UK – the world's 5th largest economy – where a new strain of Covid-19 forced the Government to impose new lockdown restrictions and ban any Christmas gatherings across most of the country.
Adding 2.3% last week in Dollar terms, spot gold prices had earlier jumped another 1.4% to $1907 per ounce before steadying around $1880 by lunchtime in London.
Prices for silver soared 6.1% to $27.39 per ounce, adding to last week's 7.8% rise before also sinking back to $25.80.
That pushed
the Gold/Silver Ratio
– a simple measure of the two formerly monetary metals' relative prices – down further to just under 70.
Barring 1 day at the start of September, that is the lowest since April 2018, and dramatically lower from March's Covid Crisis spike to
all-time record highs of 125
ounces of silver per 1 ounce of gold.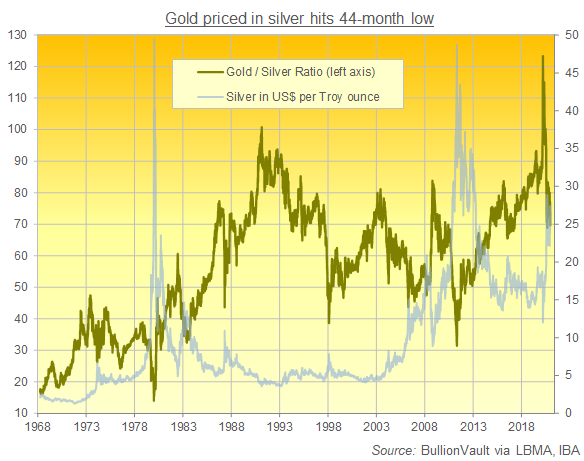 Hong Kong led Asia in banning all flights from the UK, with Japan and South Korea "closely monitoring" the new strain of Covid-19.
Europe's worsening Covid news today saw prices for major government bonds rise as stock markets sank, pushing borrowing costs lower.
Despite the coming surge in Washington's borrowing following the new stimulus deal, the yield on 10-year US Treasuries sank to 1-week lows at 0.89%.
Implied inflation rates meantime climbed to April 2019 highs, threatening to reach 2.00% per annum on 10-year TIPS.
That put real 10-year rates down at the lowest since current data began in January 2003 at minus 1.09% per annum.
"The fiscal stimulus will continue to increase the US budget deficit. Vaccines
may work on Covid-19
, but they will not work on finances," says Bruce Ikemizu, chief director of the Japan Bullion Market Association.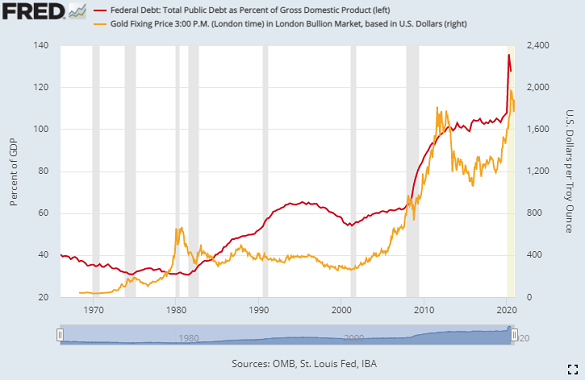 US government debt hit the equivalent of 136% of the No.1 economy's annual GDP during the 2nd quarter of 2020, according to the US Bureau of Public Debt.
That fell to 127% last quarter, but it is still the third biggest debt burden in the developed world after Japan and Italy.
"As a safe-haven asset, gold is likely to continue to be bought, and we would not be surprised to see it test its August high of $2089 during 2021," Ikemizu continues.
The US stimulus package agreed between Nancy Pelosi, the Democratic Speaker of the House, and Chuck Schumer, the Senate's top Democrat, would be one of the largest economic relief bills in US history, second only to the $2.2 trillion Cares Act in March of this year.
The House and Senate will vote today, with the White House saying President Donald Trump would sign it.
Only the Chinese stock market avoided a drop however, with the EuroStoxx 600 index plunging 3.3% after the MSCI Asia Pacific index dropped 0.7%.
The Dollar Index – a measure of the US currency's value versus its major peers – jumped to 1-week highs after hitting the weakest in more than 2.5 years on Friday.
Euro gold prices rose over 2% to 1-month highs at €1565 per ounce before retreating to €1545, while
the UK gold price in Pounds per ounce
rose back above £1400 as Sterling sank at the fastest pace since March's UK Covid shutdown on the new variant lockdown.
With less than 10 days until the UK finally leaves the European Union and its tariff-free trade, "chaos" hit the key UK port of Dover and "panic buying" hit UK supermarkets after the French government banned all travel from the UK for 48 hours last night, including freight drivers, "a solid health protocol" will be put in place in the coming hours so flows of goods between the UK and France can resume, the French transport minister Jean-Baptiste Djebbari has said Monday morning.
No significant disruptions are expected
in the transport of precious metals however says the London Bullion Market Association, the professional organisation that oversees the wholesale gold and silver markets in London, England – centre of the world's physical bullion trading.
"The robust transport infrastructure for PMs has been strengthened further since the first lockdown in Q1, for example by the employment of charter flights which have not been affected by the current restrictions."
Back in March, when UK Prime Minister Boris Johnson put the country into official coronavirus lockdown,
gold prices fractured worldwide
, with dealing spreads widening sharply while the US derivatives market spiked $100 per ounce above the global physical market's reference point of London.
New York premiums, over and above physical bullion quotes in London, today steadied at less than $1 per ounce.