Gold Prices 'Make Quick Work' of $1850 Resistance as 'Hope Springs Eternal' for UK's 'Tricky' EU Talks
Tuesday, 12/08/2020 13:44
The GOLD PRICE rose to new 2-week highs in US Dollar terms Tuesday morning, touching $1871 per ounce – and erasing the losses made in the aftermath of Pfizer's Covid vaccine announcement in early November – as global stock markets fell from new record highs for a second day.
Rallying $100 per ounce from
last Monday's 5-month low
, gold prices also reached 2-week highs for Japanese and UK investors, gaining as the Yen and the Pound weakened on the currency market.
With the UK and Russia now starting mass vaccination programs, world No.3 national economy Japan today
reported another rise in new infections
while the government in Tokyo announced additional fiscal stimulus worth over $700bn.
Japan's economic growth beat analyst forecasts for the third quarter on new figures today, while retail sales in the UK were 7.7% greater last month than in November 2019.
New GDP data from the 19-nation Eurozone meantime matched analyst forecasts to show a 4.3% decline from Q3 last year.
UK data last month put its decline at 9.6%.
"
Hope springs eternal
," said UK Prime Minister and pro-Brexit campaigner Boris Johnson to the BBC today, calling talks with the European Union "very tricky" over a deal to allow tariff-free and quota-free trade after the world's 5th largest national economy finally leaves the largest free-trade bloc on 31 December.
"People need to realize that whatever kind of deal we get, there's going to be change, businesses need to get ready, and I hope everybody understands that."
Sterling today slipped to new multi-month lows on the FX market, retreating further from last week's 2.5-year peak and helping
the UK gold price in Pounds per ounce
pop back above £1400.
A new all-time high when first reached in April, that was over 11% below August's record peak in gold prices for UK investors and savers.
For gold prices "there was some aggressive liquidation seen during the European morning," MKS's traders go on, "[but] in New York things quickly changed with strong buying demand for gold seen on the back of potential stimulus and still rising Covid cases."
That saw gold prices rising "an impressive $45 off of [Monday's] lows...making quick work of the technical resistance at $1848-50" – formerly the floor for gold prices following the summer's surge to new all-time highs above $2000 per ounce."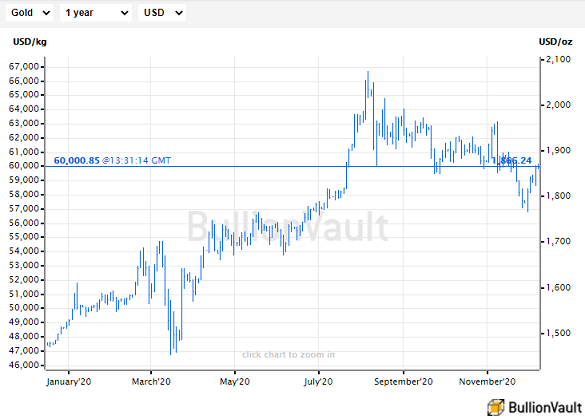 Inflation rates implied by 10-year US bond prices meantime rose back above 1.90% per annum Tuesday morning, reaching the
18-month high touched almost every day
over the last week but not yet breached at the daily close.
Iron ore prices rose once again, setting a fresh 7.5-year high and rallying 70% from early spring's Covid Crash.
Copper prices
may rise another 30% in 2021
, claim analysts at US investment bank Goldman Sachs, after rallying 65% from March's Covid lows to reach the highest since 2013.
Silver today extended the move in gold prices, nearing yesterday's 3-week US Dollar highs at $24.78 per ounce before edging back 0.8%.
Losing $100 per ounce on 9 November's vaccine announcement from Pfizer and its partner Biontech, gold prices then lost a further $100 to last week's low.