Gold Prices Recover Dip as Sterling Sinks on 'Knife-Edge' Brexit Talks, Stocks Drop on US-China Sanctions Rumor
Monday, 12/07/2020 14:10
GOLD PRICES dipped against a rising US Dollar on Monday as Asian and European stock markets fell amid worsening Covid cases worldwide and negotiators from the UK and EU made a last-ditch effort to reach a post-Brexit trade deal ahead of Britain's final exit from the world's largest free-trade zone on 31 December, writes Atsuko Whitehouse at BullionVault.
After rising 2.7% last week to mark the first weekly gain since Pfizer/BioNTec vaccine news of early November, spot gold prices fell 0.8% to touch $1823 per ounce Monday morning before rebounding to Friday's finishing level of $1840.
The Dollar Index – a measure of the US currency's value versus its major peers – rallied after hitting new 2.5-year lows on 4 consecutive days.
Major government bond prices rose as stock markets fell, pushing longer-term interest rates lower.
"Gold remains more or less wedded to the Dollar this morning," says the latest daily gold-price and precious metals note from Rhona O'Connell at brokerage Stone X Group Inc, "and the combination of heightened Sino-US tensions and the vicissitudes of the Brexit negotiations is supporting the Dollar and has taken gold down from a test of $1850" – the metal's
previous floor following its surge
to new all-time highs this summer.
The EU's chief negotiator Michel Barnier warned the bloc's national ambassadors and MEPs this morning that he "cannot guarantee" there will be a trade accord with the UK before the end-month exit of the world's 5th largest national economy from the now 27-nation group.
Both sides are seen scrambling to get a deal agreed before Thursday's summit of EU leaders, where they will all need to give approval.
France's President Emmanuel Macron has already said he may veto any deal which he believes hurts French interests.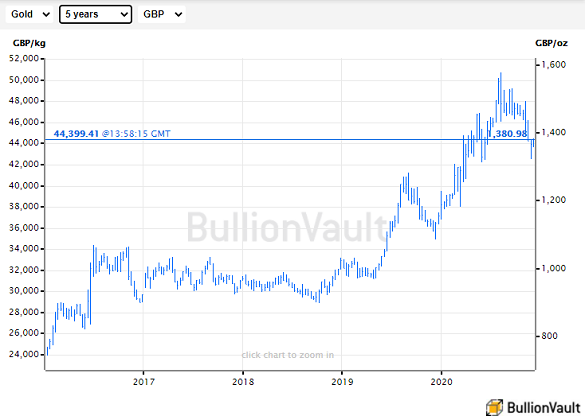 UK gold prices in Pounds per ounce
rose 1.3% to £1385 per ounce today, the highest in 2 weeks, as Sterling fell as much as 1.6% against the US Dollar and the Euro single currency, its worst one-day performance since September.
British tabloid newspaper
The Sun
says Brexit campaigner and now UK Prime Minister Boris Johnson is
ready to pull out of negotiations entirely
if the EU doesn't give way on fishing rights and 'level playing-field' rules on state aid to privat businesses.
Euro gold prices in contrast dipped 0.6% to €1508 per ounce as European shares fell, following Asian equities lower – now retreating from new record highs –
after Reuters reported
the US is preparing to impose sanctions on some Chinese officials.
The rumored move from outgoing US President Donald Trump could come as soon as today says the news-wire, targeting officials from the Chinese Communist Party (CCP) over their alleged role in Beijing's disqualification of elected opposition legislators in Hong Kong.
Gold prices in China, the metal's No.1 consumer market, continued to show a discount to London on Monday, with the Shanghai Gold Exchange's benchmark price lagging global spot quotes by $24 per ounce.
Easing last month to an average of $20 across November, and due to the fact that gold bullion exports are illegal from China, the Shanghai discount peaked at $89 per ounce in August.
Silver, trading in tandem with gold, fell 2.8% to $23.53 per ounce after rising 6.7% last week, which push
the Gold/Silver Ratio
– a simply measure of the two formerly monetary metals' relative prices – up to 77, the highest in 5 sessions.
Platinum prices
meantime declined 3.5% to $1024 per ounce following a strong weekly gain of 9.4%.
Bullish betting on platinum – which finds nearly 60% of its annual demand from industrial uses, including catalytic converters in diesel-fuelled vehicles – grew for the 4th week in a row among hedge funds and other leveraged speculators in Nymex futures and options, latest data show.
Net of that group's bearish bets, that pushed the overall net long position of Managed Money traders up to the largest in 3.5 months, recovering further from this autumn's dip into a net short position.
Gold and silver also saw speculators increase their net long positions last week, but palladium – which finds 75% of its demand for catalytic converters in gasoline engine vehicles – showed net bullish betting shrinking for the 3rd week in a row.
Back in the US, more details on the $908 billion bipartisan stimulus package are expected to be revealed later today, with one Republican senator backing the proposal saying he is confident Senate Majority Leader Mitch McConnell and President Donald Trump will come on board, averting a government shutdown by approving this emergency spending.