Gold Price Bounce Vanishes as Bond Yields Rise Again with Stocks on Covid Vaccine Hopes
Wednesday, 11/11/2020 13:59
GOLD PRICES on Wednesday gave back most of yesterday's bounce from a $100 plunge, retreating to $1865 per ounce as interest rates on government bonds rose again with both global stock markets and commodity prices following Monday's headline news of a Covid-19 vaccine.
Although more industrially useful, silver also retreated with gold prices, giving back 40 cents to $24 per ounce, down 6.0% for the week so far.
"[But] given the very loose monetary policy of most central banks," adds analyst Daniel Briesemann at Commerzbank, "
low or negative real yields [mean] gold
should be in demand as a store of value in the long-term."
With 10-year US Treasury debt falling in price once again on Wednesday, the yield it offers to new buyers reached 0.98% per annum – the highest rate since mid-March's Covid Crash hit all financial markets.
The 10-year inflation rate implied by 10-year TIPS meantime rose to 1.78%, its highest since 2 January.
Together that put the real rate of interest at minus 0.80%, only just above Monday's sudden 17-week high.
On a 52-week basis, gold prices currently show a near-perfect correlation with real 10-year yields, with the r-squared reading 95.3%.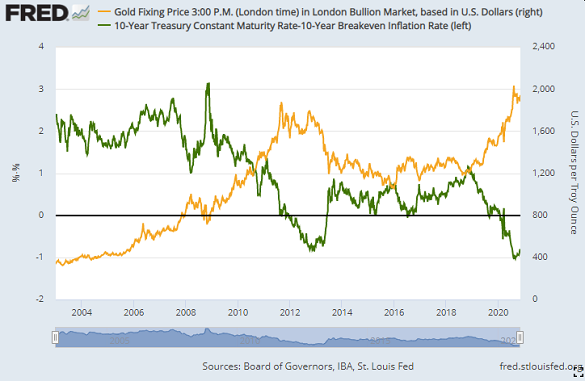 Crude oil has now risen by almost one-fifth since drugmaker Pfizer (NYSE: PFE) announced but did not release data from successful Phase 3 trials of its Covid vaccine, reaching 9-week highs today above $42 per barrel of US benchmark WTI.
Hong Kong's Hang Seng share index meantime bucked the rise in world equities on Wednesday, slipping 0.4% as the city's government
expelled 4 pro-democracy lawmakers
from the legislature, leading to the mass resignation of all opposition politicians in protest at China's Communist dictatorship in Beijing, which imposed a 'security law' giving it control of the formerly "special economic zone" in June.
Current US President Donald Trump last night appointed 3 loyalists to senior military posts, including retired Army general and former Fox News commentator Anthony Tata –
previously refused confirmation by the Senate
over "offensive remarks" about Islam and for calling former US President Barack Obama "a terrorist" – while continuing to claim huge ballot fraud in last week's White House vote.
"The abrupt changes sent reverberations through the Pentagon [among]
nervous civilian and military staff
," says ABC, "and could further damage prospects for a smooth transition already hampered by Mr Trump's refusal to concede his election loss" to Democrat opponent Joe Biden.
The British Pound meantime fell on the FX market after Bank of England policymaker Silvana Tenreyro told the
Yorkshire Post
there is
"positive evidence" on negative interest rates
, pointing to the Eurozone, "where it has worked fairly well."
Sterling dropped over 1 cent from new 2-month highs as post-Brexit trate talks dragged on yet again and the UK Government of Brexit campaigner Boris Johnson was
defeated in the unelected House of Lords
over wanting to renege on the withdrawal deal it agreed with the European Union ahead of Britain's final exit from the 27-nation free trading bloc on 31 December.
Euro gold prices held steadier at €1584 after politicians from the European Union agreed a new 7-year budget deal worth €1.1 trillion, with another 750bn of mutual spendiong aimed at economic relief amid the Covid pandemic. But the deal may still fail if Poland and Hungary's right-wing governments veto it in
protest at "conditionality clauses"
calling on Warsaw and Budapest to adopt more "European" social and immigration policies.