Gold Prices Rise on Labor Day as Bullish Bets Set Record, US-China Trade War Rolls On
Monday, 9/02/2019 13:36
GOLD PRICES rose Monday morning as Washington and Beijing put additional tariffs on each other's exports and new data said hedge funds increased their bullish betting on bullion to a new all-time high last week, writes Atsuko Whitehouse at BullionVault.
Gold prices jumped 0.9% to $1533 per ounce at the start of Asian markets but quickly lost $10 as the US Dollar rose yet again, reaching highs last seen in late-2017.
Washington on Sunday slapped 15% tariffs on Chinese goods including shoes and televisions, while China went ahead with imposing import duty on US crude oil and other goods.
Data released late Friday by
US regulator the CFTC
meantime said that hedge funds and other leveraged speculators in Comex gold futures and options increased their bullish betting last week to an all-time record high.
Net of that group's bearish contracts, the 'Managed Money' category's bullish position beat the previous peak of mid-August 2011 by more than 6% to show a notional total value of $44.1 billion.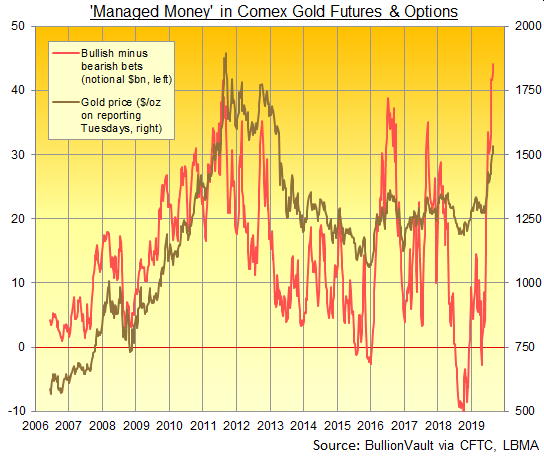 Open interest in Comex gold derivatives also rose last week to hit a new all-time tecord, exceeding the equivalent of 1 million futures contracts for the 4th week running.
"There are a lot of risk events this week from US and Chinese economic data," Reuters today quotes Rodrigo Catril, senior foreign exchange strategist at National Australia Bank in Sydney.
"[It] should help us see who is hurting more from the trade war, but we don't think a solution is imminent.
China's official data agency on Saturday said manufacturing activity in the world's No.2 economy shrank for a 4th month running in August, but the private-sector Caixin report today showed slight growth.
Asian shares were mixed, with Shanghai rising as the People's Bank vowed to support liquidity and growth in China while shares in Hong Kong slipped after the 13th weekend of anti-Beijing protests.
After the weekend saw violence from both some protestors and police, thousands of black-clad students in the Chinese city state today held rallies at the start of a two-week boycott of university classes.
Eurozone shares traded higher and gold prices for European investors meantime rose 0.5% to €1390 per ounce as the single Euro currency extended its fall to the lowest Dollar rate since May 2017.
Support for Germany's anti-immigrant Alternative for Germany (AfD) party surged in elections in two eastern states at the weekend, but not enough to oust the No.1 Eurozone economy's ruling coalitions.
UK gold prices
also increased, rising 0.9% to £1262 per ounce while as the Pound continued to fall amid political and legal moves to block Prime Minister Boris Johnson from taking Britain out of the European Union even if there's no deal with the EU in place by 31 October.
The Conservative Party has threatened to expel MPs if they don't back Johnson's no-deal push.
US markets are closed for Labor Day amid America's south-eastern coast braced for Hurricane Dorian, tied as the most powerful storm to hit land anywhere in the Atlantic.
Argentina imposed currency controls on business on Sunday after it lost an estimated £3 billion in reserves in just two days last week following a sharp drop in the value of the peso.
As the government struggled to avoid
the country's ninth sovereign default
, Buenos Aires asked creditors including the International Monetary Fund (IMF) for more time to pay back $101 billion of foreign debt.