Gold Prices End August with Raft of All-Time Records as GLD Swells, Yuan Slumps with Sterling
Friday, 8/30/2019 14:40
GOLD PRICES held on track for the highest monthly finish in 6.5 years in Dollar terms in London on Friday, heading for a $100 per ounce gain this August.
Major government bond yields ticked higher from month's collapse in longer-term interest rates, while global stock markets rallied, showing a solid gain from last week but losing 1.5% for the month of August on the MSCI World Index.
Should gold fix in London's bullion market above last Friday's $1515 this afternoon, it would mark the strongest run of week-on-week gains in the global benchmark price across any 3-month period since November 2010.
"It was a less anxious day in financial markets Thursday, given a lack of developments on the trade front," says one bullion trading desk, "[so] gold retreated...in what was a textbook correction."
Thursday saw a small outflow of investor cash from No.1
gold-backed exchange-traded fund
, the SPDR Gold Trust (NYSE: GLD), cutting the quantity of bullion bars needed to back its value to 880 tonnes – equivalent to some 3 months of global gold-mine output.
Expanding by 6.9% from end-July however, the number of GLD shares in issuance was still on track this Friday for its largest 1-month rise since June 2016 and the 6th largest rise of the last 10 years.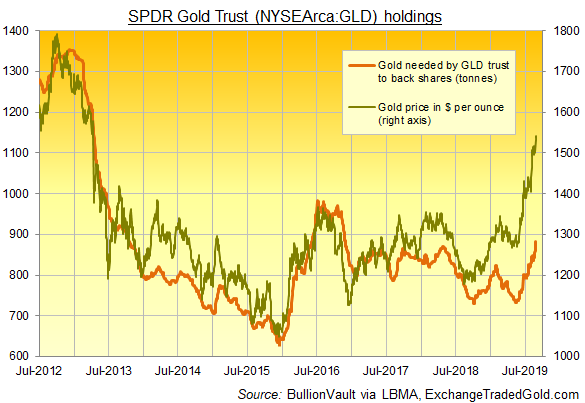 Gold for UK investors meantime edged back Friday to £1255 per ounce as the Pound rallied amid
a series of legal and political challenges
to new Prime Minister Boris Johnson's move to shut Parliament for 5 weeks between now and the Brexit deadline of Halloween.
"The more the parliamentarians try to block the no-deal Brexit," Johnson said to the BBC, "the more likely it is that
we'll end up in that situation
."
That still put the Pound on track for its lowest monthly finish against the Dollar since the Sterling crash of the early 1980s.
Trading some 1.3% below Wednesday's re-revisit of this month's new all-time record high,
the UK gold price in Pounds per ounce
has gained 22.0% since end-May, a 3-month gain beaten only 6 times so far this century.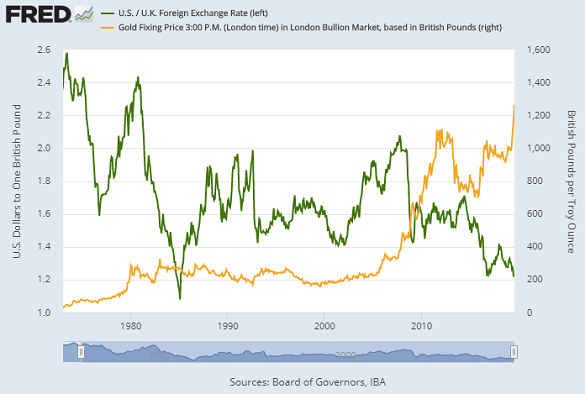 Gold prices in China – the No.1 consumer nation and 2019's third largest central-bank purchaser so far behind Poland and Russia – ended Friday some 2.8% below this week's new 7-year highs as the modern Yuan sealed its worst-ever monthly drop on the currency markets.
"Investor worries over the slowing Chinese economy [have] continued to support local gold price,"
says a blog entry
from the mining industry-backed World Gold Council's Ray Jia.
"The [US-China] trade dispute – which is unlikely to be resolved anytime soon – plus a weaker economy and currency could boost safe-haven demand even higher in the short term. And China's inflation also continues to pick up steam, making gold as an inflation hedge more attractive."
The Hang Seng stock index has lost 5.5% since the demonstrations began 3 months ago, bucking a global gain of 8.7% in US Dollar terms.
Gold prices in India meantime held near this month's new all-time record highs after new data said GDP growth in the world No.2 gold consumer nation – and Asia's 3rd largest economy – slowed to its
weakest pace in 6 years
between April and June.
Euro gold prices also headed for their highest-ever weekly and monthly finish on Friday, trading €16 below yesterday's new intraday peak of €1198 per ounce.
Government borrowing costs for No.3 Eurozone economy Italy today fell to new historic lows beneath 0.95% on 10-year debt.
"[But] even before designing new industrial scenarios in the name of a green economy and sustainable growth," says finance newspaper Il Sole 24 Oro, "those who will lead the Ministry of Economic Development in the new government face a task that can no longer be postponed: accelerate and improve the management of business crises.