Gold Price Sinks $130 from New Record High as Russia Claims 'Sputnik V' Vaccine for Covid-19
Tuesday, 8/11/2020 14:23
GOLD PRICES made a second step back from last week's new record highs in London on Tuesday, retreating sharply below $2000 per ounce to hit the lowest so far this August at $1940 as anti-government protests continued in Belarus and Lebanon but global stock markets surged, bond yields rose, and commodity prices gained after President Putin said Russia has developed a successful Covid-19 vaccine.
The 2011 top in gold prices, first broken Monday last week, came at $1920 per ounce.
Silver prices
held firmer than gold, but still erased half of last week's gain to trade back at $26.85 per ounce, over $3 below Thursday's spike to fresh 7.5-year highs.
With the Tokyo and Hong Kong stock markets closing over 2% higher for the day, the EuroStoxx 600 gained 1.8% by lunchtime in Frankfurt.
Oil added more than 2%, nearing its highest since the eve of March's historic Covid Crash at $42 per barrel of US benchmark WTI crude, after the Department of Energy said energy companies have
begun taking back "millions of barrels"
from the US government's stockpile facilities, and a tanker grounded off the coast of Mauritius began leaking oil into the Indian Ocean, spurring an environmental emergency.
A drop in US debt prices meantime nudged Treasury yields up to their highest in 2 weeks, with the rate offered to new buyers of 5-year bonds reaching 0.29% and 10-years offering 0.62% per annum.
Those rates set fresh all-time lows last week at 0.19% and 0.52% respectively.
Gold prices fixed Thursday at a fresh record $2067 per ounce in London's wholesale market, up by nearly 80% from mid-2018, when US Treasury yields peaked at their highest since 2011.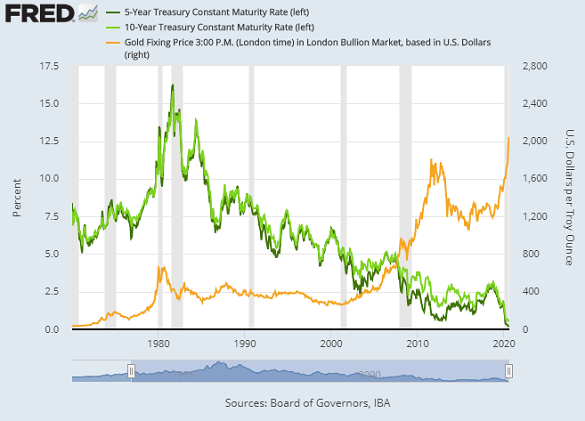 Looking at bond yields after accounting for inflation expectations, "Buying gold at these levels offers much less of a margin of safety," says a note from precious-metals refining group Heraeus, because while "real interest rates are negative, which tends to boost gold...[today's] bond yields near historical lows demonstrate more concern about deflation than fear of inflation."
Gold has meantime shed over $130 per ounce from its intraday spot-market peak of $2075.
Because the US Federal Reserve "has said it will not move to negative interest rates," explains Heraeus, "then the real interest rate will rise should inflation turn into deflation.
"That would be a headwind for gold."
On the political front Tuesday, "China continues to pressure Taiwan into accepting its political conditions, conditions that will
turn Taiwan into the next Hong Kong
," said the island democracy's foreign minister Joseph Wu to Alex Azar, the most senior official to visit from military ally the United States in 4 decades.
Shares in Hong Kong media company Next Digital (HKG: 0282) today extended their surge following the arrest of founder and pro-democracy campaigner Jimmy Lai – made in connexion to HK$1m (US$130,000) of 'secretive' funding from 'overseas banks' according to Chinese police – apparently driven by investors
buying the stock as a gesture of political support
.
Belarus' opposition presidential candidate Svyatlana Tsikhanouskaya meantime left the north-eastern European state for neighboring Lithuania, saying she
fears for her children's safety
amid a second night of violent protests against 25-year ruler Alexander Lukashenko, now claiming 80% of the vote in Sunday's election but widely accused of fraud by independent observers.
Neighboring Russia today announced the registration of what President Vladimir
Putin called "the world's first Covid-19 vaccine"
– claiming his daughter was part of the "experiment" he dubbed "Sputnik V" after the Soviet-era space missions – with the state-run Gamaleya research lab now planning mass production and a vaccination drive in October.
"
Belarus, we are with you!
" chanted anti-Putin protesters in Russia's far east city of Khabarovsk yesterday as they marched against the arrest of Sergei Furgal, elected as governor in 2018 but now replaced by a Kremlin appointee.
Three
Russian diplomats were expelled
Tuesday from European Union member Slovakia, accused of abusing their visas amid a scandal over last August's political assassination of a Chechen militia leader Zelimkhan Khangoshvili in Berlin.
Protests meantime continued in Beirut despite the resignation of the entire Lebanese government following last week's massive explostion of unregulated fertilizer – stored unsafely for 6 years at the city's port – which killed at least 200 and has left hundreds of thousands homeless.