Gold Price Erases Spike After 'Overshooting' on Rate-Cut Bets, GLD Shrinks from 'Very, Very Overbought'
Thursday, 6/27/2019 14:12
GOLD PRICES fell further from Tuesday's new 6-year highs in London trade Thursday, erasing the last of this week's spike against many major currencies even as the US Dollar struggled once more on the FX market.
Asian stock markets rallied another 1.1% overnight, but Europe slipped once more while New York futures held flat.
Canadian and Australian Dollar gold prices fell below last Friday's finishing levels, while the
UK gold price in Pounds per ounce
dropped near £1100, down almost £30 from Tuesday's 7-year peak.
Euro gold fell to €1232, also down 2.3% from this week's new multi-year high.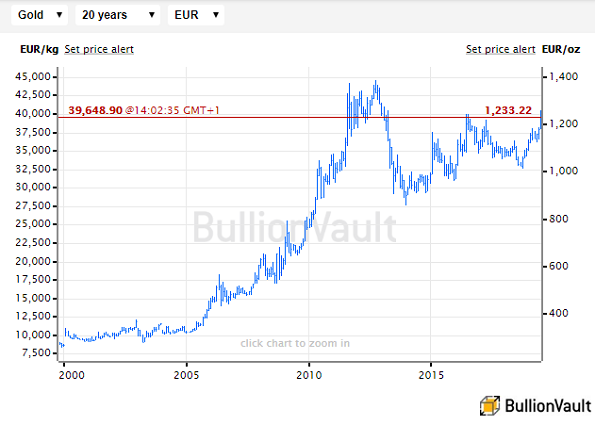 "We do not expect a weak Dollar," said a note from Dutch bank ABN Amro after
this week's gold price highs
, "so we keep our year-end forecast for gold prices at $1400 per ounce.=
"Gold prices are currently overshooting."
"With futures markets now pricing in three cuts in the fed funds rate by December," adds the UK's
Investors Chronicle
magazine, "there is plenty of
room for monetary policy to become less loose
than investors currently expect.
"If investors are disappointed...bonds and gold might well both sell off."
The odds of the Fed cutting by 0.50 points instead of just 0.25 at its end-July meeting rose back above 1-in-4 overnight
according to betting on interest-rate futures
, but that remains below the 39% likelihood foreseen this time last week.
"I think 50 basis points would be overdone. But I would be willing to go for an insurance cut of 25," said St.Louis Fed President James Bullard to Bloomberg on yesterday.
A leading 'dove' on interest-rate policy, Bullard also said Wednesday that he has declined White House requests for "exploratory" talksabout taking the top job at the Federal Reserve, potentially replacing Jerome Powell after President Trump repeatedly attacked current Fed policy on Twitter.
Trump is now set to meet China's President Xi, discussing their worsening Pacific trade dispute, at the G20 meeting of world leaders in Osaka, Japan.
I look forward to speaking with Prime Minister Modi about the fact that India, for years having put very high Tariffs against the United States, just recently increased the Tariffs even further. This is unacceptable and the Tariffs must be withdrawn!

— Donald J. Trump (@realDonaldTrump) June 27, 2019
Gold prices in China, the metal's largest mining, importing and consumer nation, today edged lower again from Tuesday's new 6-year highs versus the Yuan.
Shanghai premiums edged higher however, rising 50 cents per ounce to the equivalent of $16.20 above London quotes at the city's afternoon fixing.
Investor interest in the 7 largest US
gold-backed ETF trust funds
grew 0.6% on Wednesday as their stock price edged back, with a small outflow from the giant GLD offset by inflows to cheaper IAU.
"For the GLD," said technical analyst Mark Newton to CNBC, "getting up above $130 is very constructive in the intermediate term.
"The real issue, though, is that momentum has gotten
very, very overbought
in a short period of time. The GLD is up over 12% just since the latter part of May."
Japan's retail sales and ANZ Bank's survey on the outlook for Australia's business activity both came in less bad than forecast.
But consumer confidence in the 19-nation Eurozone – the world's second largest economic bloc after the United States – showed a fall back towards New Year 2019's 18-month lows.
US jobless benefit claims rose last week, new data then said Thursday – defying analyst forecasts – while revised first-quarter figures said price-inflation in the world's No.1 economy was also weaker than Wall Street expected.