Gold Prices Jump Over 200-DMA as Trump-Comey 'Nears Impeachment', T-Bond Yields Fall with Dollar
Wednesday, 5/17/2017 14:03
GOLD PRICES jumped against a fast-falling US Dollar on Wednesday, hitting 2-week highs as President Trump's sacking of FBI director James Comey deepened once more.
The
New York Times
yesterday
reported Comey took notes
of a meeting where Trump asked him to stop investigating ex-National Security Advisor
Lt.Gen. Michael Flynn
's alleged contact with Russian officials during last year's election campaign.
The Republican head of Congress's Committee on Oversight last night demanded the FBI send him any and all such notes.
"Impeachment counts [for] the obstruction of justice...are stacking up it seems," online news-site The Daily Beast today quotes what it calls "an active duty FBI agent".
"I don't see how Trump isn't completely fucked," it claims "a senior official in the Trump administration" also said.
The single Euro currency jumped Wednesday to new post-Trump election highs above $1.10 on the FX market.
That curbed the gold price for the Eurozone's 330-million citizens below last week's closing level of €1124 per ounce, down 8.1% from April's 8-month high.
Gold priced in US Dollars has now lost only 3.6% since then, rallying above $1248 per ounce lunchtime Wednesday in London.
Government bonds also gained Wednesday, pushing interest rates lower, while commodities rose again versus the sinking Dollar, pushing Brent crude up to 3-week highs near $52 per barrel.
The yield offered by 10-year US Treasuries today fell to 2-week lows at 2.29%, barely beating April's annual inflation rate on the government's
official Consumer Price Index
.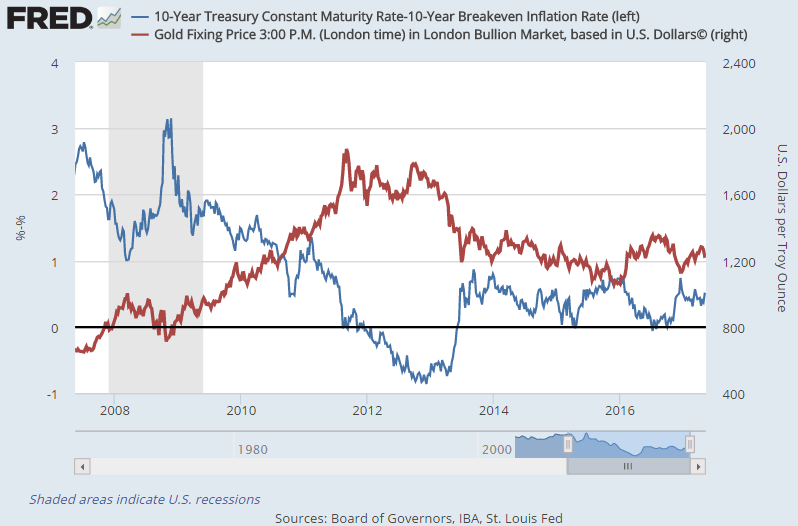 Adjusting for inflation expectations, the rate of interest offered by US Treasury bonds has shown a strongly negative correlation with gold priced in Dollars since Trump won the presidential election last November.
Averaging -0.75 since early November, the correlation co-efficient between gold and real 10-year yields fell last week to -0.92 on a rolling 1-month basis.
That figure would read -1.0 if gold prices and real yields moved perfectly opposite to each other.
"
Gold prices
face a crucial hurdle near the
200-day moving average
[now] at $1245," said a technical analysis from French investment bank and bullion market-maker Societe Generale on Tuesday.
"Resistance comes in at $1245.30," agreed the daily technicals note from bullion bank Scotia Mocatta's New York office.
Both platinum and silver prices again outpaced gold's rise for the week so far on Wednesday, adding 2.4% and 2.9% respectively against the more valuable precious metal's 1.7% gain.
Priced in Euros however, both platinum and silver also failed to set new highs for the week today, trading less than 1% higher from last Friday's finish.
"We think it is clearly a case of Euro strength over Dollar weakness," says Chinese bank ICBC Standard's FX strategist Steven Barrow – "strength that's likely to continue for the near-term at least."
Noting that the Euro has also risen against other non-US currencies, while the European Central Bank looks ready to call economic risks in the Eurozone "balanced" at its June meeting – signaling the beginning of the end for its huge QE and negative rates polities – "much of this seems to fly under the radar," Barrow says, "when compared to the political hype that we see in the US."