Gold Price Falls Even as Equities Sink with Bond Yields, But Month-End Records in EUR and GBP
Friday, 2/28/2020 15:05
GOLD PRICES fell yet again Friday as Wall Street prepared to join global stock markets in a 5th day of massive losses as reports of new coronavirus infection spread worldwide.
With cases now confirmed in more than 50 countries, all but 70 of 2,800 deaths so far have hit China, the vast majority of them in source city Wuhan.
But due to open Monday, the auto industry's giant Geneva Motor Show was this morning cancelled just 2 days after organisers vowed to push ahead, while precious-metal trade body the LBMA today cancelled next month's Responsible Sourcing Summit in London, promising to share host the forum through a series of live webinars and briefings instead.
Global stock markets meantime extended their
worst drop weekly drop since October 2008
's meltdown, while crude oil prices fell to $45 per barrel of WTI, down by almost one-third from early January's 2-year high.
Gold prices headed into the weekend at $1622 per ounce, 1.0% lower from last Friday's finish and more than $60 below Monday morning's spike to fresh 7-year highs.
Adding 2.5% from the end of January however, gold priced in the Dollar still headed for a third monthly rise.
"Bullion once again failing to catch a bid as global equities collapse," says a note from Swiss refining and finance group MKS Pamp, with "interest in early Chinese trade" evaporating after Thursday saw "weakness in New York once again...even amid declining US yields and equities."
The rush into government bonds today pushed prices so high, the yield offered by
all of Germany's Bunds fell below zero
, locking in a loss of value for new buyers even out on 30-year debt, while 2-year US Treasury yields sank below 1.0% for the first time since 2016.
Plunging by 37 basis points since last Friday, that was the fastest drop in 2-year US yields since the Lehman Brothers collapse of late-2008 spurred the worst phase of the global financial crisis.
Ten-year yields meantime fell today to set new all-time lows beneath 1.2%, plunging at their fastest weekly pace since June 2012, in the top 20 weekly drops of the 21st Century so far.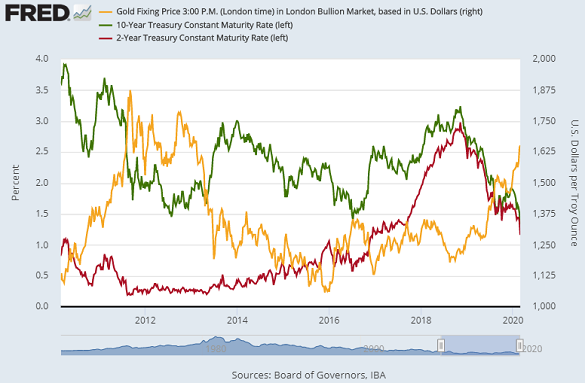 Measured over the last 52 weeks, gold now shows a negative correlation with both 2-year and 10-year US Treasury yields so strong that changes in longer-term rates account for 86% of the metal's price change on a statistical basis.
That number – known as r-squared – compares with a typical reading of 0% and 3% for gold versus 10-yr and 2-yr yields respectively since the mid-1970s, with the mid-range readings over the last decade at 28% and 35%.
Priced in the Euro gold on Friday fell as low as €90 per ounce below Monday's new all-time high of €1560, but it held on track for a new month-end record at €1480.
The
UK gold price in Pounds per ounce
also headed for its highest-ever monthly finish, unchanged from last weekend at £1270 as Sterling continued to drop on the FX markets amid the Johnson administration's row with Brussels over post-Brexit trade talks with the EU.