Gold Price Slips as Stock Markets Bounce from Covid-19 Plunge, But Copper 'Points to Macro Slump'
Wednesday, 2/26/2020 14:22
GOLD PRICES fell for Euro, Swiss Franc and Japanese Yen investors on Wednesday as those currencies rallied on the FX market while world stock markets trimmed a 3rd session of heavy losses and US bond yields rose from yesterday's new all-time lows.
Gold priced in the Dollar held steadier, trading just below the $1640 level from last weekend, when the outbreak of coronavirus starting in Wuhan, China – the No.1 gold consumer nation – was confirmed to have reached Iran and northern Italy as well as several Asian nations.
Euro gold prices in contrast slipped to re-test €1500 per ounce, a fresh record when first reached last Thursday but €61 per ounce below Monday morning's new all-time high.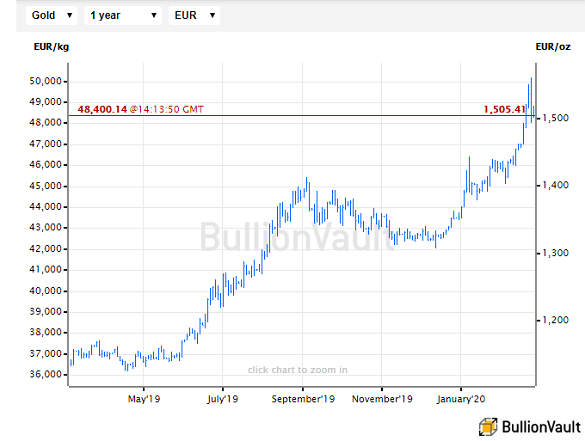 "Copper markets have done a fairly good job at
reflecting the global macro slowdown
," says natural resource consultancy GFMS Refinitiv, pointing to the base metal's 12% plunge since Covid-19 began making headlines last month.
"We think that the current price level is still not pricing in a full meltdown. China's new export orders should see sharp drop for Feb."
Gold prices, in contrast, have now risen by more than 6% since the start of the coronavirus outbreak, says a note to clients from Bernard Dahdah at French investment and bullion bank Natixis, "benefiting from [gold's] safe haven status amidst much market uncertainty and concern regarding the impact on the global economy.
"Gold could potentially further increase if the outbreak develops into a more widespread and serious problem. [But] gold prices are not benefiting from a structural economic problem," adds Dahdah – winner of 2 out of 4 precious-metal forecasts against more than 30 other analysts in last year's LBMA Survey competition, and the
most bearish forecaster for gold in 2020
– "and as such we would expected prices to drop rapidly once the outbreak stabilizes or shrinks."
Shares in medical hygiene firm Tristel (LON: TSTL) today gave back more of the 25% jump made so far this week after the UK's Investor's Chronicle and The Times newspaper both named it as a possible "coronavirus play".
Pre-market trading in New York meantime kept Moderna (Nasdaq: MRNA) higher by one-third from before it announced sending test samples of a possible Covid-19 vaccine to US health officials on Monday .
Over in India – world No.2 gold consumer nation – at least 20 people have now been killed in anti-Muslim protests in New Delhi made to support the nationalist BJP Government's controversial new citizenship law.
"The violence began over the weekend and intensified on Tuesday during [US President] Trump's state visit," says Bloomberg.
"The Delhi pogrom 2020 is [BJP Home Minister] Amit Shah's answer to an election defeat," claims
a column at ThePrint
, saying "the violence was clearly orchestrated to end peaceful protests" against the Citizenship Law, aided and abetted by the Delhi Police.
Gold demand during India's traditionally strong Hindu spring wedding season is already being hit, the New Indian Express reports, as young couples delay their engagement to wait for lower gold prices.
"Although the engagement is a small affair," says one I.T. professional, "we have to buy gold items as a ritual. The increase in the price of gold has
come as a shock to us
."
Customs officials however
continue reporting seizures of smuggled gold
, with inflows of illegal metal seen leaping since the Modi administration failed to reduce bullion import duty as hoped after its 2015 election, and then raised that tariff to 12.5% in the 2019 Budget, raising the incentive to criminals.