Gold Prices 'Unsupported' by US Ban on Huawei or Iran Threat as Bond Yields Rally
Thursday, 5/16/2019 14:49
GOLD PRICES halved their earlier gains for the week on Thursday even as US-China tensions worsened yet further and Washington reported an unspecified 'threat' from Iran.
Major government bond prices also edged back, pushing longer-term interest rates up from their lowest since end-2017 after the United States yesterday
reported weaker industrial output
for the 3rd month in four.
Priced in the Dollar, gold today cut its gain from last Friday's finish to 0.4% at $1291 per ounce.
Silver held a small gain for the week so far at $14.82 but
platinum prices
fell back towards yesterday's 7-week lows at $844 per ounce.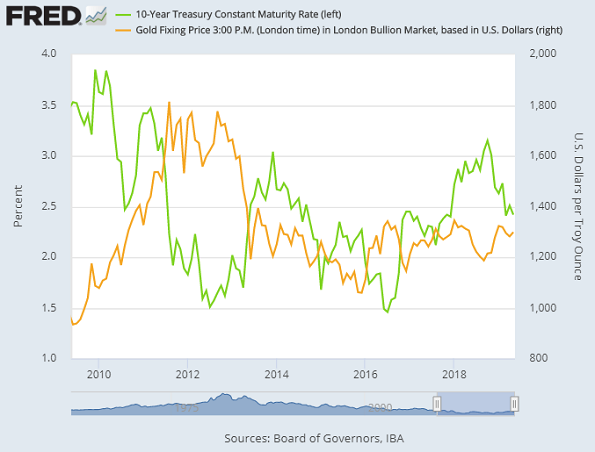 With the Trump White House
declaring a 'national emergency' overnight
to enable a complete ban on imports of telecoms equipment by Chinese giant Huawei, the Dollar rose towards new 2019 highs against the Yuan and also rose again versus the Euro and the British Pound.
That put the gold price for Eurozone investors at €1155 and held the
UK gold price in Pound Sterling
terms unchanged at yesterday's 11-week high of £1010 per ounce.
Their arrest in December, dubbed "the
normalization of international hostage-taking
for political purposes" by one academic specialist, was widely seen as a tit-for-tat move over US pressure to extradite Huawei executive Meng Wanzhou from Canada for alleged violation of Washington's sanctions against Iran.
"There are still a lot of underlying tensions," Reuters earlier quoted an economist at National Australia Bank, "so that
might be supportive for gold
."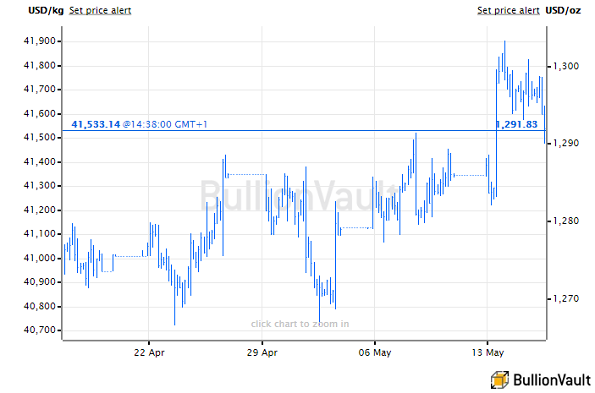 Despite the effective US ban on Huawei, China's main stock index meantime closed 0.5% higher at its highest level so far this month.
European equities also gained, taking the EuroStoxx 600 index up 0.4% to its highest in a week.
"No part of the Communist Chinese state is ultimately able to operate free of the control exercised by its Communist Party leadership," says Sir Richard Dearlove, former head of UK intelligence agency MI6, presenting a new report today from the self-declared 'liberal but hawkish'
Henry Jackson Society think tank
.
"Therefore, we must conclude the engagement of Huawei presents a potential security risk to the UK," writes Dearlove,
blamed for enabling the UK's 'dodgy dossier'
of 2003 preceding the US-led overthrow of Iraqi dictator Saddam Hussein and now urging the British Government to "reconsider" its controversial
approval of Huawei
as a supplier for building the UK's 5G data network.
"Achieving
20% enrichment [of uranium]
is the most difficult part," said Iran's supreme leader Ayatollah Ali Khamenei to officials in Tehran on Tuesday night.
"The next steps are easier."