US Fed 'In a Very Good Place for Gold' Say Comex Traders as Breakeven Inflation Jumps Again
Monday, 5/17/2021 14:25
GOLD PRICES climbed to more than 3-month highs at $1855 per ounce Monday morning as real interest rates on US debt fell to 3-month lows amid a rush to re-impose Covid lockdowns in Asia, where the latest Chinese economic data came in weaker than analysts forecast, writes Atsuko Whitehouse at BullionVault.
Spot gold prices jumped 1.1% in early London trading, touching the highest since 10 February and extending last week's 0.6% gain before falling back $10 per ounce to $1845 as the start of New York trading began.
Real interest rates on inflation-protected US Treasury bonds fell to minus 0.93%, while the implied rate of inflation across the next decade reached a fresh 8-year high at 2.55% per annum.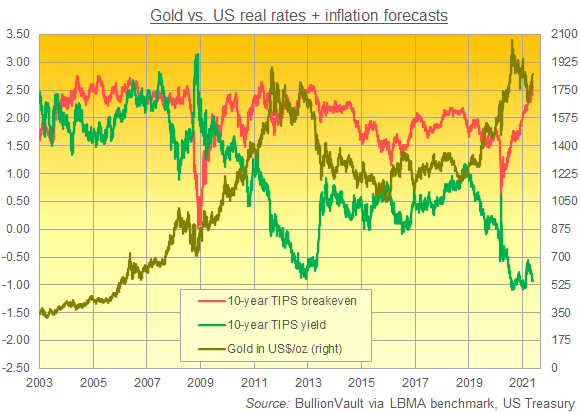 "The Federal Reserve's policy is in a good place right now," said Cleveland Fed President Loretta Mester last Friday, echoing the commitment to easy-money policies being repeated by other Fed officials.
"We're really at the beginning of this vaccinations-widely-distributed part of the recovery and I think we just have to wait and be a little bit patient and let the recovery continue."
"Investors were also assured that rising inflation would not see [US Fed] interest rates rise," said Daniel Hynes, Senior Commodity Strategist at ANZ.
"The US Federal Reserve kept to its mantra that inflationary pressures are likely to be transitory," Hynes continued.
Latest data show that hedge funds and other leveraged speculators in Comex gold futures and options grew their bullish betting by 12% on gold as a group in the week ending 11 May, and cut their bearish betting by more than one fifth.
Overall, that pushed the net long position of Managed Money traders up by 45%, the largest one-week percentage increase in 5 weeks to the largest level in 3 months.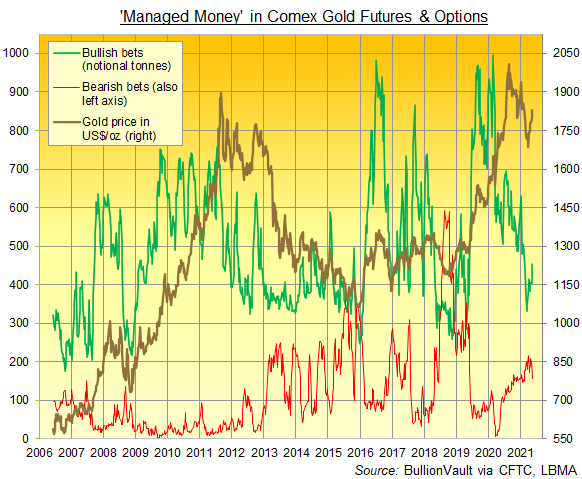 Speculators also raised their net bullish betting on silver to the biggest in 20 weeks, according to the data published by US regulator the Commodities Futures Trading Commission (CFTC), but that group cut its net long position on platinum prices.
Prices for silver, primarily an industrial metal, today rose 0.6% to $27.57 per ounce, while platinum edged higher by 0.5% to $1236 per ounce.
Asian equities were meantime mixed and European stocks dipped on Monday, extending last week's steep sell-off, after China's National Bureau of Statistics said factory output in the world's 2nd largest economy grew more slowly in April than March, while retail sales' growth of nearly 18% per year also missed expectations.
Singapore and Taiwan - formerly success stories in containing Covid-19 – are both imposing new curbs on gatherings and movement, amid record numbers of new cases reported Sunday.
Six prefectures in Japan have also escalated Covid-led restrictions.
Gold prices on the Shanghai Gold Exchange meantime surged to ¥385 per gram, a new 3-month high, but with the premium to London prices easing to $8 per ounce on Monday after incentives for new imports into China – the metal's No.1 consumer market – showed the highest weekly average in 12 at more than $10.50 per ounce.
European gold prices also jumped 0.9% to €1529 per ounce, the highest since 10 February before paring €10 of today's €20 gain.
UK gold prices in Pounds per ounce
also rose almost 1% before halving that jump, touching £1317 before falling back as government pushed ahead with easing lockdown restrictions in England, Wales and most of Scotland, lifting the ban on foreign travel and allowing people to socialise indoor in limited numbers.