Dollar Down, Gold Prices Up as Biden Edges Ahead of Trump, Investors 'Close Volatility Bets'
Thursday, 11/05/2020 13:39
GOLD PRICES rose against a falling Dollar on Thursday, nearing 4-week highs just below $1930 per ounce as the US currency dropped, global stock markets rose, and government bond prices remained volatile amid the ongoing US election counts.
The Democrats led the Republicans in Congress but not the Senate, while Joe Biden edged further ahead of current president Donald Trump for the White House,
polling more votes
than any US presidential candidate in history.
Last night the Trump campaign filed a lawsuit in Georgia, alleging that postal votes arriving too late under the state's electoral rules
were being mixed in
with legitimate ballots by an unidentified counting-house official.
"Stop the count!" chanted Republican supporters outside the Michigan State ballot-house in Detroit, while others shouted "Count that vote!" outside the ballot-house in Maricopa County, Arizona, before chanting
"Fox News sucks!"
after the pro-Trump news channel called that state's result for Biden.
"Gold's implied volatilities [have] moved sharply lower," says the precious-metals team at London bullion market-maker BNP Paribas, looking at Comex options contracts, "especially in those short maturities where investors had previously put some bets that the race would draw long into November.
"This is not particularly specific of gold," BNP's team add, pointing to the 18% drop in the VIX volatility index of US stock markets and a 15% drop in 1-month volatilities in the Euro/Dollar exchange rate.
"[Together] this shows that investors do not believe in a prolonged political crisis and [have been] rather keen to close those bets."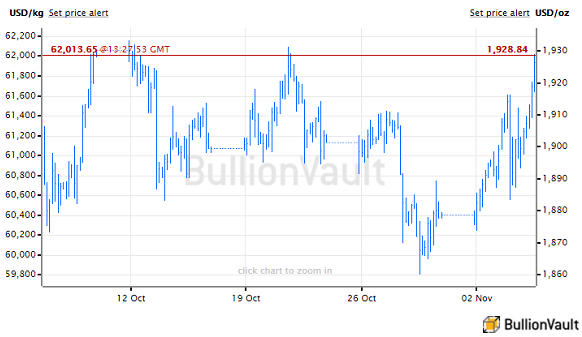 While that helped gold priced in Dollars reach $1925 per ounce – the highest since 22 October and beating 2011's peak of the global financial crisis, a record high until this August's $2075 – it also capped the precious metal for non-Dollar investors.
China's domestic benchmark slipped to ¥403 per gram and Euro gold dropped €10 to €1623 per ounce.
The
live gold price in UK Pounds per ounce
meantime fell 0.5% to £1467 as Sterling rose on the FX market despite the Bank of England adding another £150bn to its government-bond buying program at its November policy meeting, 50% more than analysts expected.
"We stand ready to take further actions if necessary,"
the MPC said
, "to help the economy recover and ensure that inflation returns to our 2% target" - widely seen as signalling a move from the current 0.1% down to negative interest rates some time soon.
UK consumer prices
showed 0.7% annual inflation in September, and hasn't reached 2.0% since July 2019.
Developed-world stock markets ended Wednesday 3.3% above last week's 1-month low on
the MSCI index
, and Tokyo's Nikkei today reached a new 2-year high.
Silver prices meantime rose with gold bullion on Thursday, reaching 2-week highs at $24.84 per ounce.
US Treasury bond prices rose further, edging interest rates lower to 0.76% on 10-year debt, while European government bond yields rose.
Ten-year US inflation, as implied by the yield on TIPS bonds, also retreated, slipping to the weakest in 5 weeks at 1.65% per annum.
"With the Senate likely to stay in the hands of the Republicans, but the House of Representatives being retained by the Democrats, the ability of the president, whether Trump or Biden, to get their agenda passed will be severely constrained," says a column at Reuters.
"This likely means monetary policy will likely have to do more work, meaning the Federal Reserve will continue to keep interest rates low, a situation that has historically supported gold prices."