Gold Bullion Back Above $1300 as Beijing Buys, Libya Tips into Civil War, Brexiteers Push for Friday Exit from EU
Monday, 4/08/2019 14:43
GOLD BULLION rose above a 1-week high on Monday at $1300 as crude oil pushed up to 5-month highs amid fears that the worsening civil war in Libya could threaten supply, and Bloomberg reported that China just expanded its gold reserves for the 4th month in a row, writes Atsuko Whitehouse at BullionVault.
Spot gold bullion prices advanced 0.5% versus the US Dolar, which slipped lower against other major currencies on its trade-weighted index.
Among other precious metals,
platinum prices
rose 1.2% to a fresh 10-month high above $912 while silver gained 0.4% to $15.17 per ounce – like gold, its strongest Dollar price since 28 March.
Latest data say this move will have caught speculative traders in Comex gold futures and options off guard, after they slashed their bullish betting in half to the smallest in more than 2 months in the week-ending last Tuesday, when global stock markets rallied.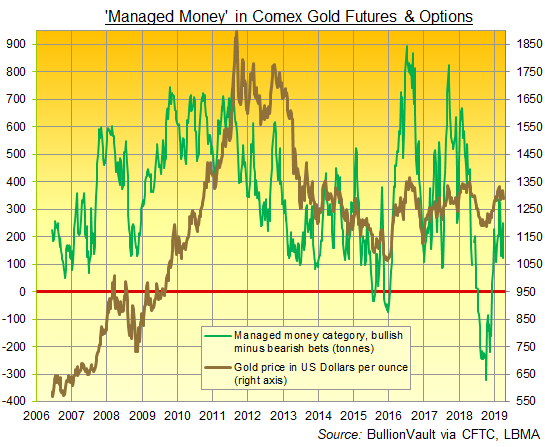 Investment money also left the giant SPDR Gold Trust (NYSEArca: GLD) last week, with the world's largest gold ETF seeing its heaviest weekly liquidation since November 2016, needing 22.6 fewer tonnes of bullion backing at 762 tonnes.
Oil prices today climbed to their highest level since November as fighting in No.20 world producer Libya worsened towards "all-out civil war", putting its output of 1 million barrels per day at risk.
That adds to supply pressure as the Opec oil cartel applies output cuts to boost prices, and US sanctions weigh against major producers Iran and Venezuela.
Near-dated futures contracts for European benchmark Brent topped $70 per barrel on Monday morning, while US benchmark West Texas Intermediate (WTI) also hit its best in a year near $63.50 per barrel.
China's central bank expanded its gold reserves for the 4th month running in March, Bloomberg quotes Beijing's official website.
The People's Bank added 11.2 tonnes last month, extending its run since December to nearly 43 tonnes in total, a rise of 2.3%.
"Central-bank demand should help support prices, with inflows running as high as last year," reckons US investment bank Goldman Sachs, now forecasting a rally to $1450 per ounce by this time next year.
"Following the multi-decade high in gold reserves growth in 2018," says a note today from the mining industry's World Gold Council, "central banks' appetite
remained healthy at the start of 2019
," with the official sector adding 90 tonnes as a group over January and February.
Ahead of this Wednesday's much-awaited decision on new monetary stimulus from the European Central Bank, gold prices for Eurozone investors today popped to €1158 per ounce as the single currency slipped near a one-month low on the FX market.
The global economy has
entered a "synchronised slowdown"
which may be difficult to reverse in 2019, according to the latest update of a tracking index compiled by the Brookings Institution think-tank and the
Financial Times
, reported Sunday.
The
UK gold price in Pounds per ounce
meantime rose within £1.50 of the £1000 mark last seen on 27 March as the Government of Theresa May resumed formal talks with the opposition Labour Party about trying to resolve Brexit.
May will visit Berlin and Paris tomorrow for talks with Angela Merkel, the German Chancellor, and Emmanuel Macron, the French President, ahead of Wednesday's emergency EU summit to discuss a further extension of the UK's membership until June 30.
Pro-Brexit members of May's Conservative Party are "furious" at her discussions with Labour leader Jeremy Corbyn, calling for a vote of no confidence for this week so that "if she goes on Wednesday we can leave on Friday" – the current 12 April deadline for Brexit.