Gold Bars Set Euro and UK Pound Records as Silver, Platinum Extend Jump
Thursday, 8/29/2019 14:13
The PRICE of gold bullion bars retreated but held near multi-year or record highs against most currencies in London trade Thursday, edging back as major government bonds also slipped while global stock markets rallied.
Showing a 0.9% gain from last Friday so far, gold priced in the US Dollar held on course for its highest weekly finish in 6.5 years at $1539 per ounce.
Bullion bar prices for UK investors edged back £10 after re-touching last week's fresh record high of £1271 overnight as the ruling minority Conservative Party saw
its leader in Scotland, Ruth Davidson, quit
over Prime Minister Boris Johnson closing Parliament for 5 weeks, reducing time to debate Brexit before the UK's Halloween deadline for leaving the European Union.
Gold in Euros meantime slipped €5 per ounce from a new record high of €1398 while Rome's borrowing costs defied Thursday's global bounce in bond yields, falling to new all-time lows beneath 1.0% on 10-year BTP debt, as former Prime Minister Giuseppe Conte – forced to resign last week by right-wing Lega Party leader Matteo Salvini – vowed to lead a "more united...more just, more supportive and more inclusive" Italy after being invited to form a coalition government with the existing left-wing M5s leadership and new partner Nicola Zingaretti of the centrist PD.
Yesterday morning saw the Dollar price of 400-ounce gold bars fix in London's wholesale market at $1541.75 per ounce – its highest benchmark price since the morning of Friday 12 April 2013, the day the metal began its steepest price crash in 3 decades,
knocking $1 trillion off
the value of all the gold ever mined in history by the end of Monday 15th.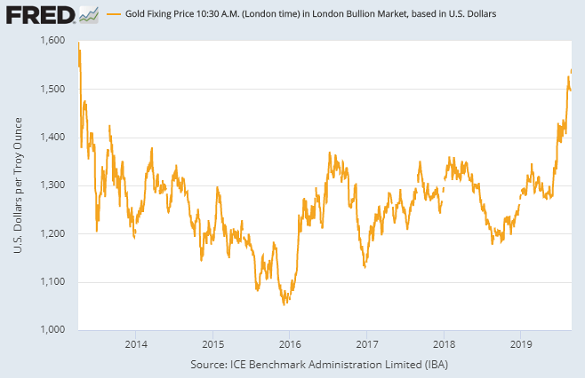 "Confusion regarding the US-China trade talks saw investors continue to pile into safe-haven assets yesterday," says a trading-note from gold-bar refining group MKS Pamp.
"Equity markets retreated on fears a recession is looming as the yield curve inversion deepened and there was no positive newsflow on the trade front."
"Persistent uncertainty is
likely to keep gold well supported
," agrees Swiss bank UBS' strategist Joni Teves, also pointing to the collapse in longer-term interest rates and saying she sees a "relatively high threshold for easing investor concerns" about the US-China trade dispute.
In contrast to gold on Thursday, platinum and silver rose once again, touching new 15-month and 28-month highs respectively in US Dollar terms.
Having lagged this summer's rise in gold until the end of July, silver today touched $18.65, just 1 cent off its highest level since Donald Trump was elected US President in November 2016.
Platinum prices
meantime blew past this April's peak to reach $929 per ounce, up 8.0% so far this week at its highest since May 2018.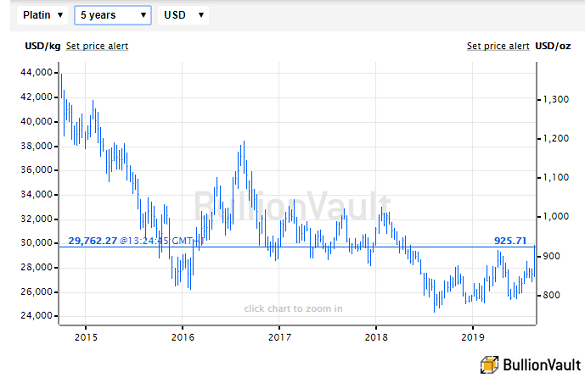 After
Reuters claimed Wednesday
that "a forgery crisis is quietly roiling the world's gold industry", with crooks making fake-branded kilobars out of smuggled or illegal gold, today's member newsletter from trade body the London Bullion Market Association says that the large-bar wholesale market "is
focused on establishing security standards
for both large bars and kilobars.
"We are also proposing to establish a global database containing information about every bar produced, as a way of cross-checking the products to add an extra layer of security."
"In the last three years," says Reuters, "bars worth at least $50 million stamped with Swiss refinery logos but not actually produced by those facilities have been identified by all four of Switzerland's leading gold refiners and found in the vaults of JPMorgan Chase & Co."
That equates to less than 0.005% of global Good Delivery bar throughput at LBMA-accredited refineries over the same time.
With gold prices in No.2 consumer nation India setting new all-time highs this week,
the Reserve Bank should "completely ban
the manufacturing of gold bars [and] mini gold bars by non-regulated, unauthorised refiners with immediate effect," says a letter from trade body the India Bullion & Jewellers Association, seen by the
Economic Times
.
Allowing instead only products from refineries accredited to India's BIS or NABL quality standards, "The stoppage of [other] gold bars will result in complete transparency as to the purity of gold, sourcing and accounting of gold in our country," says the IBJA.