Gold Investing 'Set to Grow' as Stock Markets Defy Coronavirus' Inverted Yield Curve
Wednesday, 2/05/2020 15:43
GOLD INVESTING prices steadied above 3-week lows of $1550 in London trade Wednesday, rallying $6 per ounce as world stock markets surged for a second day after Chinese TV claimed scientists have developed an effective treatment for coronavirus.
With the World Health Organization playing down that claim, but the private-sector ADP estimate of US jobs growth beating analyst forecasts for January almost 2-to-1, the S&P500 index today rose near mid-January's fresh record highs after President Trump's 'State of the Union' address to US lawmakers saw him hail a "great American comeback" since he took the White House 3 years ago.
Republican politicians chanted "4 more years!" while opposition Democrat Nancy Pelosi shook her head and tore a copy of his speech in half.
Meantime in Asia, and "while people are interested in buying [face] masks, investors are
set to buy more gold
this year," the
South China Morning Post
quotes one Hong Kong broker.
"The potential industrial fall-out from coronavirus is already leading a number of governments to cut interest rates or add to easing," agrees a note from 2019 winning LBMA gold forecaster Rhona O'Connell, now heading market analysis at brokerage INTL FC Stone.
"Although by definition we cannot know for how long it will be before this outbreak is controlled," O'Connell goes on, the inflation-adjusted yield offered by 10-year US Treasury bonds "has [also] been dipping in and out of negative territory...[which] is all positive for gold in a risk-averse environment."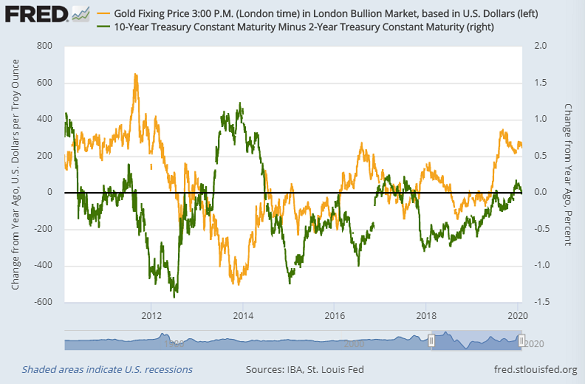 Pushing up prices, and therefore pushing down yields, last week's rush into "safe haven" government bonds also saw longer-dated US yields drop below some shorter-term yields, showing
an "inverted curve"
between 5-year and 2-year notes, followed by 10-year over 3-month rates.
Each of the last five US recessions have been preceded by an inversion of the 10-minus-2-year yield curve.
That happened on 3 trading days last August – the first time since June 2007, which was less than 6 months before the global banking crash coincided with the deepest US recession since the Great Depression of the early 1930s.
Chart of year-on-year change in US Dollar gold price per ounce, versus year-on-year percentage point change in 10-minus-2 yield curve. Source: St.Louis Fed
Back in Wednesday's action, "The precious metals complex continues to see a reversal in safe-haven flows," says a note from Canadian brokerage T.D.Securities, "which is weighing on prices.
"But we reiterate that the structural bid in the yellow metal is ultimately independent of equity market flows and the continued strength in the USD...[because] gold's bull market is associated with the loss-aversion theme...as capital seeks protection from negative real rates [after accounting for inflation].
"With central bankers suppressing real rates across the globe, we expect this theme to remain prevalent."
Looking to the 2020 calendar meantime, gold's now repeated pattern of January gains "tends to ease once the Lunar New Year holiday commences" in China, says analyst Suki Cooper of Asian-focused bank and London bullion market maker Standard Chartered.
"However, this year prices have remained elevated, with gold benefiting alongside other safe-haven assets amid coronavirus fears.
"We do not believe overall investor positioning is overcrowded in gold [and] continue to see sustained upside risk to gold prices in the second half of 2020."
Already keeping interest rates at minus 0.5% and creating €20bn of new QE money each month, European Central Bank chief Christine Lagarde today told the European Parliament that the coronavirus outbreak creates "a new layer of uncertainty".
As new cases were reported from Japan to Malaysia and the United States, Beijing meantime said another 65 people died of the virus in China on Tuesday, with a further 3,887 new infections confirmed.