London Silver Trading Explodes as Team Trump Attacks Germany & 'Strong Dollar'
Tuesday, 1/31/2017 13:58
SILVER TRADING
in London's wholesale market saw the metal shoot to an 11-week high at $17.50 per ounce on Tuesday, outpacing gold bullion once again as world stock markets held flat amid headlines that new US president Donald Trump's chief trade negotiator blames Germany for "exploiting" the weak Euro to boost its exports, fuelling expectations that the celebrity real-estate tycoon will formally end the United States'
so-called "strong Dollar policy"
of the last 25 years.
The Dollar sank on news of Navorro's comments to the Financial Times, dropping back to last week's 1.5-month lows against the Euro and reversing all of an earlier spike against the British Pound following a shock drop in UK consumer borrowing for December, with new mortgage approvals missing analyst forecasts.
Gold priced in Dollars rose to $1205 per ounce, trading 1.1% higher from last Friday's finish.
But jumping 2.1% higher for the week's trading so far,
silver priced in US Dollars
has now gained more than 9% from New Year 2017, adding almost $2 per ounce from December's 8-month low.
New data today said that silver bullion trading through London's wholesale market – heart of the world's physical flows – exploded by more than one-third in December to its heaviest level in well over 5 years.
The volume of silver traded between the clearing members of the London bullion market have only been larger twice in the last 18 years, first on the sharp spike of April 2006, and then in May 2011, as the metal began a 5-year descent from a record-high monthly average near $42 per ounce.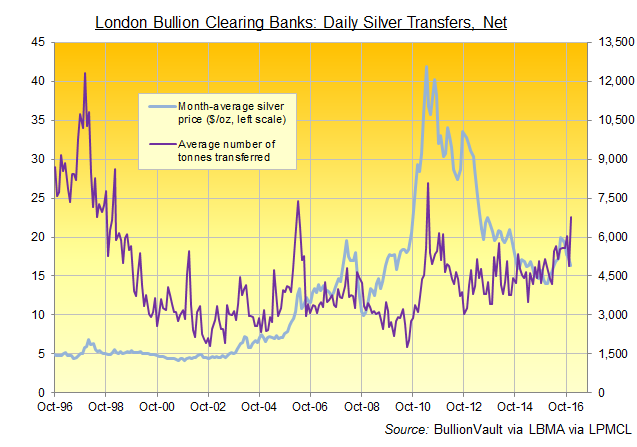 Jumping by 38% from November, last month's silver trading volumes amongst London's bullion clearing banks outpaced a sharp 9% rise in gold volumes, which jumped to the heaviest level since June 2013 marked the yellow metal's initial price low from that year's 25% crash.
Typically originating with shipments of large wholesale gold bullion bars from London storage, exports of gold refined into smaller kilobars from Switzerland directly to world No.1 consumer market China last month jumped to the largest level since early 2014 ahead of this week's Lunar New Year celebrations, according to Swiss trade data.
"If we 'buy' the [Donald Trump] reflation story," says the latest trading note from bullion market-maker ICBC Standard Bank strategist Tom Kendall, "we think...silver will outperform gold in 2017
"[That's] partly by virtue of the fact that silver has substantially underperformed its big brother since the bull market ended in 2011/12," says Kendall.
"More fundamentally, we think growth in industrial demand for silver should outpace improving global GDP growth, led by use of silver in electronics (notably in automotive-related applications) and further large investment in solar energy generation."
The quantity of silver needed to back the giant
iShares Silver Trust
(NYSEArca:SLV) yesterday held at 10,444 tonnes, some 24 tonnes above last week's 7-month low.
A direct reflection of investor demand for SLV shares – which give investors exposure to the silver price but without any physical ownership – that volume equals some 38% of last year's global mining output on
the most recent data
from specialist analysts Thomson Reuters GFMS, published in November for the Silver Institute of miners, refiners, manufacturers, dealers and consumers.