Silver Prices Test $17 as Gold Falls Through $1700, Ratio Holds 100 for 2nd Day
Wednesday, 5/27/2020 14:12
SILVER PRICES fell with gold in the global storage and trading hub of London on Wednesday, slipping 1.2% for the week so far as the dearer precious metal fell 2.0% to hit 2-week lows.
Gold dipped beneath $1700 per ounce for the first time since mid-May as major stock markets rose yet again amid further relaxation of Covid-19 lockdown rules worldwide.
With silver prices down 1 cent through $17.00 per ounce, that kept
the Gold/Silver Ratio
of the two formerly monetary metals' relative prices just below 100 for a second day running.
Prior to March 2020, the Gold/Silver Ratio showed a daily average of 57.7 across the prior half century, briefly dipping to 14.0 at New Year 1980 and peaking above 100 for just 1 day in February 1991.
Over the last 12 weeks in contrast, that ratio of gold to silver prices has now averaged 109.0, peaking at 123.3 on Thursday 19 March as gold prices sank by $200 from 1 week before but silver fell faster, down $5 to set its lowest London benchmark since April 2009 at barely $12 per ounce.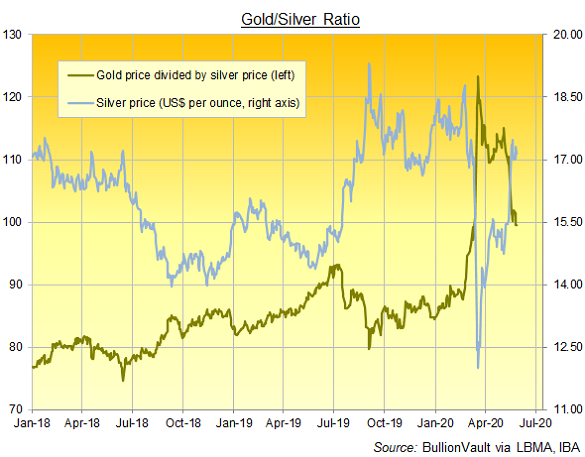 Yesterday saw "a sweeping wave of optimism across global markets," says one London bullion market-making bank in a note, making it "a down day for gold as its relative safety [was] not in demand.
"Other precious metals also suffered but
silver prices
performed relatively better than the others...underlining its speculative aspect and the current risk-on sentiment sweeping markets."
"Once gold has somewhat run its course and starts to look expensive,"
MarketWatch quotes
brokerage Marex Spectron's David Govett in London, "a lot of people turn to the cheaper counterparty, namely silver, which has attracted fund and investor money."
Even as silver prices slipped on Wednesday, Comex silver futures today continued to show a premium for New York settlement over London physical prices, offering sellers an extra 40 cents per ounce against 'spot' for July settlement, now the most active futures on the CME's platform.
That rising incentive for shipping metal west across the Atlantic
repeats what gold trading saw
through March and April, with New York offering a premium to London spot which pulled metal into East Coast depositories from London.
Comex-approved warehouses in and around New York ended Tuesday holding 9,656 tonnes of silver, slightly less than they reported at New Year.
The giant iShares Silver Trust (NYSEArca: SLV) – by far the world's largest exchange-traded silver investment fund – has meantime swollen by 25% so far in 2020, now needing a record 14,117 tonnes of bullion to back its value.
Together with Comex warehouse stocks, that now equates to more than 95% of total global silver mine output for 2020,
forecast at 24,800 tonnes
by analysts Metals Focus.
Excluding the UK-held portion of the SLV's backing, London's specialist bullion vaults meantime held a further 101% of annual silver mine supply at end-January
according to the latest data
published by trade association the LBMA.
"The structural surplus that has been in place in recent years for silver continued in 2019," says the Silver Survey 2020, produced by Metals Focus for the Silver Institute, with the last decade seeing annual surpluses "in seven out of its ten years, resulting in a cumulative increase in global above-ground bullion stocks of 7,905 tonnes.
"This excludes the official [central-bank] sector, as well as retail investors' coin and bar holdings, which together rose by 72,312 tonnes over the whole decade."