Silver Price Slips, Gold Slides as ETFs Shrink Again, Suez Re-Opens, Traders Bet on 'Return to Normal'
Monday, 3/29/2021 15:46
SILVER PRICES fell back to 2-month lows and gold slumped $25 per ounce on Monday as the US Dollar again strengthened together with longer-term interest rates, and the US stock market hit volatility from the forced 'block trades' sale of $20 billion in a hedge fund's bets, writes Atsuko Whitehouse at BullionVault.
Oil prices dipped, pulling US benchmark WTI back towards $60 per barrel, after the Ever Given container ship was refloated in the Suez Canal, unblocking that key transit route.
"Silver is not doing well," says ICBC Standard Bank's former Tokyo manager Bruce Ikemizu, now chief director of the Japan Bullion Market Association.
Silver prices today dropped 1.2% from Friday night's finish to touch $24.45 per ounce, the level reached last Thursday.
Gold prices meantime sank at the start of US trade, plunging to below $1707 after making its first weekly loss in three.
The Dollar index – a measure of the US currency's value versus its major peers – rose to new 4-month highs.
"Overall, silver remains stuck in a very wide $22.50 to $30 range," says derivatives platform Saxo Bank's commodity strategist Ole Hansen, "but given its high beta and continued Dollar strength, the metal is risking another speculative clearance before eventually it finds renewed support, which we believe it will."
iShares' giant silver ETF trust (NYSEArca: SLV) continued to see net outflows of investor money last Friday, marking its 8th consecutive weekly liquidation and now shrinking by 15.7% from the record size achieved on
the Reddit silver-squeeze campaign
.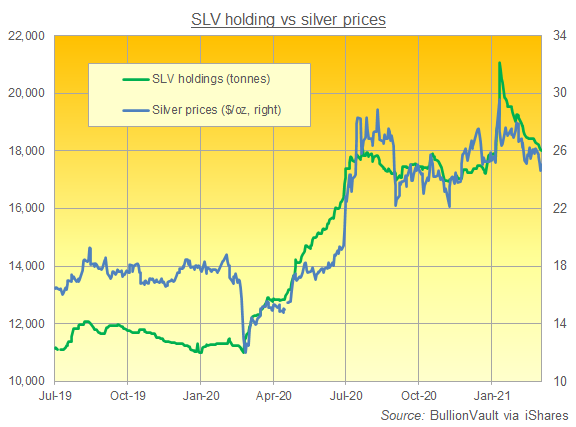 The two largest US gold-backed ETF trust funds also shrank, with the SPDR Gold Trust (NYSEArca: GLD) now shrinking for 11 weeks running and the iShares gold ETF (NYSEArca: IAU) seeing net investor outflows of 4.5% from its peak in November.
Hedge funds and other speculative traders in Comex gold futures and options raised their bullish betting on the yellow metal in the week to last Tuesday according to data published by US regulator the Commodities Futures Trading Commission (CFTC), reaching the largest net long position in 3 weeks.
In contrast, speculators raised their bearish betting against silver to the largest in 14 months, and cut their bullish positions for the 4th week in a row to a 7-month low.
Overall, that pushed the net long position of Managed Money traders in Comex silver futures and options to the smallest in 10 months.
Back in the oil market, rumor today says Russia will now support a rollover to May of the output curbs agreed by members of the Opec+ oil cartel at this Thursday's meeting.
Ten-year US Treasury yields rose to 1.69%, with investors "betting on a return to normal life" according to Bloomberg.
Benchmark 10-year UK Gilt yields rose to pre-pandemic levels at 0.78% as England joined Wales and Scotland in allowing people to meet with other households outdoors.
The pan-European Stoxx 600 index rose 0.3%, tracking gains in Asian equities, but US stock markets fell at the New York opening as major investment banks continued trying to liquidate telecom and media shares held by Archegos Capital Management, which reportedly failed to meet margin payments on its heavily leveraged bets last week.