Gold Sets Fresh Records, Japanese Yen 'Loses Safe Haven Status'
Friday, 2/21/2020 15:00
GOLD PRICES set fresh Euro and Indian Rupee records on Friday, rising above $1640 per ounce for the first time since February 2013 in US Dollar terms to gain almost $60 for the week as stock markets fell, together with long-term interest rates but also the 'safe haven' Japanese Yen, as the number of coronavirus cases continued to spread across East Asia.
Nearby South Korea became the
second-worst infected country
after confirming a surge to more than 200 cases, most linked to a Christian sect in the Asian nation's 4th largest city Daegu, where residents have been advised to stay indoors.
Tokyo's Nikkei index slipped, closing 2.9% below last month's peak near 28-year highs.
The Yen also fell on the FX market, briefly falling to fresh 9-month lows of ¥112 per Dollar after plunging over 2.0% since Wednesday – its sharpest 2-day drop since September 2017.
"Traditionally one of the safe haven currencies," says Rhona O'Connell, head of market analysis for Europe, Middle East and Asia regions at global commodities, equity and FX providers
INTL FCStone
, "the Yen has lost that role at least temporarily as the economy falters and concerns grow over the arrival of COVID-19 on the mainland.
"Gold in local terms has soared, gaining 5% in the past three days. Local retailers are reporting queues of customers looking to sell back."
Gold today broke above ¥5,900 per gram, its very highest price since the all-time top of 21 January 1980.
Back then, the Yen was worth only half as much in US Dollar terms as it is today.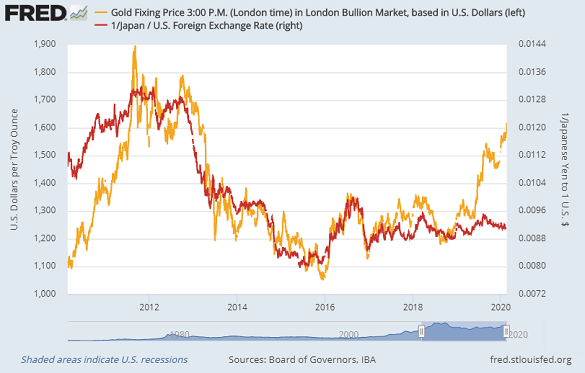 "In all my years in the market, I can't remember a time when gold rose like this at the same as the Yen fell," says a note from ICBC Standard Bank's former Tokyo manager Bruce Ikemizu, now chief director of the newly established
Japan Bullion Market Association
.
"Personally, I have long felt uncomfortable calling the Japanese Yen a 'safe haven' asset. I believe it is overvalued, and will lose value in the long term.
"For Japanese savers, owning gold will be the most effective way to deal with the anxiety and problems that creates."
Growing investment demand yesterday saw ETF trust funds backed by gold worldwide expand for the 22nd trading day in succession according to data from Bloomberg.
Trading volumes in Comex gold futures and options meantime rose by almost a quarter from Wednesday's total, reaching a new high for the month.
A US judge meantime sentenced Donald Trump associate Roger Stone to 40 months in prison,
expressing "disgust" at his lying
under oath and obstructing the Justice Department's investigation of alleged but unproven Russian collusion in Trump's 2016 election campaign.
Wednesday night
saw 9 police officers injured
in the central Ukrainian town of Novi Sanzhary when protesters attacked a convoy carrying Covid-19 evacuees home from China.
Gold priced in the Euro today touched €1520 per ounce, yet another new all-time high, despite business-activity data on the Markit PMI survey showing the slowest contraction in manufacturing in 12 months.
The first-flash ISM figure for US manufacturing, however, today showed activity slowing near no-growth so far in February.