Gold Price Slumps as US Economy Booms, Covid Vaccinations 'Start Next Month'
Monday, 11/23/2020 15:31
GOLD PRICES fell almost $40 per ounce at the start of New York trade Monday, cracking through the metal's floor at $1850 as more positive Covid vaccine results coincided with much stronger-than-expected business activity data from the United States, write Atsuko Whitehouse and Adrian Ash at BullionVault.
While the Chicago Fed
reported
another bump in its national index for October, the private-sector Markit data agency said its
preliminary survey
of purchasing managers in the services sector has seen the steepest jump in more than 5 years this month, with manufacturing activity also accelerating.
Today's latest news of positive vaccine trial results from researchers at the University of Oxford "is a risk-positive backdrop, especially with the Fed likely to remain ultra-dovish [on QE and interest rates] for some time," Bloomberg quotes one currency analyst.
The pan-European Stoxx 600 index rose to its highest since late February, extending its third straight week of gains. US equity futures rose with Pfizer (NYSE: PFE) and Moderna (Nasdaq: MRNA) joining London-listed Astrazeneca (LON: AZN) – manufacturing partner of the Oxford vaccine – in gaining after a Washington
official
said mass US immunization could start soon.
Gold prices in contrast sank to $1836, the lowest in 4 months and $240 below start-August's all-time high.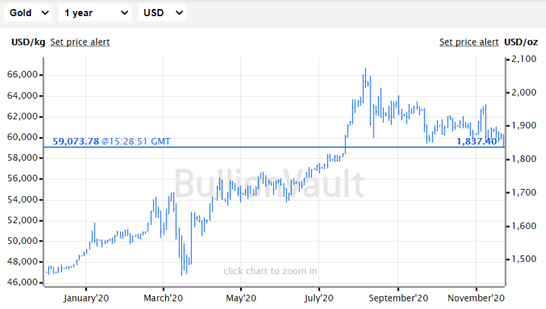 US government bonds also fell, pushing 10-year Treasury yields up 3 basis points to 0.85% – still sharply below the near-1.00% peak after the first positive Covid vaccine story broke from Pfizer 2 weeks ago.
Gold prices have now dropped 6.5% since that announcement.
Prices for silver, primarily an industrial metal, also declined Monday, falling over 70 cents to $23.55 per ounce, its lowest in 3 weeks.
Bullish betting on platinum – for which one-third of demand comes for catalytic converters to reduce harmful emissions from diesel-fuelled vehicles – grew further last week among hedge funds and other leveraged speculators in Nymex futures and options, latest data show.
Net of that group's bearish bets, that pushed the overall net long position of Managed Money traders up to the largest in 9 weeks, recovering further from this autumn's dip into a net short position.
The South African Rand has strengthened 18% against the US Dollar since April's all-time low, hit after ratings firm Moody's removed the country's last investment grade credit rating and downgraded it to "junk" status.
Euro gold prices also fell to 5-month lows, hitting €1554 per ounce even while new data from Markit's PMI surveys said business activity across the 19-nation currency bloc has fallen back into a contraction this month, led by governments imposing new lockdowns to slow the spread of Covid-19.