Gold Prices Rise with Stocks as Trump's Doctors Look to Discharge the President Early
Monday, 10/05/2020 15:25
GOLD PRICES rose against a falling US Dollar on Monday as stock markets also gained amid news that President Trump could be discharged from hospital later in the day after receiving treatment for Covid-19, writes Atsuko Whitehouse at BullionVault.
Spot gold prices rose to $1910 per ounce, while the Dollar Index – a measure of the US currency's value versus its major peers – retreated.
That saw gold extend last week's recovery from September's drop, when the US Dollar Index rose 1.8% while gold prices declined 3.6% at London's LBMA benchmarking auctions.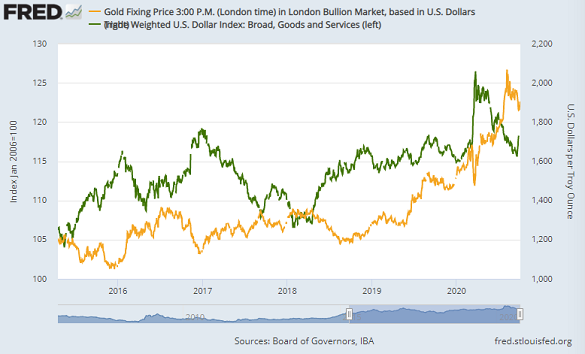 Gold prices had earlier fallen to $1877, erasing a third of last week's rally, but bounced as bond yields also rose, pushing longer-term interest rates higher.
Spot silver was less volatile, rising towards 2-week highs above $24 per ounce, after recording a 13.3% drop during September.
Platinum, which finds nearly 60% of its annual demand from industrial uses, also held firmer than gold, slipping only $5 per ounce before rising $20 to reach $894.
Trump, 74, was flown to hospital for treatment for the coronavirus on Friday, but his doctors say he responded well and could return to the White House on Monday despite twice
showing a drop in his blood oxygen level
.
Treated "aggressively" with the steroid dexamethasone, normally reserved for serious cases, plus remdesivir – an intravenous antiviral drug – Trump left the Walter Reed National Military Medical Center with his security detail yesterday to drive past cheering fans outside.
Von der Leyen spoke via video conference on Saturday to UK Prime Minister Boris Johnson – who says a Brexit deal is "there to be done" if the EU would only agree to the Canada-style agreement that he wants – about the need to find a post-Brexit trade deal ahead of 1 January.
Talks between UK and EU negotiators broke up Friday without agreement as both sides blamed the other for not compromising on key issues including fishing and government subsidies.
Despite the stand-off, the rising British Pound capped bullion priced in Sterling, with gold prices for UK investors edged higher to £1475 per ounce.
Gold prices in Euro terms also reversed earlier losses to trade back above €1620 ahead of ECB Chief Economist Philip Lane delivering a keynote address at a conference on Tuesday, followed by US Fed Chair Jerome Powell.
Back in Washington, House Speaker Nancy Pelosi said Friday that President Donald Trump's coronavirus diagnosis
could change the shape of talks
toward an evasive stimulus deal.
The House took its last votes of the week on Friday before a planned October recess. Lawmakers could return to Washington to pass Covid-19 aid legislation and would get 24 hours of notice before a vote, according to Majority Leader Steny Hoyer's office.