Gold and Silver Trading Down to New Euro Lows as ECB Cuts 42 Words on QE
Thursday, 3/08/2018 14:22
GOLD and SILVER TRADING in London's wholesale bullion market saw prices hold firm in everything but the single Euro currency on Thursday as the European Central Bank dropped a commitment to boost its QE stimulus if the economic or financial outlook worsens.
Dollar, Sterling and Yen gold prices held little changed, with US quotes trading in line with last week's finish at $1325 per ounce.
But the Euro gold price fell steeply as the single currency jumped in frantic FX trading, dropping beneath €1066 per ounce for the first time since before Christmas.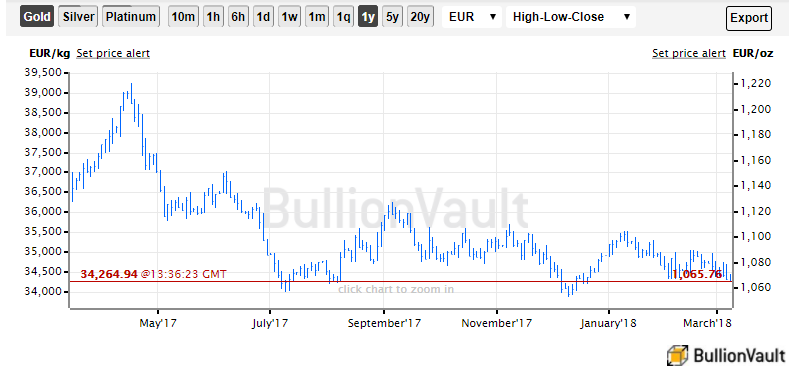 Platinum priced in Euro terms fell harder still, dropping below €724 per ounce for the first time in 12 weeks.
"Concerns about automotive demand continue to weigh negatively on platinum sentiment," says the mining-backed World Platinum Investment Council today, releasing full-year 2017 global supply and demand data and pointing to a 3% annual drop in
industrial platinum demand
for autocatalysts to clean emissions from diesel engines.
Silver also sank versus the Euro on Thursday, dropping again to €13.25 per ounce – a level seen last month for the time since July last year.
Slipping 6% from December however, silver trading through London – heart of the world's bullion market – still totalled 2.2 times the last 20 years' monthly average according to the five banks reporting data as the London Precious Metals Clearing Ltd.
Gold trading volumes, in contrast, fell almost 17% from December's
jump to the highest since Spring 2013
's crash in bullion prices on the LPMCL figures, relayed by trade body the London Bullion Market Association.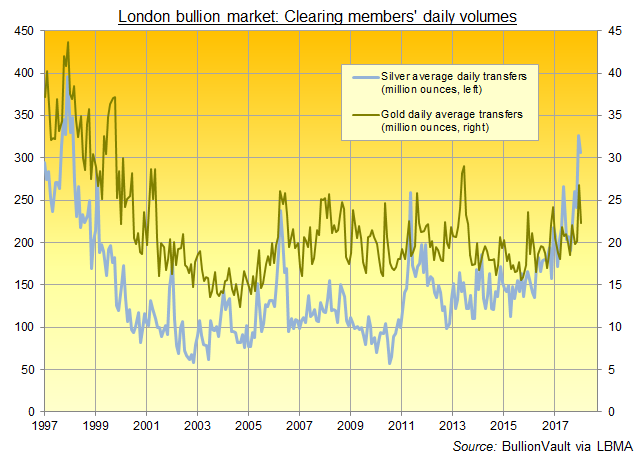 "One of the benefits of the new structure has been to make the LPMCL more accessible to new members and to clarify the entry requirements," says a statement from Ruth Crowell – CEO of the LBMA, which is also registered as an officer of the new company –
quoted today by Reuters
.
With no on-the-record comment coming from any of the 5 member banks, "You can't have three or four banks making up reasons why people can't join," Reuters quotes a source at one of the LPMCL operators.
"We spent a lot of time with lawyers making sure it stood up to regulatory scrutiny."
Back in Frankfurt Thursday, and with Eurozone member state Latvia's chief central banker unable to attend the ECB meeting
because of a corruption investigation
, "Today's decision was unanimous," said ECB President Mario Draghi.
"Monetary stimulus remains necessary...[and] continued support is provided by the net purchases, the sizeable stock of assets, the forthcoming reinvestments, and by forward guidance on rates."