Gold Prices Bounce 4% as Dollar Sinks But Silver and Platinum Win as 'Green Energy' Metals
Friday, 12/04/2020 14:12
GOLD PRICES slipped but held onto $50 gains from last Friday's finish at lunchtime today in London, halving last week's plunge against a very weak US Dollar but outrun by industrial precious metals silver and platinum, while palladium headed for a weekly drop.
World stock markets extended new record highs despite a fresh record in daily Covid deaths in No.1 economy the United States, plus news of much weaker than expected US jobs growth for November on the
official non-farm payrolls estimate
.
With the UK and Russia now implementing mass Covid vaccination programs, the Wall Street Journal claimed overnight that pharma-giant Pfizer (NYSE: PFE) will ship only half of the 100 million doses of its vaccine it had wanted by year end thanks to supply issues with raw materials.
Trading 4.2% above Monday's 5-month low, gold prices held around $1840 as the Dollar hit new 2.5-year lows on the FX market.
Silver prices meantime doubled this week's rise in gold prices, trading $1.30 higher in US Dollar terms to erase all of last week's plunge at $24 per ounce.
With silver prices up 6.3% this week while gold added 2.3%, the
Gold/Silver Ratio
of the two former monetary metals' relative pricing slipped lower, briefly touching 75 this morning – near the lowest since late September, and a 2-year low when reached this summer amid silver's huge recovery from the Covid Crash of March.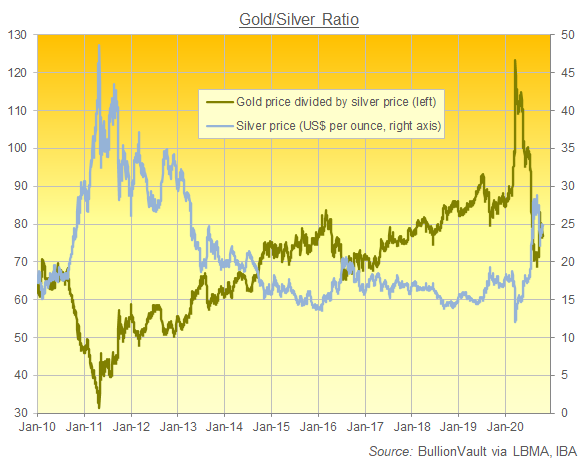 Inflation forecasts implied by US bond market pricing today touched 1.90% per year, the 3rd
new 18-month high
in as many days, despite today's non-farm payrolls figure for November coming in at barely half Wall Street forecasts.
Compromise on a near-$1 trillion Covid relief bill is "within reach" said Republican senate majority leader Mitch McConnell last night after Democrat opponents moved to back the proposal after demanding $2.2trn in immediate stimulus.
Trade talks between the UK and EU looked
set to fail
however ahead of December 31's final exit for the world No.5 economy from membership of the largest free-trading bloc as the government of France warned it
may veto any agreement
unless "a substantial chunk" of existing fishing rights are retained while a state-aid regime is imposed on the UK "to avoid...unfair competition" from across The Channel.
Eurozone and UK stock markets both ticked higher, helping extend this week's 0.9% gain to new record highs on the MSCI World Index of developed-economy shares.
Despite the surge in
platinum prices
– now over 20% higher from this time last month – sister-metal palladium fell this week, sinking 8.5% at one point on Thursday to erasing the last of November's gains after news reports said Japan is preparing to
ban new gasoline-only cars
from the mid-2030s, part of new Prime Minister Yoshihide Suga's aims to achieve net zero greenhouse gas emissions by 2050.
"Silver for solar panels and platinum for hydrogen electrolysis and fuel cells both show big potential for acheiving a decarbonised society," says Japan Bullion Market Association head Bruce Ikemizu in a note.
"But palladium faces a challenging future, as gasoline catalysts account for more than 80% of demand. Any drop will eventually mean that the current price of palladium is unsustainable."
Neighboring South Korea is also now targeting net-zero carbon emissions by 2050, while China is targeting 2020.
Base metals on Friday recovered yesterday's drop from the highest in almost 3 years on the
LMEX index
of aluminum, copper, lead, nickel, tin and zinc.