Comex Silver Speculators Turn Net Bearish, Gold Prices Steady as Russia, Turkey Warn US Over Syrian 'Fire'
Monday, 2/19/2018 14:44
GOLD and SILVER PRICES remained steady on Monday morning in London against a rebounding US Dollar, write Steffen Grosshauser and Adrian Ash at BullionVault.
With New York shut for Presidents Day – and ahead of meeting minutes due Wednesday from the US Federal Reserve's latest policy meeting – global equity markets were mixed as non-US government bond prices fell once more, nudging interest rates higher.
Oil prices hit their highest level in nearly two weeks after Saudi Arabia's energy minister Khalid Al-Falih said producer nations should keep output cuts in place for the whole of 2018 even if that causes a small supply shortage.
Geopolitical tensions meanwhile increased as Russia – the world's third biggest gold producer – warned the US
not to "play with fire"
in its "provocative" support for autonomy-seeking Kurds in Syria.
Also firm against the Dollar, silver prices edged higher for UK and Euro investors on Monday.
But in contrast to gold's 3.4% rise for 2018 so far however, silver prices remain almost 1.8% below their New Year 2018 level at $16.66 per ounce.
Latest data from US regulators also show speculators turning net negative on the metal in their derivatives betting last week.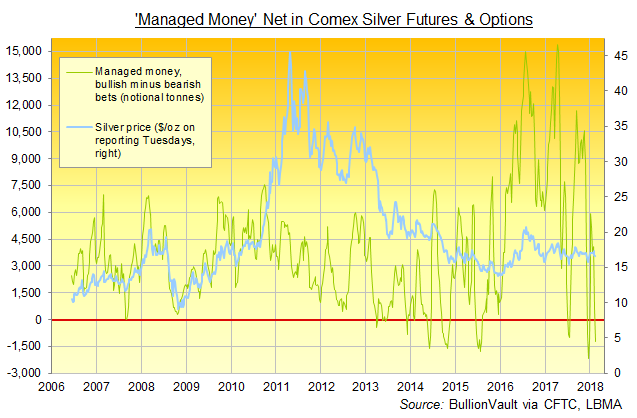 The CFTC's silver figures say that hedge funds and other Managed Money speculators cut their bullish bets on Comex futures and options and raised their bearish bets as a group in the week-ending last Tuesday.
Together that took their net speculative position back into negative territory for the first time so far in 2018.
The Managed Money category has been bearish overall on silver in 34 of the 609 weeks since current records began in 2006.
That compares with 21 weeks of net bearish betting on platinum and just 12 on gold, which last saw net negative Comex betting by money managers in the first week of 2016.
Platinum today further extended its gain above $1000, rallying to a 3.5-week high at $1013 per ounce.
Sister metal palladium meantime stayed firm, trading up to $1050 per ounce after its recent 15% correction.
Now fighting against Kurdish separatists inside Syria, the government of Washington's fellow NATO member Turkey – the world's 5th largest gold buying nation – said at the weekend it's
giving the US "another chance"
over its support for a 30,000-strong border protection force in the northeast of Syria.