Gold Prices Start 2021 by Erasing Last of Pfizer Vaccine Plunge as GLD and IAU Expand
Monday, 1/04/2021 15:20
GOLD PRICES jumped to 8-week highs on Monday, marking the start of 2021 with a steep rise in all currencies as the Dollar weakened to multi-year lows and US government bonds showed the widest gap between interest rates and expected inflation since gold set its current all-time of high above $2000 per ounce in August, writes Atsuko Whitehouse at BullionVault.
Despite the Covid pandemic worsening across the world, stock markets hit record highs as governments approved and began deploying more vaccines against the virus.
Gold prices soared 2.1% to $1940 per ounce Monday morning, the highest since 9 November – the day that drug developers Pfizer and BioNTech first announced successful trials of their coronavirus vaccine.
The Dollar Index – a measure of the US currency's value versus its major peers – today retreated 0.5% to set new 2.5-year lows after declining 7.5% last year.
Monday meantime saw US TIPS bonds signal real yields – meaning the difference between nominal benchmark bond yields and the implied rate of inflation – falling to minus 1.09%, breaching
last August's multi-decade low
.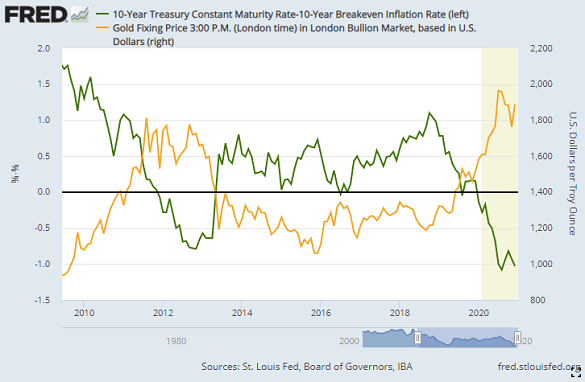 "Investors are looking for assets which benefit from higher inflation," says Giovanni Staunovo, analyst at Swiss bank and London bullion market-maker UBS.
"The reflation element is also supporting gold today."
Despite mass vaccination now starting around the world, "Gold's main drivers – weaker US Dollar and low real interest rates – are likely to provide support" agrees Vasu Menon, executive director of investment strategy at Singapore bank OCBC.
Gold-backed ETF trust funds
expanded last week, breaking end-2020's previous pattern of investor liquidation in both the SPDR Gold Trust (NYSEArca: GLD) and the iShares gold ETF (NYSEArca: IAU).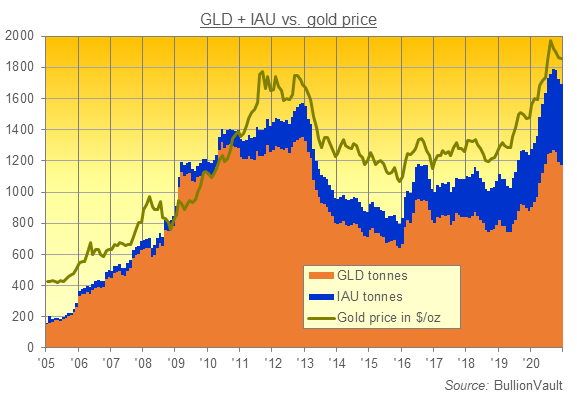 The GLD's previous week of growth – now some 8 weeks ago – came as gold prices reached $1965 per ounce before falling with the Pfizer/BioNTech Covid-19 vaccine news.
The GLD still grew to need 1,171 tonnes of backing at the end of 2020, gaining 0.3% last week and 31% for the whole year. It lost 8.5% from the 2020 peak in September however, while the smaller and cheaper IAU shrank 1.1% from its all-time record size following November's successful vaccine news.
iShares' giant silver ETF trust (NYSEArca: SLV) meantime grew even further last week, expanding by 54% on an annual basis to 17,378 tonnes, although it also shrunk 3.1% from its peak of August.
Silver prices rose 3.6% to $27.35 per ounce Monday morning, a new 2-week high, after gaining 47% in 2020.
The strength of silver pushed
the Gold/Silver Ratio
– which tracks the two formerly monetary metals' relative prices – down further to just under 71, the lowest value for gold versus silver in 4 months.
Platinum prices
today climbed 3.9% to $1111 per ounce, the highest since September 2016, after making a 10% rise last year.
Crude oil prices ticked up on Monday ahead of a meeting of leading global oil producers (OPEC+) to discuss output for February. Brent crude futures sat at $53.03 per barrel, gaining almost 2.4% after losing almost 22% across 2020 – its largest annual drop since the US Fed last began raising Dollar interest rates in 2015.
So-called crypto-currency Bitcoin meantime plunged as much as 17% on Monday to trade near $28,000 – erasing the first 3 days' steep gains in 2021 – after rising by more than 300% last year.