Gold Enters 2020 at Record New Year Prices as Dollar Gains, Stocks and World Debt Surge
Tuesday, 12/31/2019 13:04
GOLD PRICES ended 2019 with their 3rd highest annual finish in US Dollar terms while setting fresh New Year's Eve records in all other major currencies except the Swiss Franc.
Trading in London at $1523 per ounce at 10:30am on Tuesday – time of the final global benchmarking auction before 2020 –
gold prices
gained 18.8% from last New Year's Eve, the 7th best annual rise of the 21st Century to date.
World stock markets excluding the USA meantime
rose 18.9% this year
according to data agency MSCI, while New York-listed equities gained 28.0% on the Wilshire Full Cap price index.
Since 2010, gold priced in Dollars has
gone in the same direction
as the US stock market 7 times, the most in any decade since bullion prices were cut free from fixed exchange rates half-a-century ago.
2019 also saw the US Dollar rise on the forex market, making this only the 3rd year since 2000 that gold, the Dollar and US equities all rose together.
So too did the price of US and all other major government bonds, driving longer-term interest rates down.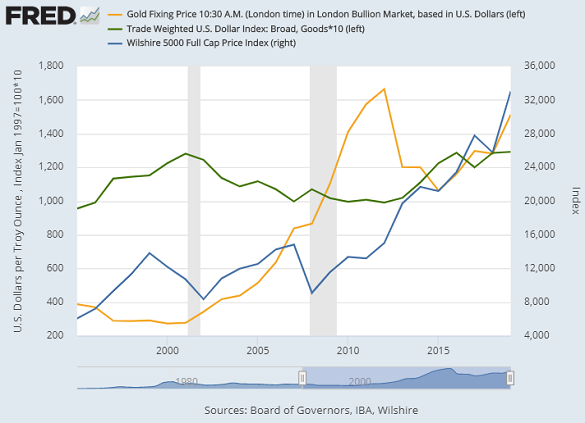 Gold's London PM benchmark averaged $1392 per ounce in 2019, up 9.7% from last year's daily average with the strongest rise since 2011 at a price sharply above most analysts' forecasts.
Having been $50 per ounce too bullish for 2018, the average 2019 price predicted by analysts entering
January's forecast competition
from the London Bullion Market Association turned out to be $80 shy of the final result.
"The bad news for gold [was] largely priced in,"
reckoned Rhona O'Connell
, now at brokerage INTL FC Stone, forecasting $1365 per ounce for 2019 – the joint-closest forecast with René Hochreiter at Johannesburg-based Sieberana Research.
"Continued economic uncertainty and news of renewed and sustained central bank interest are all underpinning factors," O'Connell predicted.
Thanks to the Dollar rising as US gold prices also gained, 2019 saw new all-time record highs for bullion in terms of the Euro, British Pound, Indian Rupee, Canadian and Australian Dollars, and many other major currencies.
Together with gold priced in all those currencies, Tuesday's final price for 2019 also marked the highest New Year's gold price ever in terms of all other major moneys, including the China Yuan and Japanese Yen.
2019 saw the market capitalization of listed equities
rise $17 trillion
to set a new all-time record, according to one bank's analysis.
Coupled with weaker economic and household income growth in India, plus a surprise hike in bullion import duty, this year's rise in world gold prices
badly hurt jewelry demand
in the metal's No.2 consumer market, while the authorities in No.1 consumer China restricted bullion imports earlier in 2019 to try and stem capital outflows from the Yuan.
Swelling by some 460 tonnes of bullion this year, gold ETFs as a group worldwide have grown by some 1,000 tonnes since end-2009 according to data compiled by the mining industry's World Gold Council.
Euro gold prices ended 2019 at €1358, gaining 21.3% from last New Year's Eve, while
the UK gold price in Pounds per ounce
traded at £1157 on Tuesday morning, up 15.1% for the year ahead of the UK's January 2020 Brexit from the European Union.