Gold Prices Cut Covid-Vaccine Plunge by 40%, India's Diwali Festival Demand 'Tepid'
Friday, 11/13/2020 14:59
GOLD PRICES rose on Dhanteras 2020, regaining two-fifths of this week's earlier $100 plunge by Friday afternoon in London as fading hopes that a Covid vaccine will end the pandemic anytime soon saw world stock markets slip while longer-term interest rates reversed their spike.
Gold priced in the Dollar reached $1895 per ounce as the US currency retreated on the FX market, Asian stock markets closed the day lower and the EuroStoxx 600 index held unchanged, keeping its weekly gain at 5.2%.
"Gold has rebounded because the pandemic and the Covid-19 numbers globally are still rising. The market optimism towards the vaccine and risk-on sentiment has faded," Bank of China International analyst Xiao Fu
told Reuters overnight
.
Adjusted for inflation expectations – now edging back from their
strongest since spring 2019
– real 10-year US bond yields fell this morning to minus 0.87% per annum, the lowest in 6 trading days and matching their level when gold prices began their steep rise to August's current all-time high of $2075 per ounce.
With tomorrow's culmination of India's Diwali festival usually marking the world's 2nd heaviest gold-buying season after Chinese New Year, "There has been a decrease in the purchasing power of the people in the country thanks to Corona deprivation," said Confederation of All India Traders (CAIT) President B.C.Bhartia in New Delhi today.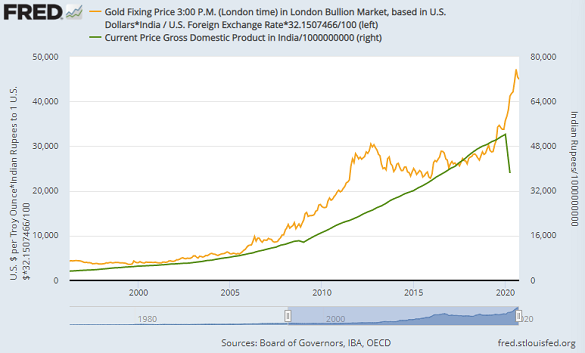 With bullion import duty at 12.5% since mid-2019 and
GST sales tax at 3.0% since 2017
, 24-carat gold edged higher to INR 53,620 per 10 grams in New Delhi today, and reached INR 51,930 in Chennai.
Both gold and silver "witnessed
a tepid response from consumers
" on Thursday, the
Times of India
reports from New Delhi and Mumbai, blaming high prices and the economic hardship caused by Covid-19 lockdowns – now entering its
230th day
– for the weakest festival demand in many years.
The Sensex index of Indian stocks today closed at a record-high Friday finish, up 3.7% from last weekend, while the wider Asia ex-Japan equity markets erased the week's earlier 0.8% rise.
"We have a
firm plan for disengagement
on the table, it is being internally discussed on both sides," said an Indian official today about a deal with fellow nuclear power China to de-escalate tensions in the disputed Western Himalayas, where at least 20 Indian soldiers were killed by Chinese troops using rocks and clubs in June.
Beijing's Communist dictatorship today
"congratulated" Joe Biden
and Kamala Harris for winning the US election as President and Vice-President, saying it "will respect American people's choice" – apparently a dig at current White House resident Donald Trump, who continues to back lawsuits and as-yet unproven allegations of massive ballot fraud.
Crude oil today edged back from this week's attempt to break 2-month highs, holding 13.5% higher for November so far.
Silver meantime tracked and extended the move in gold prices, recovering half of Monday's 8.0%
Covid-vaccine-news plunge
against the Dollar to reach $24.75 per ounce.