Gold Prices Head for Highest Weekly Close in 6 Even as US Jobs and Corporate Earnings Beat Forecats
Friday, 11/01/2019 13:59
GOLD PRICES slipped but held on track for the highest weekly close in 6 after new data from the Bureau of Labor Statistics said the United States jobs market was stronger than analysts expected in October.
The S&P500 index of US equities headed for a new all-time high. Government bond prices were little changed, holding longer-term US yields down at 3-week lows after the sharp drop made on Wednesday's widely expected
cut to short-term rates by the Federal Reserve
.
Dropping $5 from 1-week highs at $1514 per ounce, gold prices also rallied in Euros and British Pounds, but showed a small drop from last Friday at €1353 and £1165 respectively.
October's US jobs report says the world's largest economy added 128,000 non-farm payrolls last month – 43% above the average analyst's forecast – while September's figure was revised one-third higher to 180,000.
"Notable job gains occurred in food services and drinking places, social assistance, and financial activities,"
the BLS said
. "Employment declined in motor vehicles and parts manufacturing due to strike activity" over wages at General Motors, ended by a pay deal earlier this week.
US employment has now expanded for a record 109 months in a row, almost twice the length of the next longest expansion.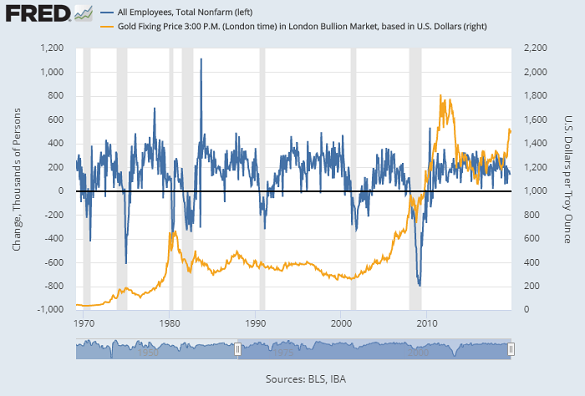 New data Thursday showed Eurozone inflation picking up to 1.1% per year on the 'core' measure, but unemployment in the third quarter of 2019 failed to drop from 7.5%.
China meantime saw a solid rebound in manufacturing activity last month according to the private-sector Caixin's PMI survey on Friday, contrasting with Beijing's official NBS estimate of further contraction.
Already bailing out or nationalizing 3 commercial banks in 2019, the Chinese authorities this week arrested a 29-year old woman in Henan province for
"fabricating facts and disrupting social order"
on social-media app WeChat by saying Yichuan Rural Commercial Bank "is going bust", leading to what the Communist Party called "concentrated cash withdrawals" by anxious depositors.
"US corporate profits haven't waned as much as analysts had predicted,"
says the Wall Street Journal
of this year's third-quarter earnings reports.
That EPS beat rate so far this earnings season is really something else. https://t.co/XActIpLIhq pic.twitter.com/actv3DANGt

— Bespoke (@bespokeinvest) October 27, 2019
Gold-backed ETFs worldwide swelled to need new all-time record bullion holdings in October, witnessing
net investment inflows
for a 6th consecutive month even as the giant New York-listed SPDR Gold Trust (NYSEArca: GLD) failed to expand.
Platinum on Friday matched the gold price's small gain for the week, also nearing its highest weekly finish in 6 with a $10 rise to $935 per ounce.
Silver lagged however, trading unchanged from 7 days ago at $18.05 per ounce.