Gold Prices Hold $1500 as Turkey Attacks Kurds in Syria, Fox News Poll Backs Impeaching Trump
Thursday, 10/10/2019 14:09
GOLD PRICES held tight above $1500 per ounce against a falling US Dollar in London on Thursday, erasing yesterday's 0.8% gain as world stock markets also held flat and major government bond prices slipped, edging interest rates higher.
The Turkish army's incursion into north-east Syria – approved and enabled by US President Donald Trump withdrawing military support for Kurdish groups – led Thursday's geopolitical headlines.
An opinion poll from Donald Trump's favored Fox News channel meantime says the President faces
strong US public backing for impeachment
over allegedly asking Ukraine to investigate domestic rival Joe Biden of the Democrat Party.
New economic data Thursday said that machinery orders in Japan sank 14.5% this August from 12 months before, while exports from Germany fell twice as fast as analysts had expected.
"Geopolitical concerns should continue to underpin prices," says one bullion trading desk in a note, "and we see ETF's moving back into the metal following recent outflows."
While the giant SPDR Gold Trust (NYSEArca: GLD) has not seen any change in size for 5 trading days in a row, cheaper gold ETF competitor the iShares product from Blackrock (NYSEArca: IAU) has now expanded almost every session for more than 2 weeks, setting a run of new all-time records for its number of shares in issue.
"While we expect risk aversion will drive investor demand for gold through H1 2020," adds Harry Tchilinguirian, head of commodity research at French bank and London bullion market-maker BNP Paribas, "rising inflation expectations by [next year's likely] end of the Fed easing cycle [in US interest rates]
are likely to take over
."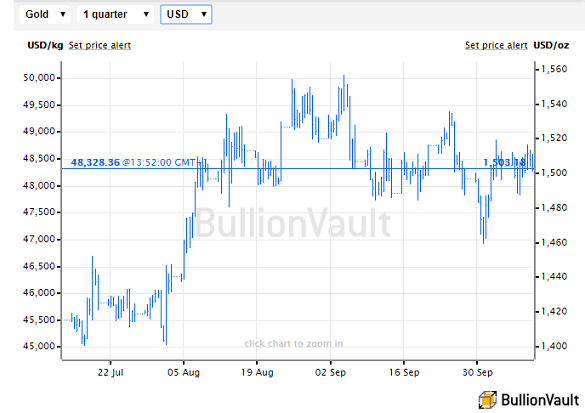 With Kurdish forces in Syria widely credited with helping defeat ISIS, "They
didn't help us with Normandy
," Trump said to reporters on Wednesday about Turkey's attacks against what Ankara sees as terrorist separatists, referring to the Allies' fight against Nazi Germany in 1944 and stressing that he wants the US to stop meddling in Middle Eastern affairs.
Operation Peace Spring has already "neutralized 109 terrorists" according to Turkey's President Recep Tayyip Erdoğan, while 2 British citizens accused of "The Beatles" atrocities as part of the ISIS death cult have been handed to US military.
Bloomberg meantime reports that the US President asked for the Justice Department to drop charges against a Turkish banker over breaking US sanctions against
Iran by smuggling gold
– a case which implicated senior officials in Erdoğan's Ankara government – saying the "2017 episode bears hallmarks of Trump approach to Ukraine call."
Reza Zarrab then turned prosecution witness in the case, helping convict Mehmet Atilla of the Iran-Turkey gold-smuggling plot, before now
being sought by Turkish authorities
over other charges.
Trump has followed his decision to withdraw US troops from north-east Syria, leaving Turkey to attack what it calls "terrorist" Kurdish groups, by inviting Erdoğan to the White House next month.
"
Despite Turkey's objections
," says an opinion column at
Hurriyet Daily
, "the US [in the past] preferred to align with the YPG and provided training and heavy weaponry to the group...[which] it did not hesitate to use against Turkey, a NATO ally."
"So far both
Tehran and Moscow have urged Erdoğan
to show restraint," says the UK's Guardian, "but [Iran and Russia] will also see opportunities amid the chaos created by Trump's impulsiveness."
UK gold prices meantime retreated £15 per ounce from Wednesday's 5-week highs at £1241 as Prime Minister Boris
Johnson continued talks with Ireland's Taoiseach
Leo Varadkar to try and find a resolution to the 'Irish backstop' element of the UK's Brexit deal with the European Union ahead of next week's key summit of EU leaders.
Euro gold prices also fell, turning this week's prior 0.7% rise into a 0.6% loss trade at €1363.