Gold Prices Try 2-Week High as China Trading Returns, Trump 'Calls for Stimulus Deal', Interest Rates Erase Spike
Friday, 10/09/2020 13:47
GOLD PRICES rose Friday as China returned from its week-long National Day holidays and US President Trump pushed for a new round of Covid Crisis stimulus spending from Congress.
Despite the likelihood of yet more record Treasury borrowing whether Trump or Biden wins next month's White House election, longer-term interest rates meantime fell,
erasing the last fortnight's spike
to reach what were 21st Century lows after accounting for inflation forecasts when first hit in late-July.
Priced in the US Dollar, gold neared Tuesday's 2-week highs just below $1920 – the precious metal's all-time peak from 2011 until this summer's surge to $2075.
The re-opened Shanghai Gold Exchange meantime saw bullion landed in China – the metal's No.1 consumer market – return from the National Day holidays at ¥404 per gram, its highest since
mid-September's steep drop
.
Even with Dollar prices in London trading $20 higher from when Shanghai shut on 30 September, that trimmed the discount for China gold vs. the global market to its smallest since late July, suggesting stronger demand vs. supply.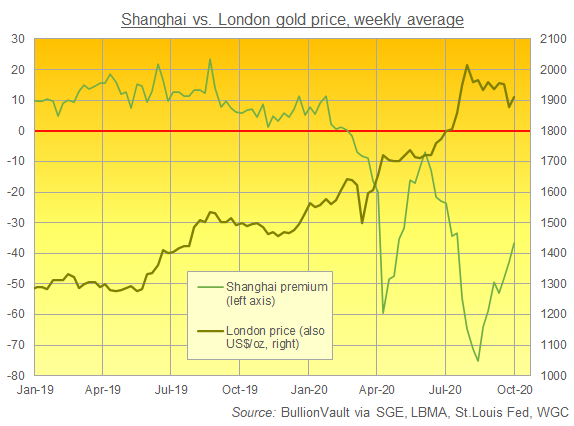 Gold prices are "actually agnostic to the elected [US] party" says a note from Canadian brokerage TD Securities.
"Barring a split outcome, both administrations are likely to push through a large-scale fiscal deal in no time."
But this week, TD's analysts go on, Trump's sudden refusal to allow any new stimulus package "raised concerns that the US may lose economic momentum...[and] these fears interrupted the renewed rise in inflation expectations that had underpinned the recent strength in gold prices."
"Tomorrow, by the way, tomorrow, come here tomorrow. We're going to be
talking about the 25th Amendment
," said opposition Democrat Speaker of the House Nancy Pelosi to journalists Thursday, referring to the US constitutional clause addressing "Presidential
vacancy, disability and inability
" in light of Trump's diagnosis of and aggressive treatment for Covid-19.
"The gyrations on whether we are going to get a stimulus or not seems to be affecting gold prices,"
Reuters quotes
French bank SocGen's former bullion analyst and now independent commentator Robin Bhar.
"Gold has rallied [in 2020] on huge stimulus from the US Federal Reserve and the government, and if that continues, it will support gold further."