Gold Prices Flat at $1500 Ahead of US-China Trade Talks as Trump Dumps Kurds, Tweet-Attacks Turkey
Monday, 10/07/2019 16:48
GOLD PRICES recovered half of an early $10 drop late Monday in London, rallying back to $1500 per ounce as world stock markets fell ahead of key US-China trade talks.
North Korea this weekend cancelled nuclear-weapons talks with Washington, while Hong Kong's pro-democracy protest saw further violence between demonstrators and police.
Increasingly violent protests over corruption in Iraq continued meantime, while US President Trump – accusing likely Democrat challenger
Joe Biden of corruption
– said he's backing Turkey's planned incursion into Syria while pulling US support from the Kurdish forces fighting terrorist cult ISIS.
As I have stated strongly before, and just to reiterate, if Turkey does anything that I, in my great and unmatched wisdom, consider to be off limits, I will totally destroy and obliterate the Economy of Turkey (I've done before!). They must, with Europe and others, watch over...

— Donald J. Trump (@realDonaldTrump) 7 October 2019
"There is demand for safe haven assets, which reflects
a very cautious mood
towards the trade deal," says a spread-betting bookmakers' analyst to Reuters.
Among gold investment products, both of the 2 largest US-listed
gold ETFs
expanded last week as bullion prices held flat after whipping $60 bottom to top.
The SPDR Gold Trust (NYSEArca: GLD) needed an extra 0.9 tonnes, but held shy of late-September's 3-year record holdings of 926 tonnes.
The iShares Gold product (NYSEArca: IAU) meantime expanded by 5.6 tonnes, reaching a new record size of 344 tonnes.
Over in the derivatives market, latest data say hedge funds and other leveraged speculators cut their bullish betting sharply in the week-ending last Tuesday, when gold prices sank to 8-week lows of $1459 per ounce.
The Managed Money category cut its bullish bets, net of bearish bets, by nearly one-fifth from late September's new series record.
Shrinking by 19.5%, that group's net long position in gold futures and options fell to a 9-week low, equal to a notional 731 tonnes of gold, as total open interest in Comex gold derivatives shrank 15.9% from late September's new all-time record – the fastest contraction since November last year.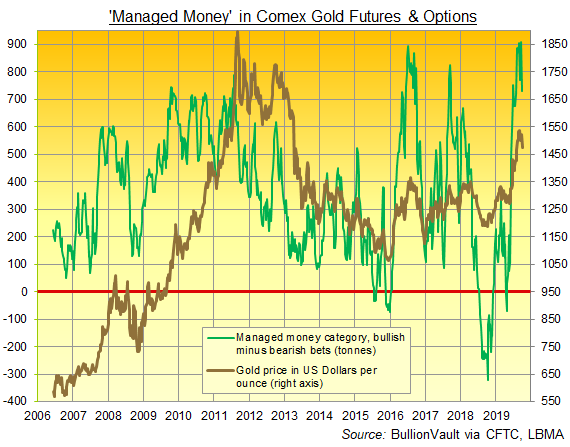 Silver prices held firmer than gold on Monday, holding in a tight 15-cent range below last weekend's $17.56 level.
Betting on silver futures and options also retreated on regulator the CFTC's latest data, extending the drop in Open Interest from August's new all-time high to 12.2% as hedge funds and other money managers cut their net bullish position by more than one-tenth for the week.
By last Tuesday's close, the Managed Money category's net long position in Comex silver derivatives stood at 107% of its long-term average.
Managed Money net betting on gold was also twice as large as its long-term average, up 102%.
Back in gold, the People's Bank of China has added 100 tonnes to its bullion reserves as the US-China trade war has worsened in 2019, Bloomberg notes today.
"Given strained relations with the US, [it] needs a hedge against its large holdings of the Dollar," the news-wire quotes Singapore bank OCBC's economist Howie Lee.
"As China becomes a superpower in its own right, I expect more gold-buying."
"Beijing's communist rulers have much to celebrate," wrote Cary Huang, previously Beijing bureau chief for the South China Morning Post, on InkstoneNews last week, marking the 70th anniversary of the founding of the People's Republic,
Gold prices have now risen 1.0% in US Dollar terms since China's wholesale
gold market closed for Golden Week
holidays to mark National Day, set to end with the return of Shanghai trading on Tuesday.
Here in the UK on Monday, pawnbroker Ramsdens (LON: RFX) said Monday that it's booked a one-off gain of £0.6m ($0.7m) by scrapping some of the jewelry it holds to take advantage of record-high
UK gold prices in Pounds
.
Gold priced in Sterling today held little changed at £1218, a fresh all-time high when first reached 2 months ago.
The Euro gold price ticked down €4 on Monday to €1366 per ounce, some €50 per below start-September's fresh all-time high.