Gold 'All About Everything Else' as Yields Rise But Evergrande Spurs Chinese Demand
Monday, 9/27/2021 15:08
GOLD PRICES pared an early rally from multi-month lows on Monday as longer-term Western interest rates rose in the bond market ahead of speeches from Federal Reserve policy makers, while physical gold demand in China showed the most strength in 4 months as buyers seek cover from property-giant Evergrande's looming debt default risks, writes Atsuko Whitehouse at BullionVault.
Spot gold prices in London steadied at $1750 per ounce after rising to $1760 Monday morning.
The yellow metal hit a 6-week low at $1738 last Thursday, ending with its lowest weekly finish since April as the US government's benchmark borrowing cost rose to multi-month highs at 1.45% on 10-year Treasury bonds.
The yield rose further Monday morning to 1.48%, the highest since the end of June.
"It's all about the other markets which are driving gold," says Nicky Shiels, head of metals strategy at Swiss refining and finance group MKS Pamp, pointing out a global repricing higher in yields.
After getting stuck for months, 10-year Treasury yields broke through the top of a range that's held since mid-July, surpassing 1.40% after analysts and pundits
heard hawkish messages
last week from the Federal Reserve.
The 10-year Treasury yield – widely seen as a measure of economy-wide borrowing costs and returns to lenders – fell as far as 0.55% in August 2020 when gold prices hit their current all-time high at $2075 per ounce.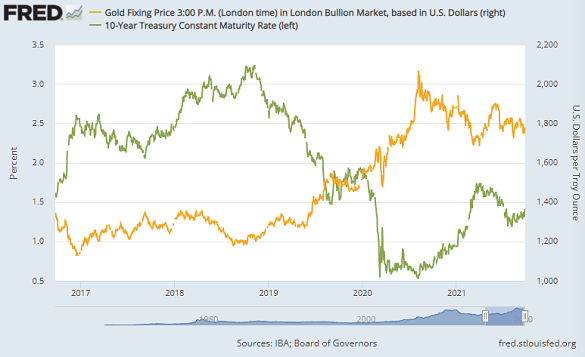 "The bigger threat is if 10-year yields, which are hitting up against some resistance/inflection area, break up & out," says Shiels.
That could see the bond market shift from its recent 1.2% to 1.4% range, in which gold has traded from $1830 to $1730 per ounce, up to a range of 1.4% to 1.6%.
"That could imply lower gold ranges," MKS's strategist says.
Gold prices on the Shanghai Gold Exchange meanwhile continued to show a premium to London on Monday, increasing to $12.30 per ounce, a new 4-month high.
Wholesale bullion in the metal's No.1 consumer market last week offered an average incentive to new imports of $9.60 last week, right in line with the typical historic premium above London, the bullion world's central trading and storage hub.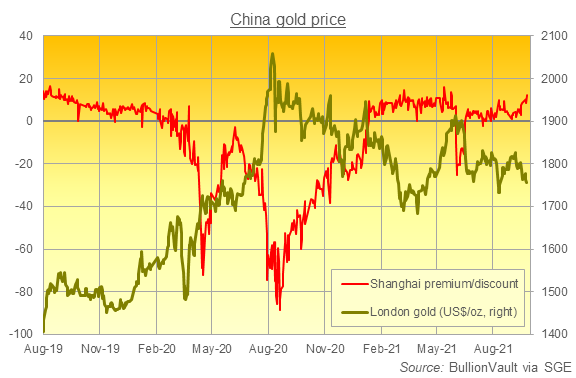 Shanghai's premium to London has so far averaged $4.50 after hitting record discounts during the first phase of Covid-19, and fell to a $25 discount early this June following
news of new anti-money laundering laws
.
"The Evergrande debacle has caused investors to move into gold and
shift gear to capital preservation
," says Bernard Sin, regional director for Greater China at MKS, adding that Chinese imports could "increase drastically this month."
After rattling global equity markets last Monday, debt-laden property giant Evergrande
missed a bond payment deadline
last week, and is now in a 30-day grace period before bondholders can call it default.
Benchmark UK gilt yields have
since topped 0.90%
for the first time since May after the BoE's comments.
Gold prices for European investors edged higher by 0.1% to €1495 per ounce as the Euro also unwound a small gain versus the Dollar after Germany's federal elections failed to produce a clear winner, leaving Angela Merkel as caretaker Chancellor until a firm coalition and leader is agreed.
Provisional results from Sunday's election showed the centre-left Social Democrats (SPD) won 25.7% of the vote, ahead of 24.1% for Chancellor Angela Merkel's CDU/CSU conservative bloc.
Government bond yields in Germany edged down from more than 2.5-month highs on Monday, apparently a sign of "some relief" among investors after the Die Linke party's poor showing "appears to have ruled out a left-wing alliance," say analysts at investment giant BlackRock, adding that either the conservative bloc or the SPD have the chance to lead a moderate coalition.
European stocks gave back some early gains Monday, as did New York equity futures, ahead of regular testimony by Federal Reserve chief Powell and Treasury Secretary Yellen to politicians on Capitol Hill on Tuesday.