Gold Prices Set Fresh Weekly Records as China Discount Deepens, 'Eager Bulls' Drive ETF Inflows and Record Comex Deliveries
Friday, 7/31/2020 15:04
GOLD PRICES rose within $1.50 of this week's fresh all-time Dollar high in London trade on Friday, peaking at $1979.50 per ounce as world stock markets struggled again after the United States joined Japan, Germany and the UK in reporting its worst economic slump of modern times thanks to the second quarter's Coronavirus pandemic and shutdowns.
Gold bullion delivered in London – heart of the global market – has now risen for 8 weeks in a row in US Dollar terms, a run only seen once before in the last 10 years, and not bettered since summer 2010.
Gold prices in China overnight set their 6th new all-time high of the last 10 trading days, with bullion fixing above ¥428 per gram on the Shanghai Gold Exchange
to end July as it began
, with a fresh historic record.
Today's new record still kept Chinese prices at a steep discount to London quotes however, deterring new inflows of bullion and reflecting weak domestic demand versus supply in the world's No.1 gold mining, importing and consumer nation – source of the novel coronavirus, and the first nation to re-open from anti-pandemic lockdowns.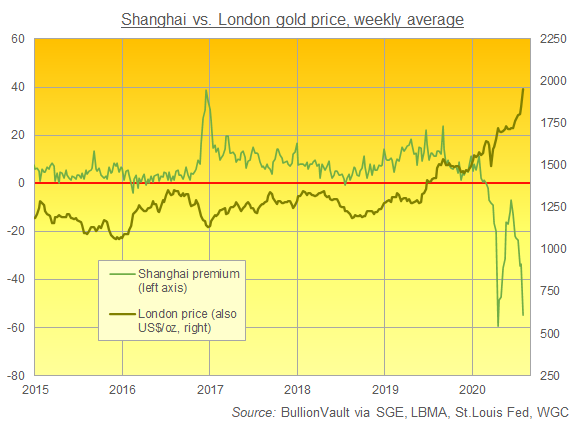 "The Chinese think the international price is too high, no one's bidding and the sellers keep selling," Reuters quotes analyst Samson Li of consultancy Refinitiv GFMS in Hong Kong.
Chinese gold prices have now traded below London quotes for 19 weeks. Over that period, the two giant US gold-backed ETF investment funds, the GLD and IAU, have seen unbroken weekly inflows.
Indian gold meantime rose this week $8 per ounce above import prices – which now include 12.5% duty and 3% sales taxes – reversing last week's $6 discount as household demand remained weak but supplies became "tight" according to one dealer, falling faster thanks to the collapse of both legal inflows and smuggling into gold's No.2 consumer market.
New York's CME derivatives exchange will meantime see a record quantity of gold delivered against this month's Comex gold futures contract, says analysis from Rhona O'Connell at brokerage StoneX, with a massive 101 tonnes beating any month's physical settlement since at least 1994.
"This is a partial consequence of the disconnect that the markets suffered when we were in the peak airline lockdown due to the first wave of the virus," O'Connell explains, after
a massive $100 premium for gold
landed in New York over London attracted unprecedented inflows of bullion to Comex warehouses.
"There was
something of a panic
," O'Connell goes on, and the resulting 1,200-tonne inflow "was more a function of risk management and credit controls" by bullion banks used to 'shorting' Comex futures and options to hedge the value of their physical stockpiles elsewhere in the world.
"On the basis of the numbers and the prevailing febrile atmosphere, [July's record-heavy physical delivery] is likely to do with investment...A good chunk of this metal will find its way into the eager hands of the gold bulls."
Silver prices also rose Friday, but held onto just one-third of the week's earlier spike, trading more than $2 below Tuesday's 7-year high of $26.20 per ounce.
With the US Dollar meantime rallying from this week's drop to 2-year lows on the currency markets, gold priced in Euros traded above €1665 per ounce, 1.1% below Tuesday's new all-time peak.
The
UK gold price in Pounds per ounce
fell back however, showing only a £10 weekly gain and heading into Friday's London benchmarking auction some £40 below Tuesday's fresh spot-market record of £1535.