Surge in Comex Trading as Gold Price Sets New GBP, Yuan, Rupee Records, Silver +19% for Week So Far
Thursday, 7/23/2020 15:26
GOLD PRICES popped to a new 9-year record on Thursday, peaking barely $30 below September 2011's all-time top of $1920 in US Dollar terms and setting fresh record highs in most other currencies as new cases of Covid-19 continued to surge worldwide.
The
price of silver
meantime peeped above $23 per ounce for the second time in 2 days overnight, up 18.9% from last weekend, before falling back 50 cents from that new 7-year high.
Hong Kong and Tokyo today both reported fresh daily records for new cases of Covid-19, while Poland showed the most in over a month and Iran confirmed a 'second wave' is clearly under way – with 221 deaths on Wednesday alone – after starting to ease lockdown in mid-April.
Japanese Yen gold prices came within 1.2% of January 1980's record top, while in China, source of the SARS-CoV-2 pandemic, gold set fresh all-time highs in Yuan at more than ¥413 per gram.
Weak local demand in the metal's No.1 mining and consumer nation however kept that Yuan price over $35 per ounce beneath equivalent quotes in London, heart of the global bullion market.
With the UK Prime Minister today visiting Scotland – which voted against independence in 2015 and then voted against Brexit in 2016 – "
Coronavirus: Boris Johnson
says response shows 'might of UK union'," says a BBC headline.
"UK's pandemic planning
an 'astonishing' failure
," says another, reporting today's findings from Parliament's Public Accounts Committee – 9 of whose 16 members are MPs for Johnson's ruling Conservative Party.
The live UK gold price in Pounds per ounce
today peaked at £1486 per ounce, 29.9% higher for the year to date and 39.0% above the high reached as Sterling collapsed in June 2016 on the EU referendum victory for Johnson's Brexit campaign.
"UK close to
abandoning hope
of EU trade deal," says the pro-Brexit
Express
newspaper, with both the UK's and EU's chief negotiators blaming the other for not moving on key issues ahead of December's end to the 'transition' period following Britain's official exit this January.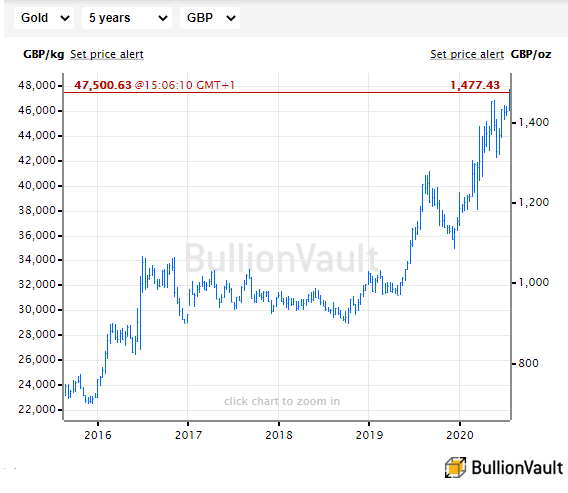 Indian gold prices also set fresh records on Thursday, with import duty and sales tax taking the cost of bullion for the world's No.2 gold consumers further above 50,000 Rupees per 10 grams.
Gold for Euro investors also pushed higher again, coming with €5 per ounce of mid-May's current record at €1633.
Giant
gold ETF
the SPDR Gold Trust (NYSEArca: GLD) yesterday expanded by another 0.4% to need 1,225 tonnes of bullion bars, the most since mid-March 2013, eve of gold's steepest plunge in 3 decades.
Cheaper competitor the iShares Gold product (NYSEArca: IAU) also grew, recovering the prior day's net liquidation of 0.5% to need 473 tonnes of backing.
Also from iShares, silver's largest ETF (NYSEArca: SLV) meantime saw its shares in issue swell by 1.4% to spur an inflow of 224 tonnes on Tuesday – equal to more than 3 days' world mining output – to reach a fresh lifetime record of 17,082 tonnes.
But the real move came in Comex derivatives, with futures contracts for New York settlement – previously hit by traders switching their hedging and speculative positions to London's physical market – seeing a 41.9% surge in volume for gold and
41.5% in silver
.
Trading in options contracts – offering speculative traders still greater leverage to the money they lay out – meantime grew 318.7% in gold compared to Wednesday last week, and rose more than 5-fold in silver.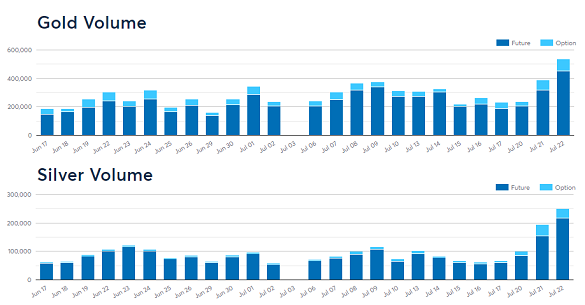 With the US meantime ordering Beijing to close its consulate in Houston this week over accusations of espionage, US prosecutors said Thursday that a fugitive scientist, accused of fraud and links to the Chinese military, has
fled to seek sanctuary
in Beijing's consulate in San Francisco.
US President Donald Trump called overnight for a "surge" of federal agents to try
ending a "rampage of violence"
in cities where anti-racist protests have continued on a near-daily basis.
The mayor of Portland, Oregon, was last night caught in tear gas – apparently
not released by local police
– while telling protesters that Trump deploying federal agents represents "an unconstitutional occupation".