Gold Prices Erase Post-ISM Rally as US Jobs Data Beat Forecasts, Both for Gains and New Benefit Claims
Thursday, 7/02/2020 14:27
GOLD PRICES gave back a $15 rally Thursday lunchtime in London as yesterday's stronger-than-expected US manufacturing data was followed by a surprise jump in the world No.1 economy's official jobs estimate for June.
Falling again below $1760 per ounce – a near 8-year high when first reached in mid-May – gold prices also dropped to 1-week lows for Euro and UK investors as the
Bureau of Labor Statistics said
US non-farm payrolls expanded by 4.8 million last month, cutting the unemployment rate to 11.1%.
With the US now suffering the worst death-toll from Covid-19 amid a fast-worsening second wave of infections, analysts had forecast only 3.0m net jobs and a 12.3% jobless rate.
US factory activity yesterday beat Wall Street forecasts for June, with the Institute of Supply Management reporting stronger-than-expected monthly growth in its PMI survey.
New data earlier this week also showed
a record jump in pending US home sales
for May, up 44.3% for the month to what would have been the weakest level since early 2014 on the National Association of Realtors' index if it hadn't been for March and April's record collapse.
Government bond values also fell again with gold prices on Thursday, driving the yield offered by those fixed-income assets higher for new buyers.
Adjusted for inflation, real US Treasury yields had reached new 7-year lows on Tuesday – the day that gold priced in Dollars
rose near its highest since 2011
's peak, touching $1785 per ounce – but then spiked on Wednesday's ISM manufacturing report, pulling the inflaton-adjusted 10-year rate up from -0.73% to -0.67% per annum.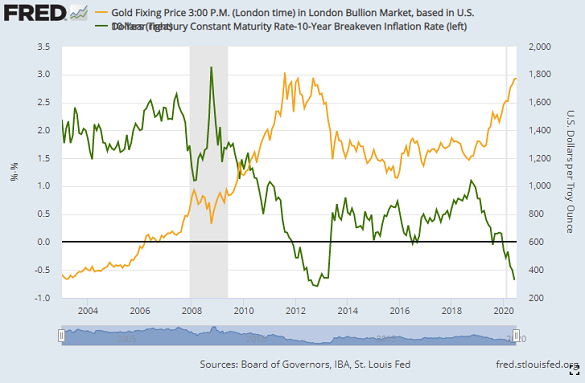 A measure of month-on-month expansion, and coming after the ISM index's steepest collapse in its 7-decade history, June's figure showed markedly weaker growth than the 60-month average ending December 2019.
"While we are seeing signs of an uptick in business activity," said one respondent to the ISM survey, quoted in the Institute's report, "it is a slow recovery at this point."
Looking instead at the
Atlanta Fed's GDP Now forecasts
, built and updated daily using a range of incoming data, "This puts into stark contrast the impact of the Coronavirus pandemic on the US economy," said Victor Flores, director of strategic projects at mining investment firm Orion, speaking today on the LBMA's weekly webinar.
Now tracking annualized GDP destruction of more than 35% for the April-June quarter, this "gives you a sense of the impact," he said.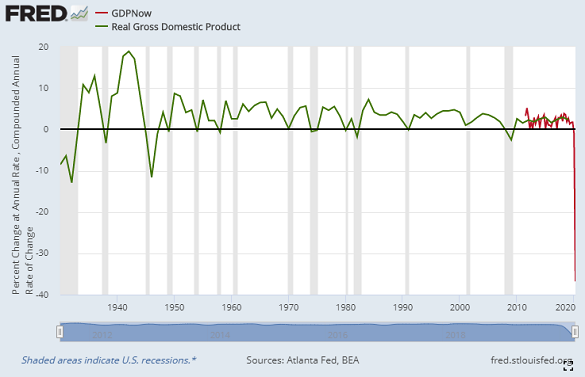 With sovereign debts surging as governments borrow and spend to try and offset that GDP collapse, "Investors are buying gold because they fear a period of financial repression" Flores went on, pointing to the UK's post-WW2 restrictions on capital flows and the enforced loss of real value for investors in government bonds as interest rates were held below zero after inflation in the cost of living.
"Global stocks rise as investors welcome strong US jobs report," says the Financial Times.
Fifteen million Americans have still lost their job since end-February on the BLS data, cutting non-farm employment by 10%.