Gold Prices Gain, Yellow Metal 'Doing Its Job as Risk Hedge' as Private Bank Buying Jumps
Friday, 6/19/2020 14:32
GOLD PRICES rose against all major currencies on Friday, showing a small weekly gain versus the US Dollar at $1735 and breaking above £1400 for UK investors as world stock markets rose to cut last week's drop in half on further easing of Covid-19 lockdown rules.
Euro gold prices edged 0.4% higher for the week to €1543 per ounce.
With shops, bars and restaurants now open across much of the European Union, the British government downgraded the novel-coronavirus alert to level 3 – "a big moment for the country" according to health secretary Matt Hancock.
New data today showed UK government debt now exceeds 100% of the world's 5th largest economy's annual GDP for the first time in 6 decades.
"Gold is doing its job as a risk hedge" said a webinar from head of market intelligence Rhona O'Connell and senior analyst Natalie Scott-Gray at brokerage
INTL FCStone
on Thursday, contrasting the yellow metal's performance across the Covid Crisis with the
crash in base metals and energy prices
.
"Professional investors have been very active, while the Asian physical markets remain moribund," they explained, making gold "the outperformer among its peers and other asset classes during the pandemic...[because] "the prominence of [gold's] investment activity makes commodity-related fundamentals less critical to price action than for the industrial metals."
With gold prices now around 25% higher from a year ago in most major currencies, private bankers are
urging clients to buy gold says Reuters
, something not seen since the sector's 2009 advice following the Lehman Brothers' collapse of late-2008.
The giant SPDR Gold Trust (NYSEArca: GLD) ended last night unchanged in size at its largest in 7 years, but cheaper competitor
gold ETF
the iShares product (NYSEArca: IAU) expanded another 0.2% to reach yet another lifetime record size, marking 13 consecutive weekly inflows.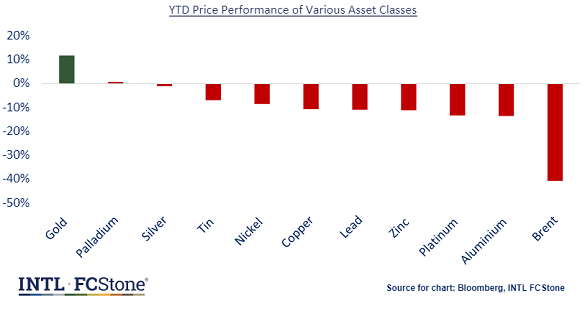 Looking at the back-half of 2020, the fundamental supply/demand picture now points up for both gold and silver on INTL's analysis, but the outlook is down or neutral for the other 8 metals studied by O'Connell and Scott-Gray, including for platinum – "oversold, but still in a surplus.
"Lockdowns in South Africa have [however] had more of an effect here than lost mine production in most other metals," INTL's team note.
"Longer term the diesel [auto] sector in China especially will underpin demand."
As for gold's biggest consumer nations of China and India, "Economic uncertainty and high gold prices have quashed the Asian physical markets," O'Connell said, but a V-shaped recovery could see "pent-up demand unleashed."
Among Indian households, said P.R.Somasundaram of the mining industry's World Gold Council to
CNBC TV18 today
, income growth of 1% has historically resulted in 1% growth in gold demand. But a 1% rise in Rupee gold prices instead sees demand fall by half-a-per-cent.
Rising 25% last year and surging by one-fifth so far in 2020, gold priced in Rupees held flat today, trading around 1.0% below
last month's new record high
of INR 48,000 per 10 grams – a cost which includes 12.5% import duty plus GST sales tax.
Gold prices in China meantime slipped to end the week lower from last Friday, extending the discount for metal delivered in Shanghai to $12.60 per ounce below comparable London quotes.
For the week as a whole, that took the average Shanghai discount to $12.30, wider by almost one-half from last week's average and suggesting a drop in demand relative to local supply in the No.1 mining, consumer and importing nation.