Gold Price Drop 'A Buying Opportunity Before $1900' as Covid 'Second Wave' Hits Stock Markets
Monday, 6/15/2020 14:58
GOLD PRICES dropped Monday in London as European stock markets and crude oil tumbled amid widening reports that a second wave of the deadly novel coronavirus pandemic is taking hold, writes Atsuko Whitehouse at BullionVault.
Gold bullion prices for London settlement fell 1.1% to $1711 per ounce as the US Dollar rallied on the FX market, curbing the precious metal's earlier 2.6% gain from last week – its biggest jump in 10.
The Dollar Index – a measure of the US currency's value versus its major peers – climbed 0.5% Monday morning from its multi-month lows and gave some back by lunch time.
Major government bond prices rose, pushing interest rates lower, as European stocks lost 0.6% on the Stoxx Europe 600 index, paring an earlier drop of as much as 2.6%.
Japan's benchmark Nikkei 225 closed 3.5% down for the day and South Korea's Kospi lost 4.5%, more than twice the drop in Hong Kong's Hang Seng while the Shanghai Composite declined 1.0% despite China imposing strict new lockdowns across capital city Beijing after a jump in new cases of Covid19.
The United States saw more than 25,000 new cases reported on Saturday led by states as far apart as Alabama and California, with a record number of new virus-related hospitalizations.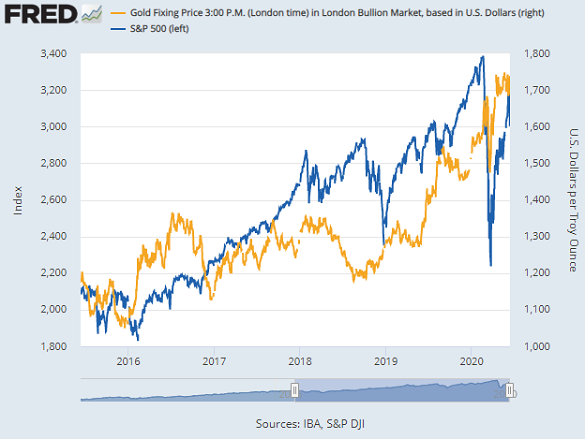 "Stocks are overbought and are very over-valued, so another stock market sell-off is possible which could help to propel gold higher. However, if market liquidity dries up, as happened in March, then gold, as a liquid asset, could be sold off again," said consultancy SFA, writing
a note for German refining group Heraeus
.
"There is short term weakness in gold but that is going to
set it up for a buying opportunity
," reckons technical analyst Robin Griffiths at investment management and advisory firm the ECU Group in London, forecasting an economic depression ahead.
"For the long-term gold is very strong. Next serious overhead resistance is the old all-time high of $1900. Once its breaks that gold's going to go a lot higher."
China's official data today said industrial output expanded 4.4% in May from a year earlier but missed analyst forecasts as retail sales across the world's 2nd largest economy dropped at a slower pace of 2.8% compared to 7.5% in April.
Gold prices on the Shanghai Gold Exchange today continued to show a discount to London, with the gap increasing to nearly $15 on Monday after showing its smallest weekly average in 12 at $8 per ounce.
Euro gold prices dropped 1.0% to €1521 per ounce as Germany and Belgium fully reopened their borders alongside EU state Croatia and neighboring Switzerland, while France announced a number of coronavirus restrictions are being lifted.
Gold prices for UK investors also declined 1.0% on Monday, retreating to £1366 per ounce as Prime Minister Boris Johnson got set to join a video-conference with European Union leaders in a bid to make headway in negotiations on a future EU-UK relationship.
Silver prices declined further than gold, down by 1.8% to $17.17 per ounce after making 0.5% gains last week.
That pushed the Gold/Silver Ratio – which tracks the two formerly monetary metals' relative prices – back up towards 100, the highest in three weeks and an all-time record high when touched for 1 day in 1990.
Platinum prices
meantime held flat above $810 per ounce on Monday as crude oil sank over 2.3% and shares in London-listed giant BP (LON: BP) lost 4.5% on news it will write down the value of its business by as much as $17.5 billion because the pandemic will prove a long-term hit to energy demand worldwide.